Supta Virasana (soup-tah veer-AHS-anna)
BENEFITS OF RECLINING HERO POSE
Relieves tired legs
Stretches your front body
Improves breathing
Strengthens the arches
SUMMARY OF RECLINING HERO POSE
Reclining Hero pose, or Supta Virasana, is an intense quad stretch. It is considered the reclined version of the Hero pose because it includes a deep knee bend and a deep hip flexor stretch. It's an intermediate pose that's proved to be extremely restorative once you've mastered it. Its benefits are both physical and energetic.

RECLINING HERO POSE TUTORIAL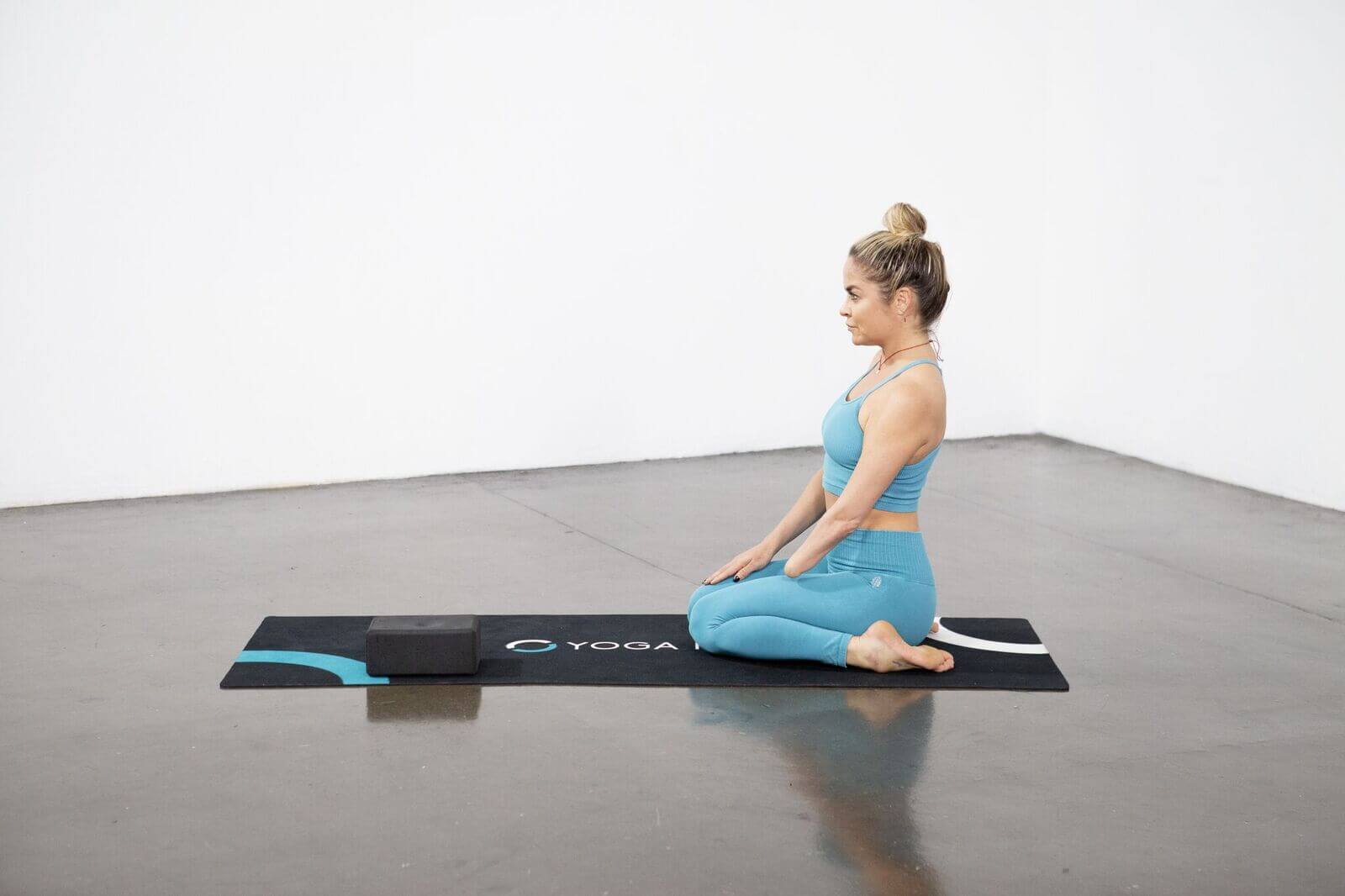 1.) Start by sitting in Hero Pose (Virasana). You can do this position easily. Just make sure your upper body is upright as you bend your knees back so the feet are on either side of your upper thighs.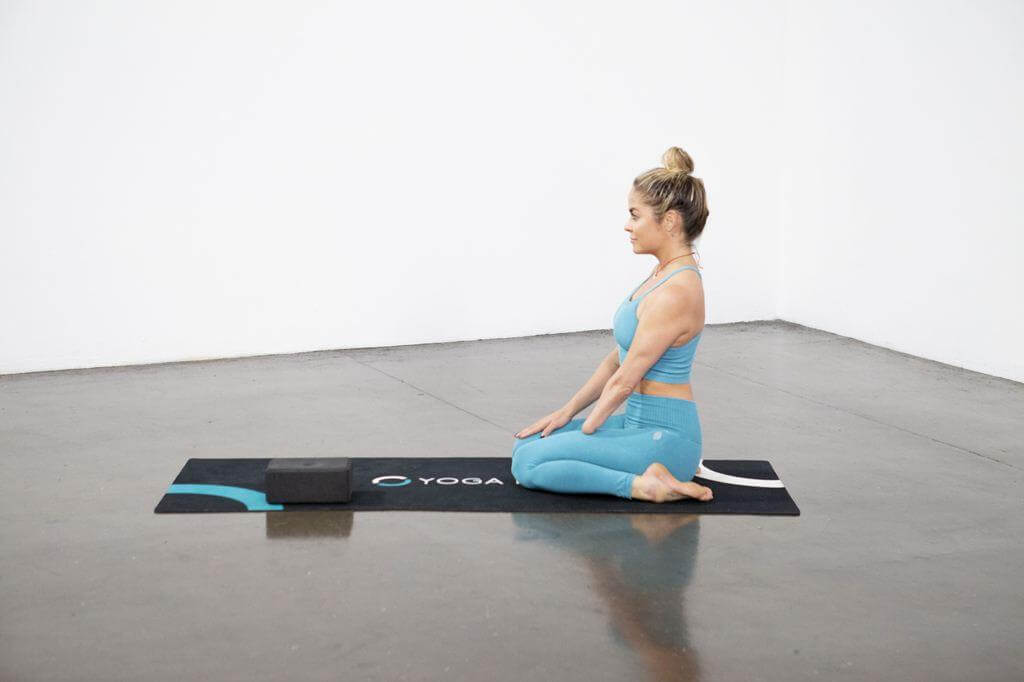 2.) Stay in that posture until you feel comfortable enough to move to the next step.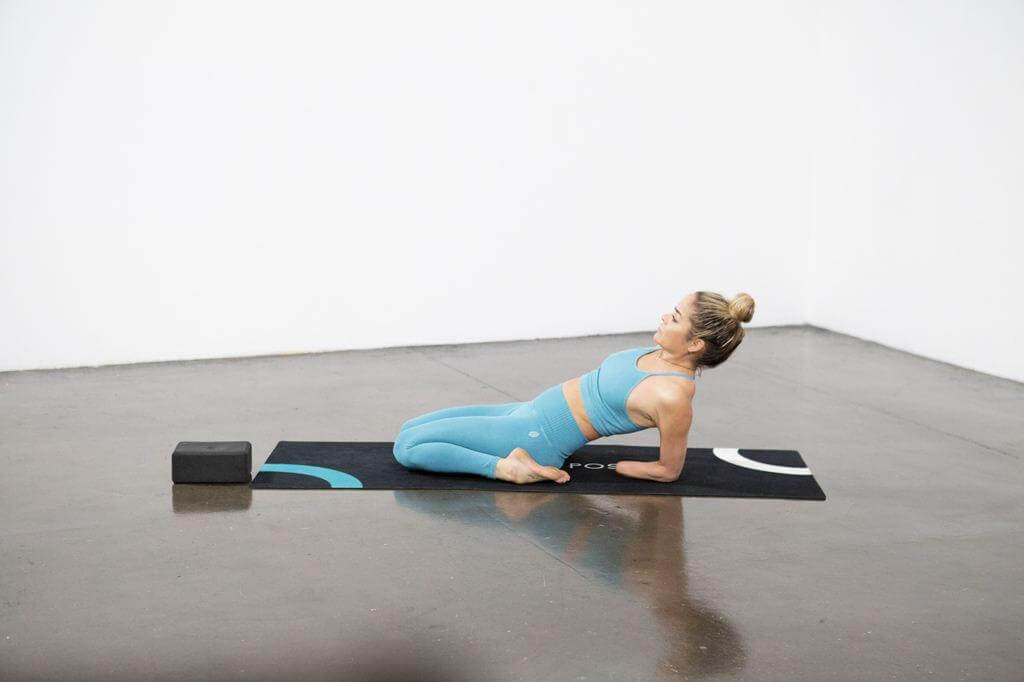 3.) Bend your elbows to come down onto your forearms.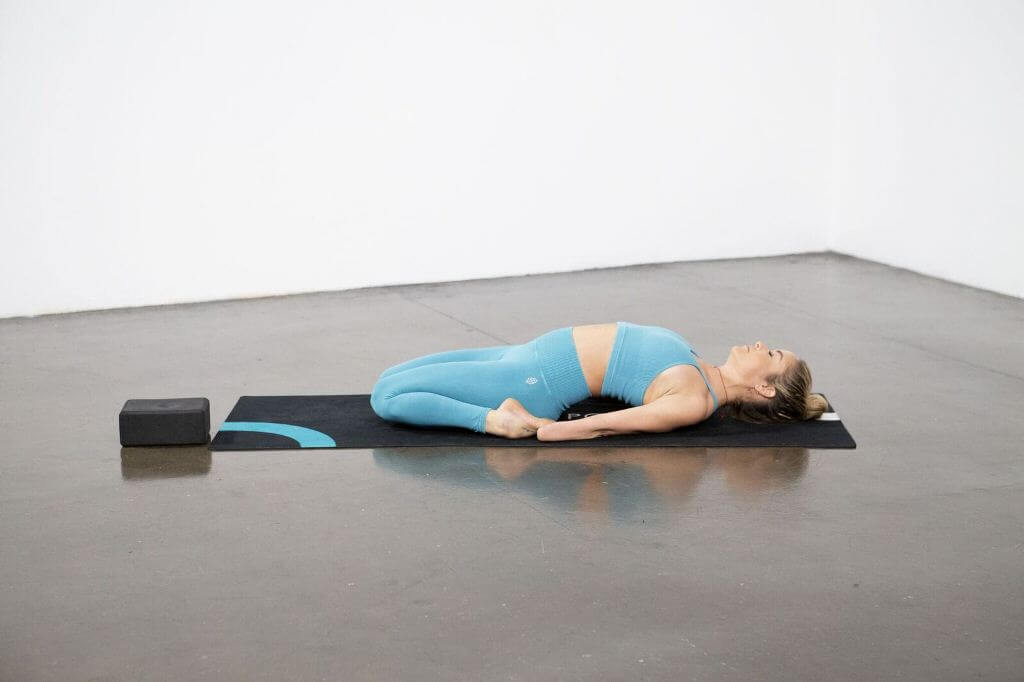 4.) After that, Exhale and lower your back torso toward the floor. Use your fingertips and palms to support your lower back.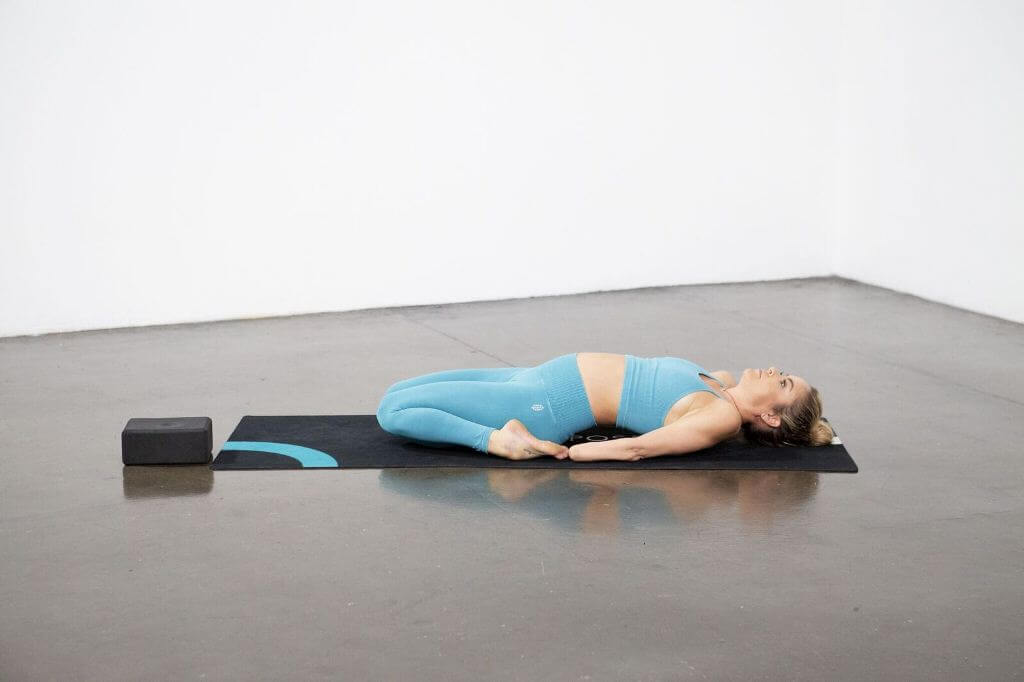 5.) Stay in this pose for 30 seconds to 1 minute. Once you feel comfortable, gradually extend your stay to 5 minutes.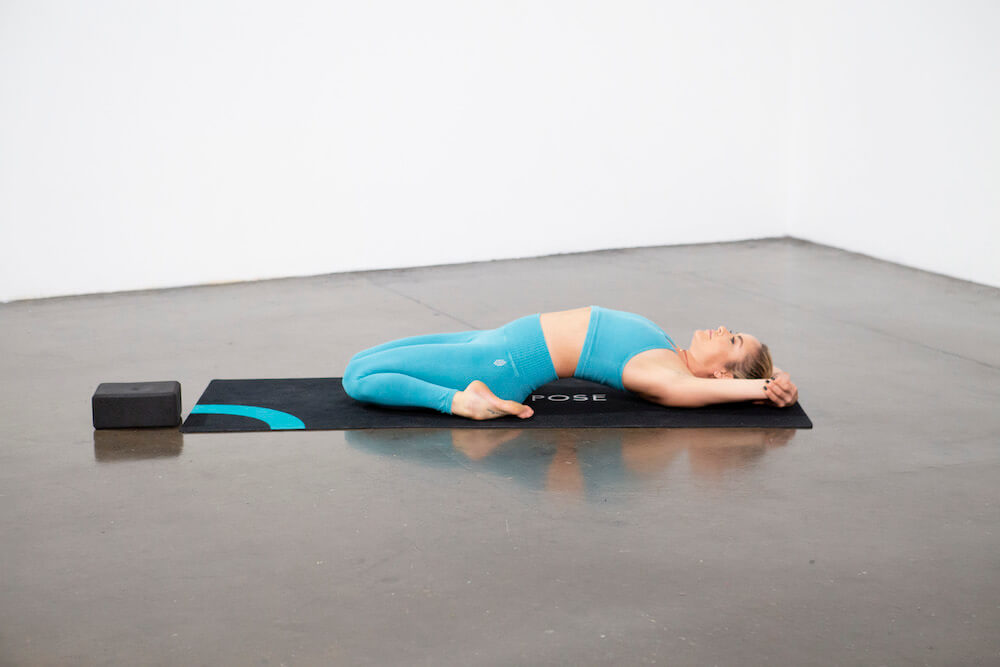 6.) It is optional to bend your arms behind your head for extra support and comfort. Hold this position for up to five minutes.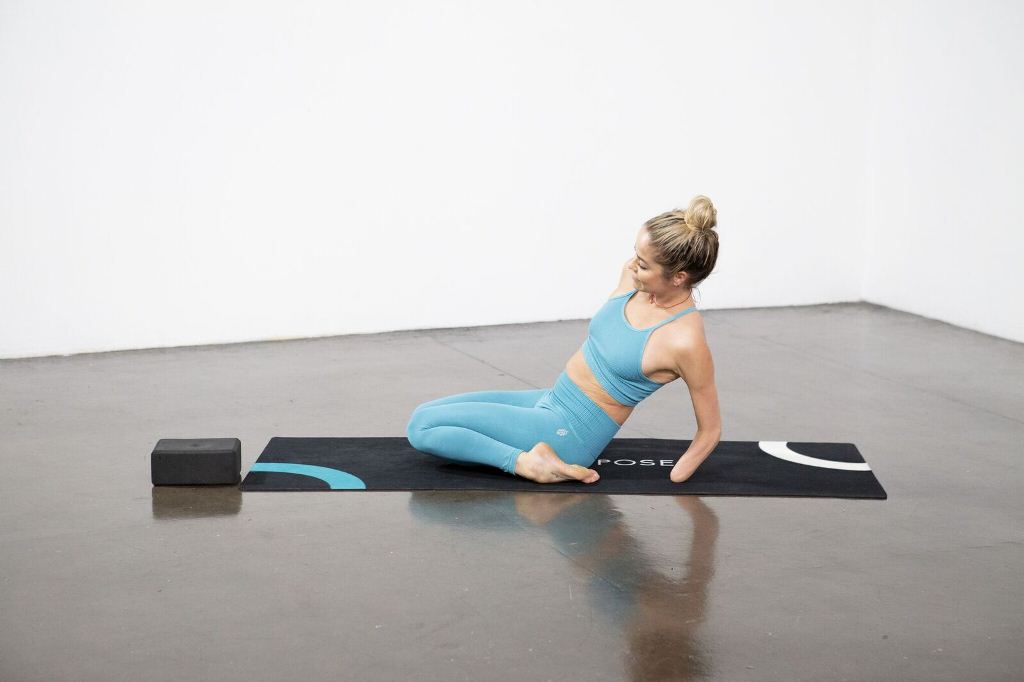 7.) To release yourself from the pose, press your forearms against the floor and come onto your hands. Use your hands to lift your torso into Virasana. As you come up, lead with your chest and keep your chin tucked in..
HEALTH BENEFITS OF RECLINING HERO POSE
RECLINING HERO POSE FOR STRETCHING
Since Reclining Hero Pose is a restorative pose, it can help stretch your thighs, knees, ankles and relax the legs, abdominal organs and pelvic region.
RECLINING HERO POSE FOR BREATHING
It may not seem like it, but once you fully master this pose, it will help elongate your chest, making breathing easier and deeper. It can also alleviate symptoms of asthma and other respiratory diseases.
Contraindications & Cautions
Serious back, knee or ankle injury
Pregnancy
Modifications & Deepening the Pose
RECLINING HERO POSE FOR BEGINNERS
Reclining Hero Pose can be intense for beginners. If you're not able to recline fully on the floor, or you feel that your buttocks don't reach the floor, keep a folded blanket or a block in between your feet. Use as much height as you need to make the position comfortable enough for you.
RECLINING HERO POSE FOR TIGHT QUADRICEPS
If your quadriceps are tight and you can't fully recline, then you can use a bolster, instead to avoid overarching your lower back. Sit with your butt on the end of the bolster and put your feet on either side. When you lie back, you'll notice that the bolster now supports the whole length of your spine.
DEEPENING RECLINING HERO POSE
When you've had enough practice, you'll naturally want to deepen the pose and start looking for something more flexible. You can intensify the pose by stretching your arms on the floor above your head. After that, rotate your arms outward, so that your outer armpits roll toward the ceiling. Pull your shoulder blades down the back toward your tailbone.