Working for eight or more hours at an office, hurrying home to run some errands, sleeping late, and waking up tired leaves little time for resting and exercising. Keep in mind that your body needs a break during the day as well, and a nice stretch and realignment will give you a boost of energy and resilience for the remainder of the day.
Check out the list below for some simple and easy yoga poses you can do almost anywhere and at any time of day.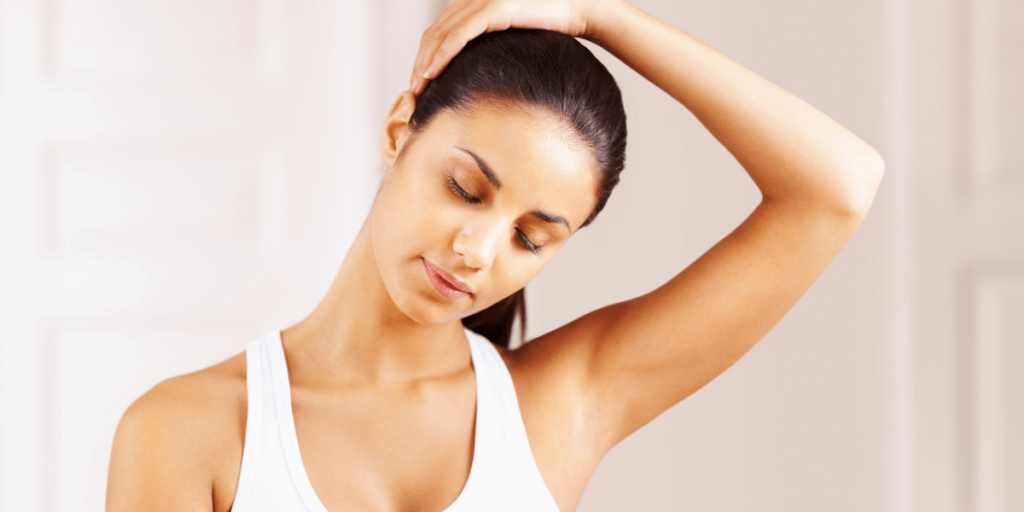 Neck Stretch Pose
This is something you can do at your desk! All of the regular tension spots are easily relieved (neck, shoulders, back, and spine). 
Steps:
Straighten your back whether you're sitting or standing.

Then, with your chin resting on your chest, bend your head.

Next, intertwine your fingers with your open hands and lay your palms on the back of your head.

Allow the natural weight of your hands to gradually stretch the muscles in your back, neck, and shoulders. Do not push; instead, be mindful as the natural weight of your hands gradually stretches the muscles in your back, neck, and shoulders.

Extend this exercise by resting your right ear into your right shoulder and resting your right hand on the side of your head, without pushing, but allowing gravity to do the work.

Then, of course, do the same thing on the other side.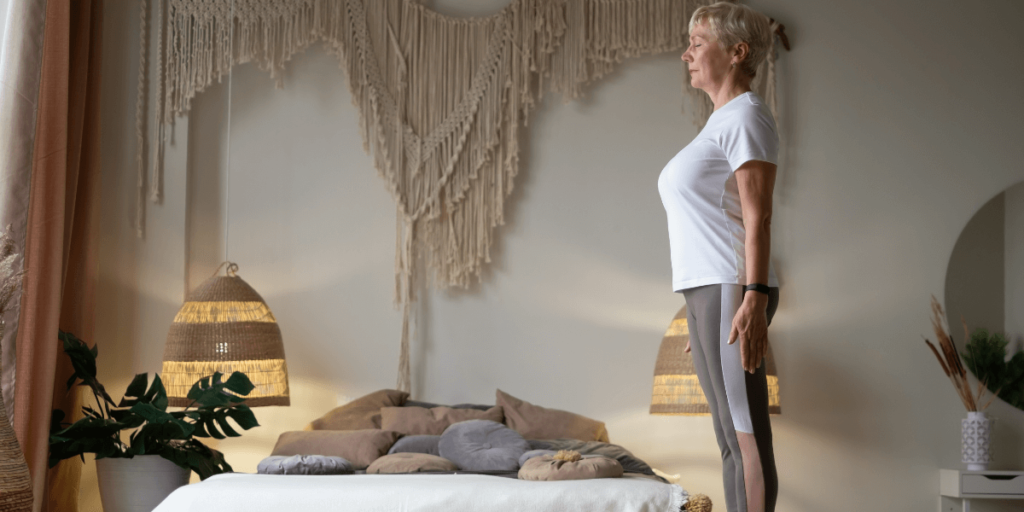 Tadasana may not appear to be much, but keeping your body active and aligned takes a lot of effort. Mountain Pose enhances your posture and body awareness while also strengthening your legs and aligning your body. You must be mindful of each aspect of your body and the role it plays in stacking your bones and maintaining a long spine.
Steps:
Begin by standing with your feet shoulder-width apart and your arms stretched out in front of you.

When your arms are about 12 inches away from your hips, lift them away from your sides and hold them in place.

Roll your shoulders back and tip your chin slightly upwards as you settle into the stance.

Stretch your arms out as if someone were gently pulling down on your fingertips while taking a deep breath.

Hold this position for 5 deep breaths or as long as you feel comfortable.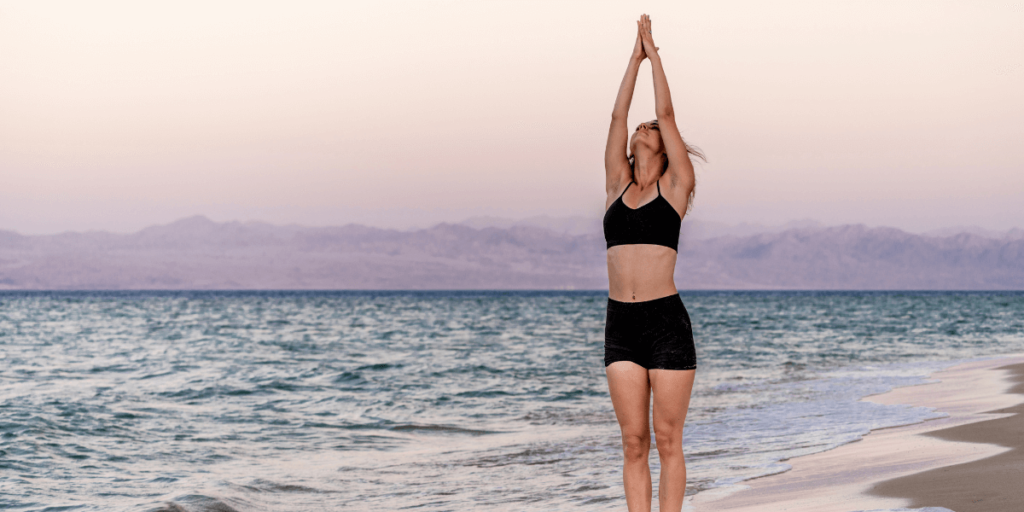 Urdhva Hastasana known as upward salute is a basic yoga pose that extends the sides of the body, spine, shoulders, armpits, and belly. It tones the thighs, aids digestion, and alleviates anxiety and weariness. It also helps in the creation of space in the chest and lungs, which is beneficial for asthma and congestion.
Steps:
Begin in Mountain Pose.

Extend your arms above your head and stretch your body from your toes to your fingers.

As you reach for the sky, your face should be tilted upwards, looking at your hands.

Hold this stance for 5 deep breaths or for as long as you feel comfortable.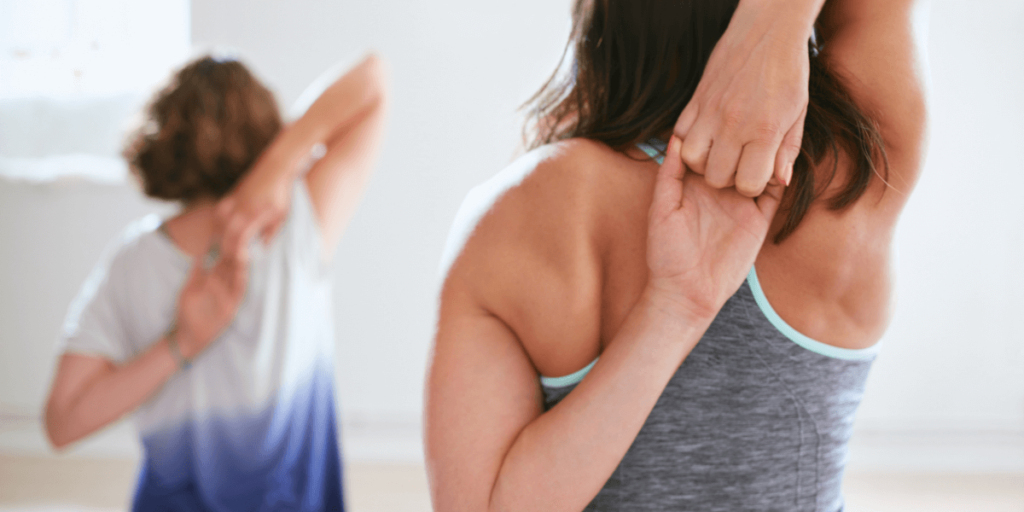 Standing Cow Face Pose (Tadasana Gomukhasana)
The standing cow face pose, also known as tadasana gomukhasana in Sanskrit, combines mountain and cow face poses. The pose helps breathing, circulation, and posture while opening the chest. It also increases energy, strengthens the legs, core muscles, back, and arms, and stretches the shoulders and arms.
Steps:
Start by standing with your feet hip-distance apart.

Inhale and raise your right arm, then bend your elbow to bring it behind your back.

Exhale and reach behind your back with your left arm, bending the elbow.

Clasp your hands together.

While holding the pose, take a few deep breaths.

Inhale and exhale slowly then slowly switch sides.
Note: A strap can be used to help yogis whose flexibility prevents them from bringing their hands together.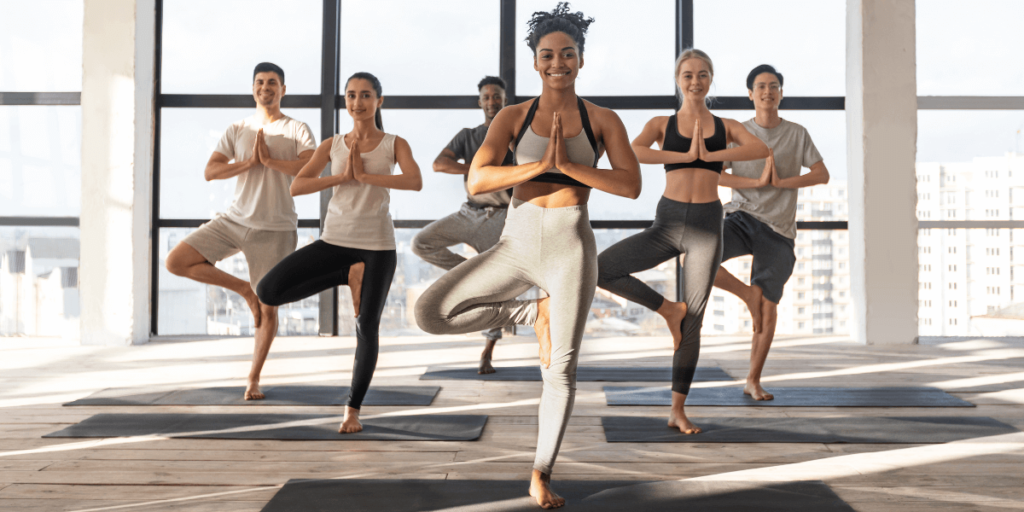 A fantastic yoga pose for calves, ankles, as well as centering and balance. Without a doubt, this one is great for around the office; you can do it anytime you're standing up, including waiting at the photocopier, waiting for the soup to boil, waiting in line, etc.
Steps: 
Begin by standing.

Put your entire weight on one foot.

Take the other foot and lay the sole of it on either your ankle, just below your knee, or your thigh, depending on your balance.

With your standing leg, push down to the floor, bringing your palms together in front of your chest.

Find an area to concentrate on to help you stay balanced.