Garudasana (gah-ruh-DAHS-anna)
Improves balance
Stretches thighs through upper back
Increases concentration
Strengthens calves
Eagle Pose, or Garudasana, is a standing twisting pose which tests both your flexibility and your sense of balance. It's good to practice first with Tree Pose for standing balance as well as various seated twisting poses before combining them together in this standing challenge. The body in this pose resembles an eagle perched high on a mountaintop tree branch.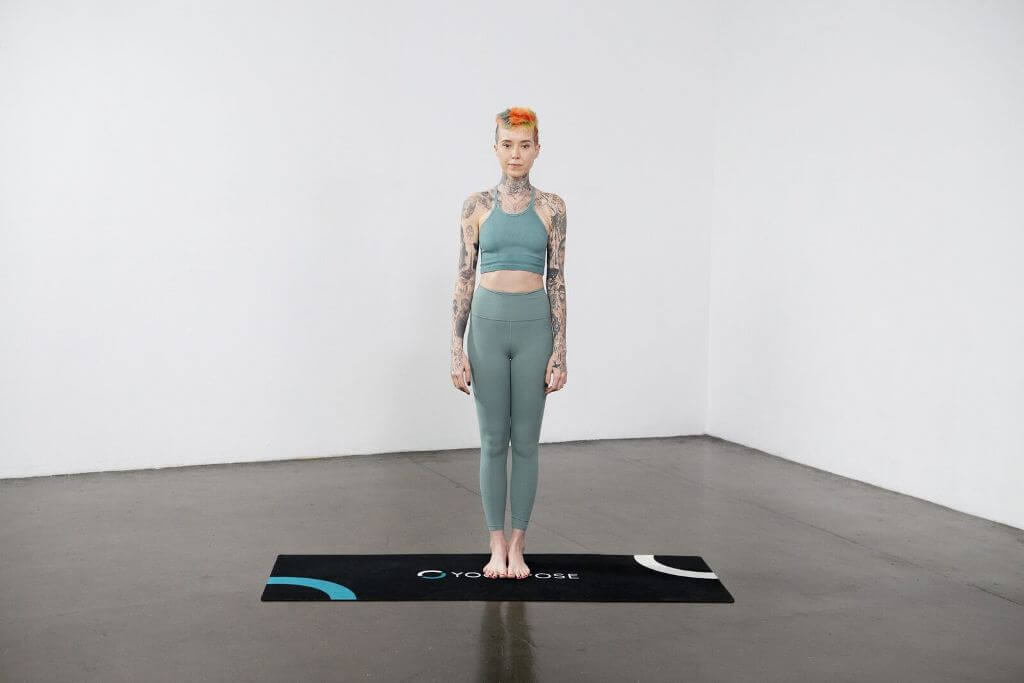 1.) Begin standing on your mat with your feet together and your hands by your side.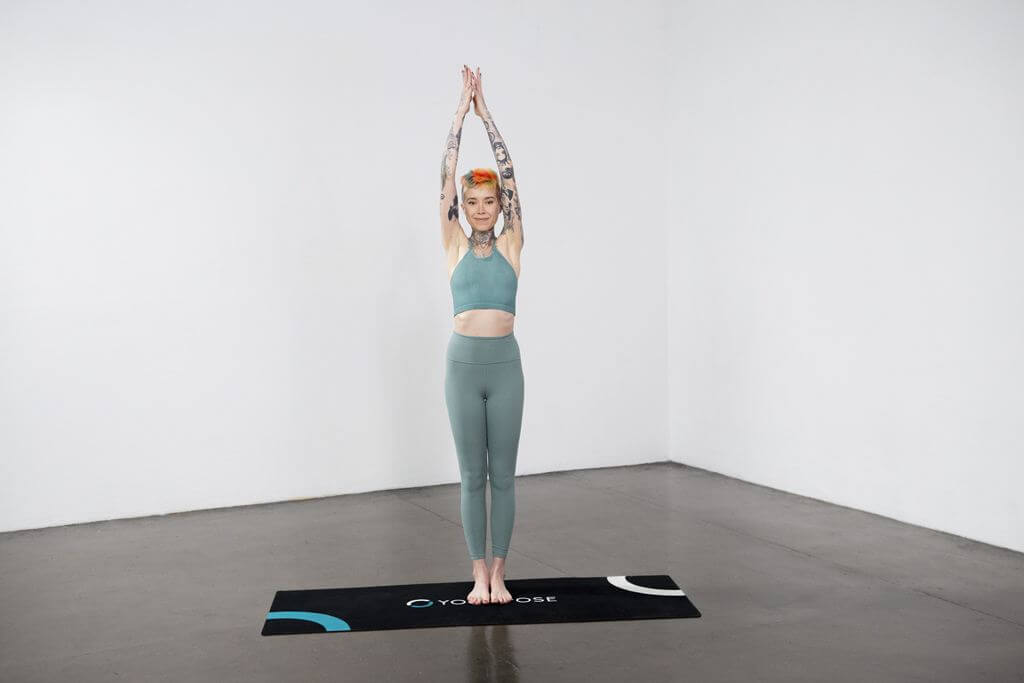 2.) Raise your hands above your head.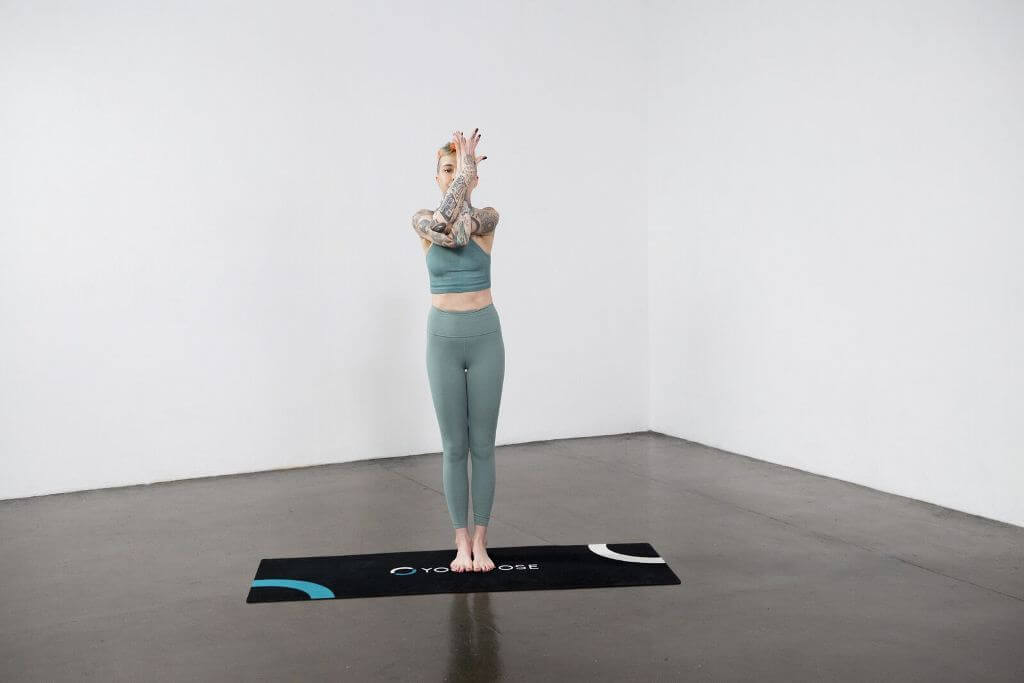 3.) In one sweeping motion bring your right arm under your left arm in front of you and clasp your two palms together facing each other.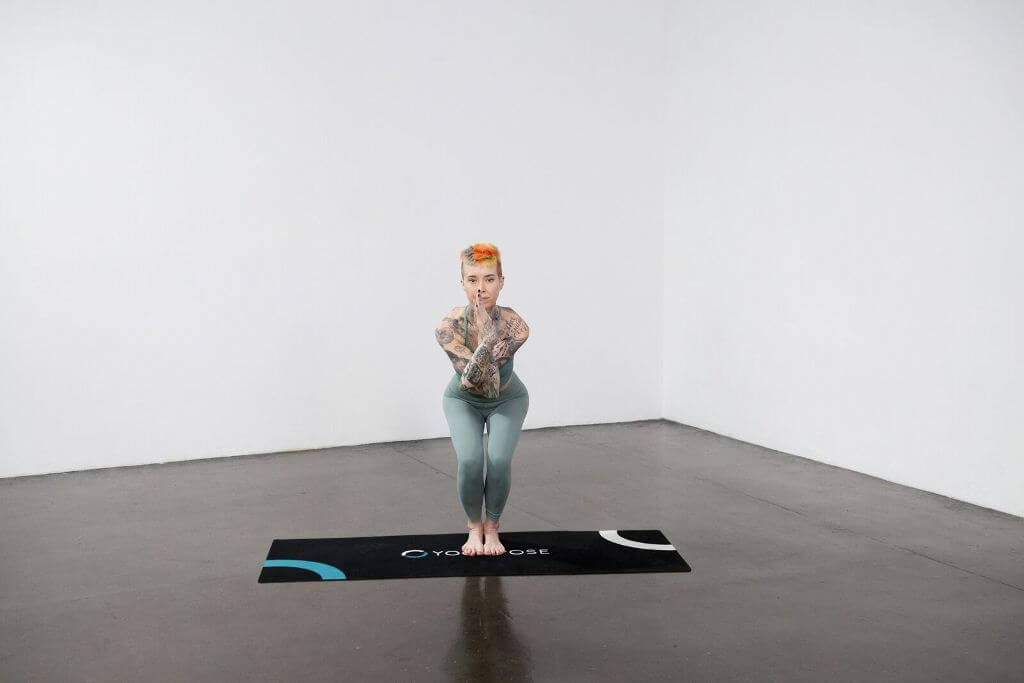 4.) Now bend your knees, engaging your core and glutes holding your arms in the wrapped position. Breathe.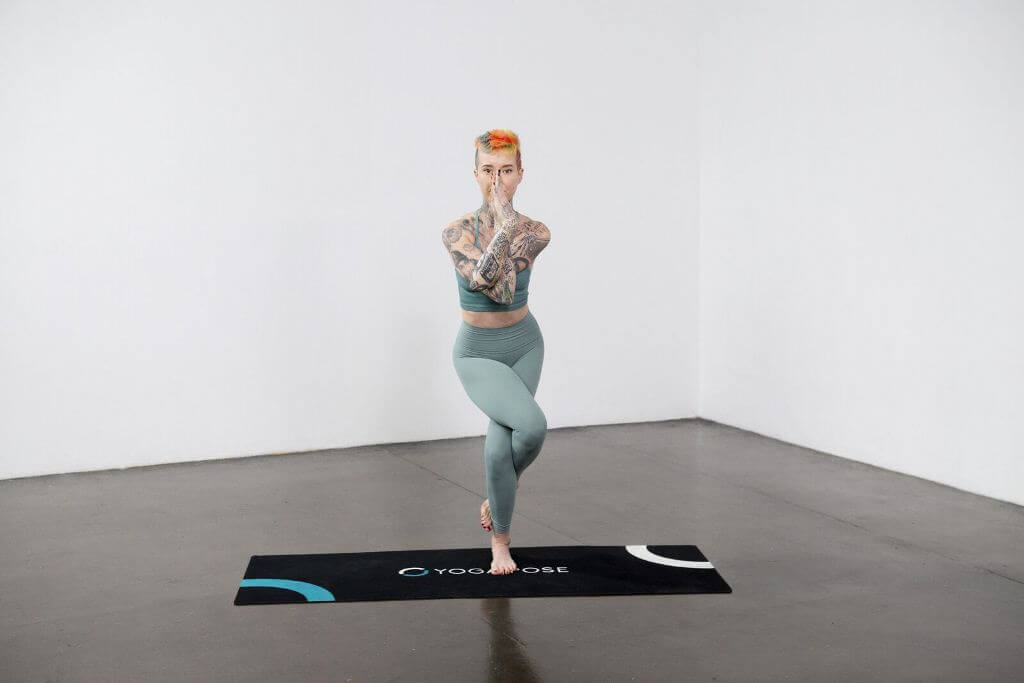 5.) Using balance, lift your right leg and wrap it around your left leg. When you look in the mirror, you should be able to see the toes of your right foot in the mirror peeking out from behind your left calf.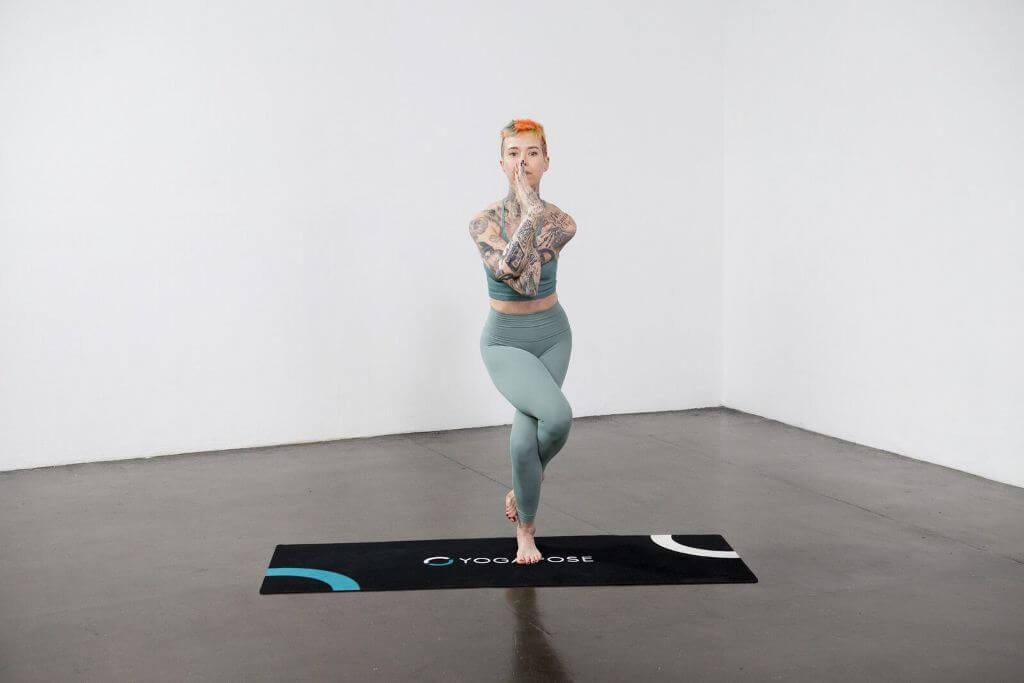 6.) Breathe here. Sit deeper into the pose and then pull your arms down the front of your body. Feel the stretch in your shoulders and upper back. Elongate your neck up to the ceiling .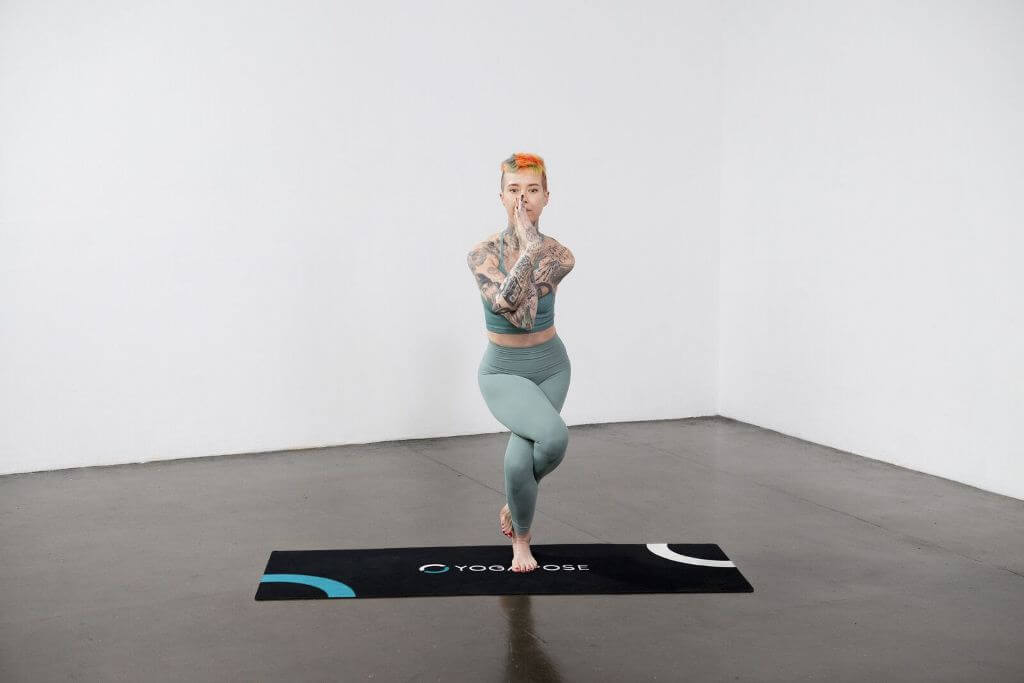 7.) Hold this position for up to one minute.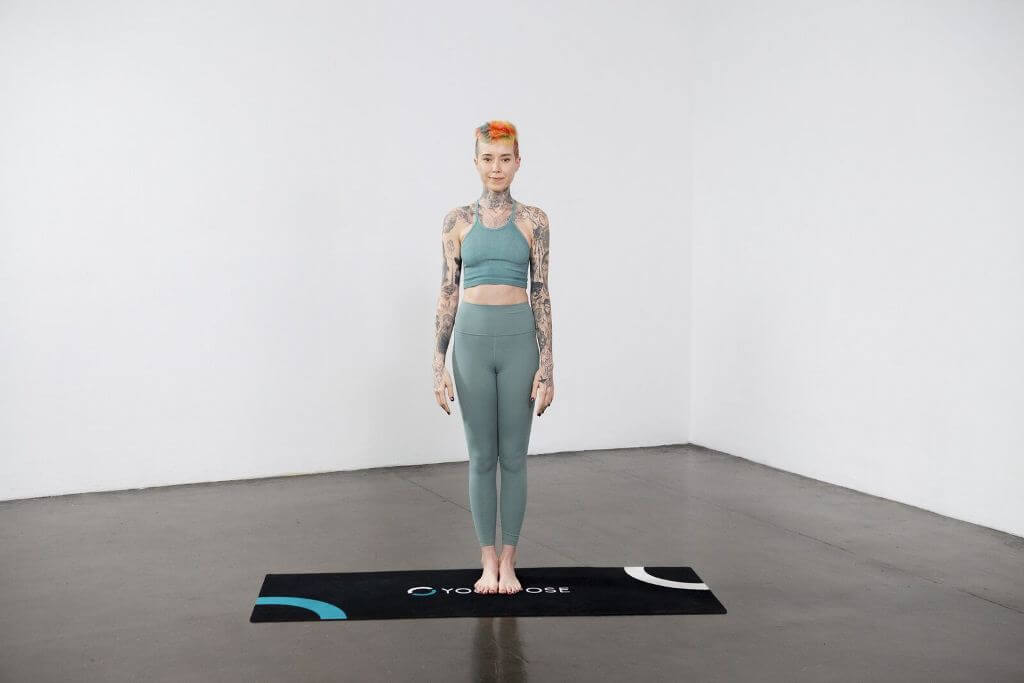 8.) To exit this pose, straighten your legs and unwrap your arms. End in Mountain Pose. Repeat on the opposite side.
HEALTH BENEFITS OF EAGLE POSE
EAGLE POSE FOR ATHLETES
Eagle Pose is a wonderful balancing and strengthening pose. It also brings in flexibility. This trio is useful in just about every sport that's out there. The leg strength and flexibility is particularly useful for soccer and field hockey.
EAGLE POSE FOR CONCENTRATION
Eagle Pose is great for improving concentration. In other poses you can let your mind wander or your thoughts flow. Not here. In Eagle Pose you are focusing on keeping your body upright and stable even though everything is twisted in spirals. This concentration building serves you well throughout the rest of your day.
EAGLE POSE FOR LEG STRENGTH
Eagle Pose focuses on the flexibility and strength of the legs. This is important for so many things in life, from walking to managing stairs to keeping up with family and friends.
Contraindications & Cautions
Knee injury
Lower back or neck injury
Ankle injury
Modifications & Deepening the Pose
MODIFYING EAGLE POSE FOR BALANCE ISSUES
Eagle Pose is definitely a challenging pose. Take this pose in stages. Practice with Tree Pose first so you get the sense of balancing on one leg. Practice with various twisting poses so you get your legs and arms more flexible. When you start out on Eagle Pose, just practice getting your legs to twist. Don't even worry about the arms at first. Make sure you've got a strong handle on the leg twisting before you add the upper body into it. Start just by putting one leg in front of the other and touching the toes alongside the first foot. Take it in stages.
MODIFYING EAGLE POSE FOR LEANING ISSUES
If you keep leaning, make sure your head is up and focused on something steady on the horizon. That helps immensely. Make sure you take long, deep breaths and center yourself. Internal anxiety can manifest itself in the body's stability. Practice up against a wall so you have something there to lean against. Make sure the rest of the area is clear, so if you lose your balance you don't wall into something.
MODIFYING EAGLE POSE FOR ARM WRAP ISSUES
Some people find it's the arm wrap that causes them problems. Luckily, this can be practiced at just about any time. Even while sitting down, stretch your arms out before you and see if you can do the arm wrap. If you practice it a little each day, your arms will build their strength and flexibility.