Virabhadrasana I (vee-ruh-buh-DRAHS-uh-nuh)
Strengthens legs and glutes
Lengthens through the spine
Stretches psoas
Builds strength in arms and shoulders
While yoga is founded in peace, the name of this pose commemorates a spiritual warrior – someone strong, brave and not stepping down in the face of adversity. Warrior I is recognised as one of the foundational poses, practiced regularly in most yoga disciplines.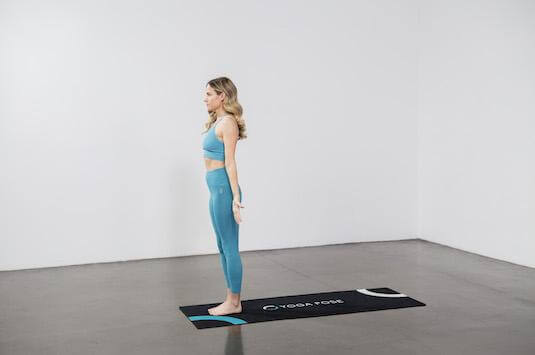 1.) Begin in Mountain Pose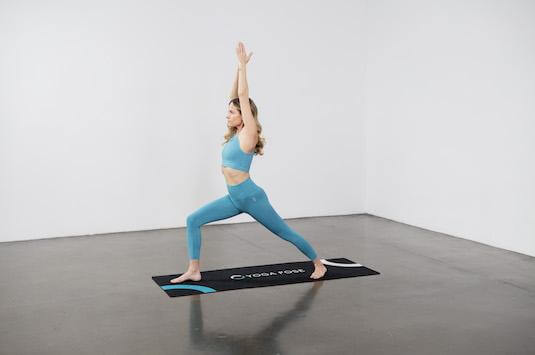 2.) Raise your hands above your head, palms facing inwards as you step one leg back about three to four feet with your back foot at a 45-degree angle, coming into high lunge. Push your hips forward, ensuring they remain square over your legs and engage your arms and core, look ahead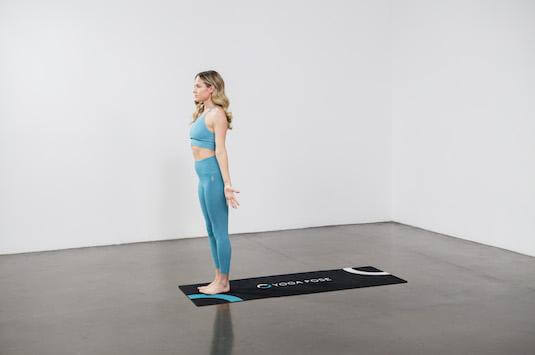 3.) To come out of the pose, simply step forward and come back into standing, Mountain Pose
HEALTH BENEFITS OF WARRIOR I POSE
WARRIOR I FOR PERSONAL CONFIDENCE
Studies show that assuming certain body positions conditions the brain into feeling more confident. The physical act of heart opening in Warrior I encourages the practitioner to hold their head up high, create a strong connection of mind and body, and feel better about themselves. Warrior I is a great pose to include in your morning practice, or even perform it in isolation before an important meeting or a job interview.
WARRIOR I FOR PSOAS MAJOR MUSCLE
The psoas major is a long muscle stretching between the lumbar part of our spine and the lesser pelvis. It has a difficult job of connecting the upper body to the lower body, the inside to the outside, the back to the front. It's one of the muscles forming the hip flexor group, which play an important part in lifting our knees up when walking or running, or pulling the upper body towards the legs in abdominal exercises such as crunches. Maintaining psoas major includes stretching it regularly, and Warrior I is one of the best poses to do it.
Contraindications & Cautions
High blood pressure
Heart issues
Neck problems
Modifications & Deepening the Pose
MODIFYING WARRIOR I FOR TIGHT HIP FLEXORS
If you're finding Warrior I too intense for your hip, lift the back heel, resting the back foot on the ball of the foot instead. If it's still too much, consider shortening the stance and bending the back knee slightly.
MODIFYING WARRIOR I FOR PEOPLE WITH BALANCE STRUGGLES
In the classic rendition of Warrior I, the back heel aligns with the front foot. However, keeping the feet in line with one another could be rather challenging for your balance. Consider moving your feet towards the opposite edges of the mat, creating an "alley" of sorts.