STANDING FORWARD BEND POSE
Uttanasana (ut-tahn-AHS-uh-nuh)
BENEFITS OF STANDING FORWARD BEND POSE
Lengthens through hamstrings
Engages through arches of the feet
Stretches lower back
Decompresses neck and spine
Sends the blood flow to your head
SUMMARY OF STANDING FORWARD BEND POSE
Standing Forward Bend, or Uttanasana, is a well known yoga posture and a goal for many people who want to be able to touch their toes. It is normally used in a Sun Salutation sequence following Mountain Pose (Tadasana) at the start of the sequence and repeated again after a Vinyasa. It doesn't have to be a transitional pose, it can be practiced as a posture in its own right, too. It's great for relaxing the spine and neck and opening through the back of the legs at the end of your day.
STANDING FORWARD BEND POSE TUTORIAL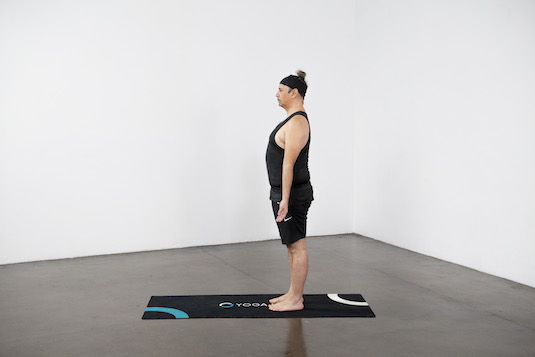 1.) Start in Mountain Pose (Tadasana). Take a breath in as you draw your arms overhead for an Upward Salute (Urdhva Hastasana)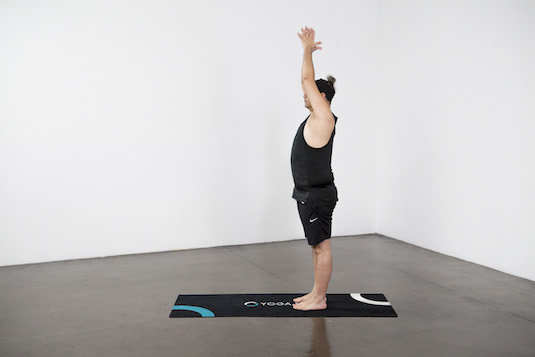 2.) As you exhale, soften through your knees and dive forward leading with your sternum. When your back starts rounding, allow the hands to come to the floor and drop your head down. Rest the belly on the front of your thighs and send the hips back as much as you need to compensate for a steady balanced stance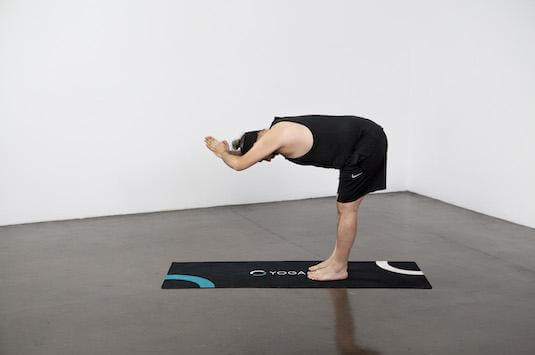 3.) Allow the weight of your head to pull down through your neck, decompressing it after a long day. Make sure to distribute the weight evenly through both feet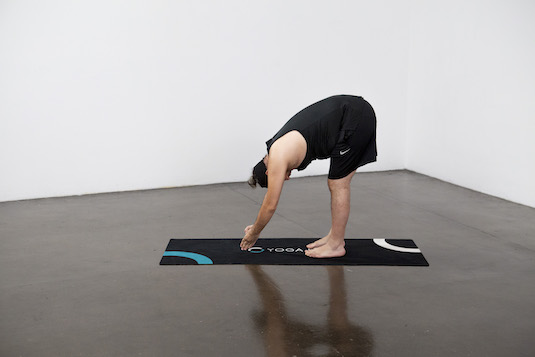 4.) Keeping your palms or fingertips on the floor, start lifting the hips and extending through the back of your legs. If you lose the contact between the belly and thighs, pause and bend the knees a little bit more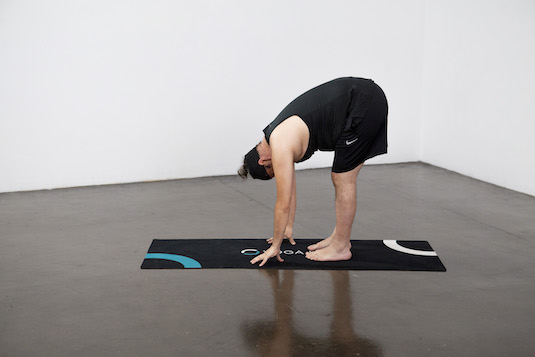 5.) Stay in Standing Forward Bend for 30-90 seconds. To come up, bend the knees very generously once again and roll up to standing from the spine
HEALTH BENEFITS OF STANDING FORWARD BEND POSE
STANDING FORWARD BEND FOR CALMING THE MIND
Standing Forward Bend is a very mild and accessible inversion. Folding at the hip and allowing the spine to lengthen downwards assisted by gravity pull does wonders for relaxing the body and allowing you to focus on the present moment. Close your eyes and focus on your other senses. Tune in to your breaths, notice the sounds and smells around you, feel the pressure through your feet and the lengthening through the back of your legs. Really take a minute to observe the processes in your body and accept yourself with love and gratitude.
STANDING FORWARD BEND FOR HIP FLEXOR COMPRESSION
Equating a Standing Forward Bend to simply touching one's toes is misleading and not entirely correct. Yes, some versions of the pose involves hand to toe contact, but the common mistake among those who focus on touching their toes is to keep the legs straight and pull too much on the lower back when reaching down. The fold in our Standing Forward Bend should come from the hip flexors pulling the upper body forward.
Contraindications & Cautions
Back injury (especially lower back)
Torn or pulled hamstrings
Modifications & Deepening the Pose
MODIFYING STANDING FORWARD BEND FOR LIMITED MOBILITY
If bending the knees is not enough for you to reach the floor, use a pair of yoga block to be able to bring some of the weight into your palms.
MODIFYING STANDING FORWARD BEND FOR A DEEPER FOLD
If you are looking for a deeper expression, you have a few options to choose from. One would be to close your hands around your ankles and pull yourself closer to your legs before straightening through the back of the knees. Another option is to hook your index finger and middle finger to your big toes and bend the elbows outwards as you fold. Finally, you can slide your palms underneath your feet (palm to sole, fingers pointed towards heels, toes against inner wrist) and compensate by applying more pressure into the balls of toe feet to maintain balance.