Purvottanasana (poor-vo-tahn-AHS-uh-nuh)
BENEFITS OF UPWARD PLANK POSE
Stretches pecs and shoulders
Strengthens arms, legs and wrists
Opens through the front of hips and ankles
SUMMARY OF UPWARD PLANK POSE
The term "Purva" in Sanskrit means eastern, and is used to refer to the front of the body, head to toes. "Purvottanasana" literally translates to "intense stretch of the front side of the body." Its western name, Upward Plank Pose, refers to the similarities it shares with Plank Pose. It relies on the arms to keep the torso steady and lifted. It calls for a straight line from shoulders all the way down to the ankles, which in turn requires a lot of core strength.

UPWARD PLANK POSE TUTORIAL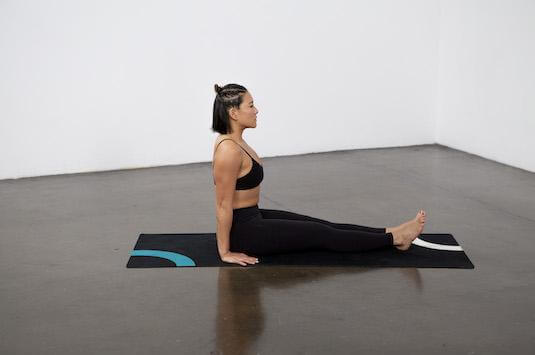 1.) Begin sitting in Staff Pose (Dandasana). Keep your hands shoulder width apart but step them a few inches behind your hips. Keep your fingers pointed forward and press the heels of your hands into the mat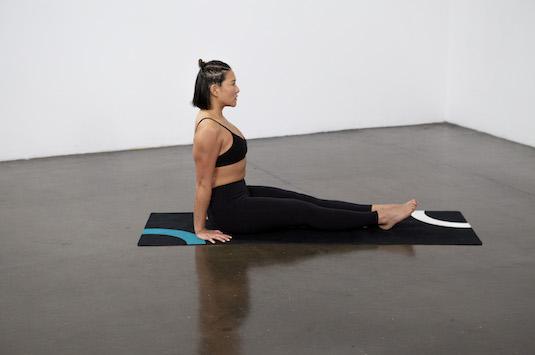 2.) Point your feet and begin to engage your legs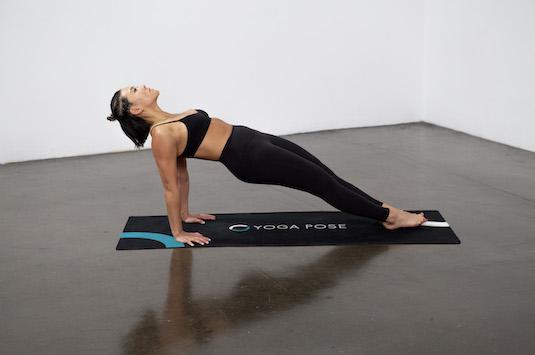 3.) As you exhale, press down through the hands and soles of the feet, lifting your hips but keeping your legs straight. Engage through the buttocks and legs. Open through the front of your hips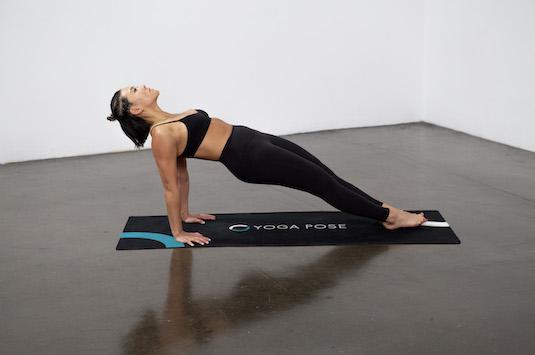 4.) Squeeze your shoulder blades towards one another to aid the lifting motion in the chest. Extend your neck in the same direction as the rest of the spine. Be careful not to drop your head back to avoid compressing your neck.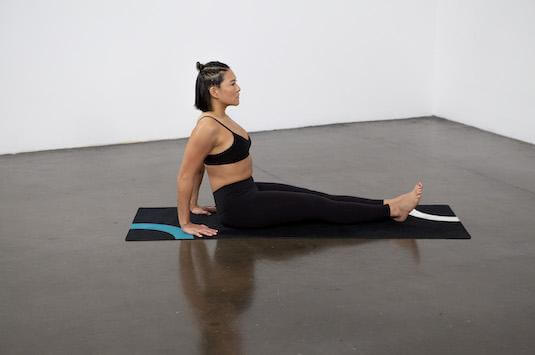 5.) To come out, simply lower yourself back down
HEALTH BENEFITS OF UPWARD PLANK POSE
UPWARD PLANK POSE FOR ANTAGONISTIC TRAINING
In a typical Ashtanga or Vinyasa Flow practice, you would probably perform Four-Limbed Staff Pose (Chaturanga Dandasana) at least a dozen times. No to mention Plank Pose, Tabletop kneeling position, and any other pose that has the chest pressing motion as its key element. Upward Plank is a wonderful way to counteract the negative effects of repetitive push up motions and include the back muscles in your core training.
UPWARD PLANK POSE FOR COMBATTING DEJECTION & STRESS
Chair Pose is a great pose for building focus and concentration. The act of holding that precise set of angles while balancing can be very tricky. All focus needs to be on the alignments and on maintaining them to get through the pose. This regular practice can enhance memory, concentration and attentiveness.
Contraindications & Cautions
Neck injury
Previously dislocated shoulders
Modifications & Deepening the Pose
MODIFYING UPWARD PLANK POSE FOR EXTRA SUPPORT
If you are finding it too difficult to keep the hips lifted with the legs straight, there is nothing wrong with practising Upward Tabletop Pose until you build up some strength and confidence. After all, its Sanskrit name is Ardhva Purvottanasana, or Half Upward Plank Pose!
MODIFYING UPWARD PLANK FOR ADVANCED PRACTITIONERS
One of the hardest things about this pose is keeping the hips lifted in the correct position. If you would like to challenge yourself, try reducing the points of contact to three. Lift one leg to be parallel to the ground. Make sure the hips stay level with one another, for example, equal distance away from the floor. This is a great way to tone your legs, stomach and booty.