SIDE-RECLINING LEG LIFT POSE
Anantasana (uhn-uhnt-AHS-uh-nuh)
BENEFITS OF SIDE-RECLINING LEG LIFT POSE
Stretches the hips and the groin
Opens through hamstrings
Tones abdominal muscles
Promotes better circulation in legs and glutes
Improves balance
Relieves arthritis and sciatica symptoms
SUMMARY OF SIDE-RECLINING LEG LIFT POSE
This pose has many names: Sleeping Vishnu's Pose, Vishnu's Couch Pose, Eternal One's Pose and Side-Reclining Leg Lift. The Sanskrit name comes from the term "Ananta," which refers to infinity, eternity, something without end or without limit. The Side-Reclining Leg Lift is actually a Hand-to-Toe modification of the Sleeping Vishnu's Pose (Utthita Hasta Padangustasana in Anantasana).

SIDE-RECLINING LEG LIFT POSE TUTORIAL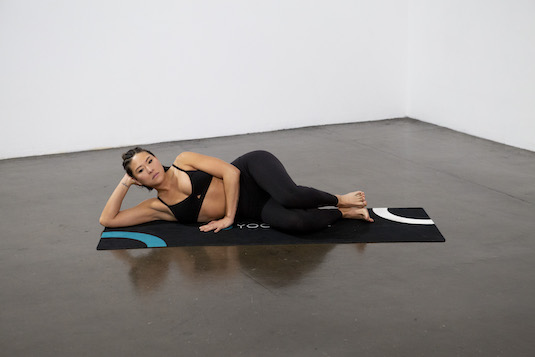 1.) Begin lying on your right side with your head propped up with your right hand. Direct your right elbow in line with the torso and legs and stack your legs on top of one another.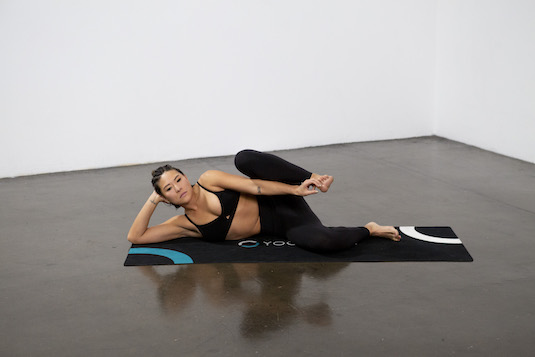 2.) Bend your left knee in to your body and reach for it with your left hand. Grab your big toe.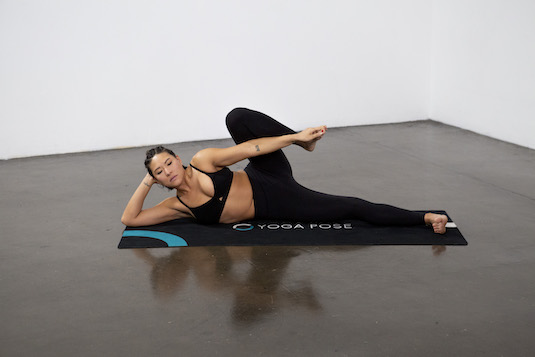 3.) Begin to pull the left leg towards your left shoulder.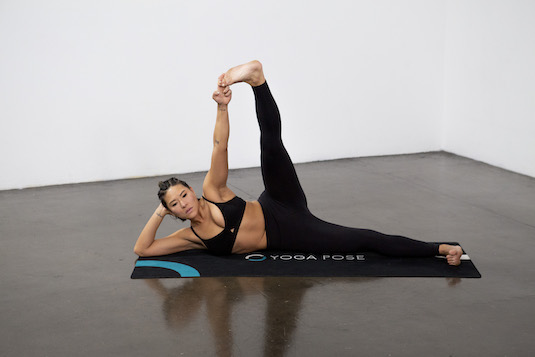 4.) Lift your left arm to the sky, keeping it generally above your left shoulder, angling the sole of your foot open to the sky.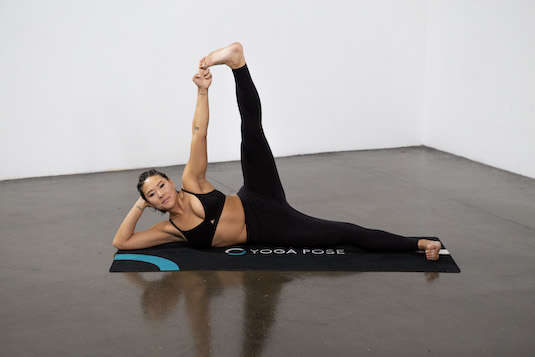 5.) On the next exhale, begin extending your left leg, opening the back of your knee and bringing the tension to your hamstrings. Hold this position for up to five breaths, then reverse the steps to slowly release your left leg down.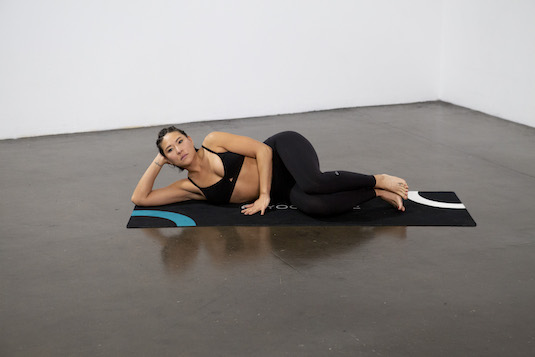 6.) Rest in this position for a few moments and proceed with the other side when ready.
HEALTH BENEFITS OF SIDE-RECLINING LEG LIFT POSE
SIDE-RECLINING LEG LIFT FOR TREATING URINARY ISSUES
Sleeping Vishnu's Pose is known to be helpful for relieving and even eliminating the symptoms of urinary disorders related to the urinary bladder, prostate, testicles, uterus and ovaries.
SIDE-RECLINING LEG LIFT FOR SCIATICA & ARTHRITIS SUFFERERS
The extension of the top leg works towards increasing your hip mobility and stretching the hamstrings. This asana helps to keep the sciatic nerve active and maintain the sciatica symptoms in check. The hamstring and groin stretch provides support for the hips, which could help with certain types of arthritis.
Contraindications & Cautions
Strained or torn hamstrings
Sciatica
Slipped discs
Cervical spondylitis
Modifications & Deepening the Pose
MODIFYING SIDE-RECLINED LEG LIFT FOR BETTER BALANCE
The pose looks deceptively easy to balance. At the end of the day, how hard can it be to lie on your side? Unfortunately, aligning the arm, torso and leg in a straight line makes it quite tricky to balance. If you find yourself struggling, you could prop your back with a bolster or practise this pose with your back to the wall.
MODIFYING SIDE-RECLINING LEG LIFT FOR ADDED INTENSITY
If the hand-to-toe variation seems trivial and you are ready to try something harder, you could gradually work on bringing your top leg closer to your head. First, try sliding your top hand to your ankle instead of your foot. The next stage would involve hooking your elbow onto your calf and hugging your top leg towards your torso.