Parsva Bakasana (PARISH-vuh buh-KAHS-uh-nuh)
BENEFITS OF SIDE CROW POSE
Strengthens wrists and forearms
Engages side core muscles
Creates a greater sense of balance
Massages abdominal organs
SUMMARY OF SIDE CROW POSE
Side Crow or Side Crane Pose is a variation of Crow (also known as Crane) including a twist and a subsequent shift of centre of gravity. While Crow Pose can be considered a fairly accessible arm balance, Side Crow takes it to a different level and requires a lot more skill and coordination.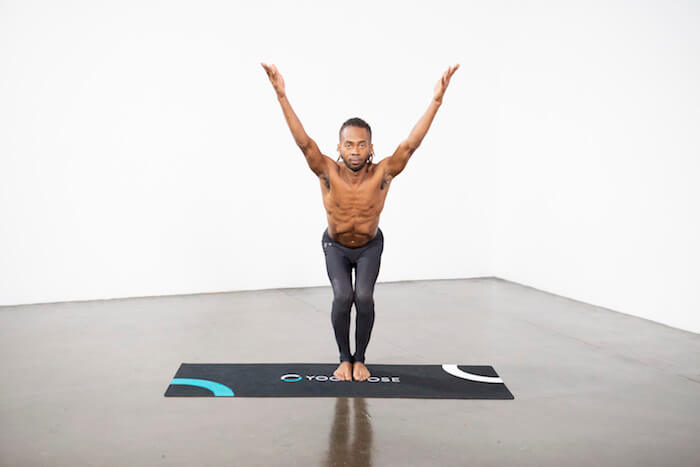 2.) Slowly descend into a crouching position, lifting the heels as your hips travel down, lift your arms straight above like a modified Chair Pose.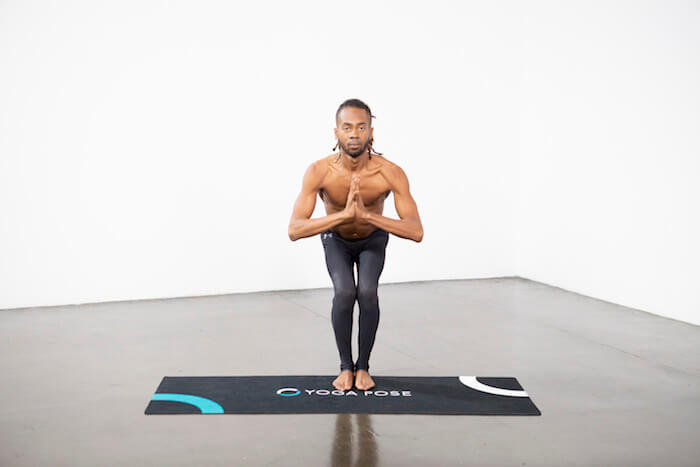 3.) Bring your hands to heart center.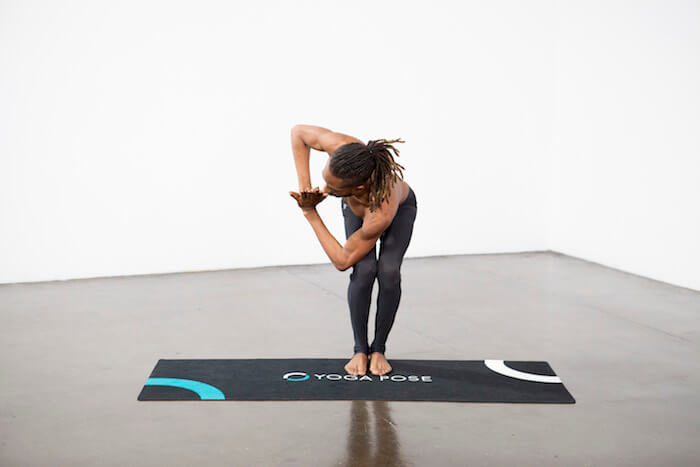 4.) Twist your body to the right, remaining in a squatted position, and place your left arm to the outside of your right thigh, press into your right outer leg to twist further.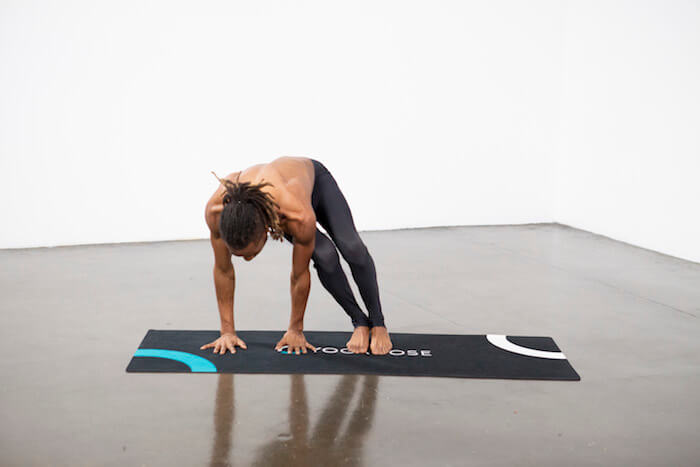 5.)  Lower both hands down to the mat so they are flat and your palms are spread. Press your right upper leg into the back of your upper arms, finding friction to maintain the grip.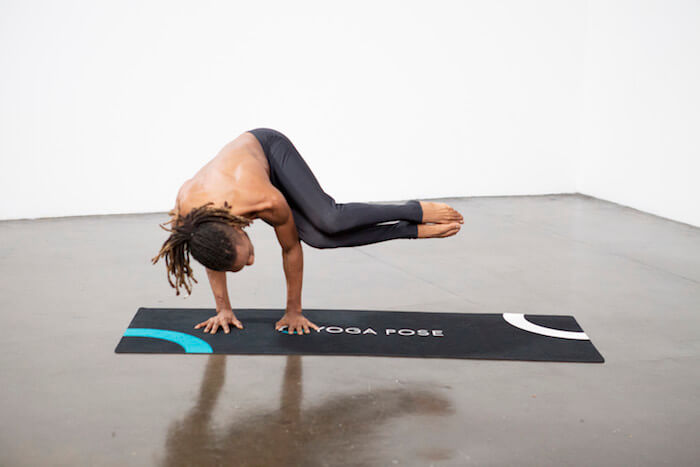 6.) Shift your weight forward into your arms and lift your feet off the ground, keeping your legs bent into your body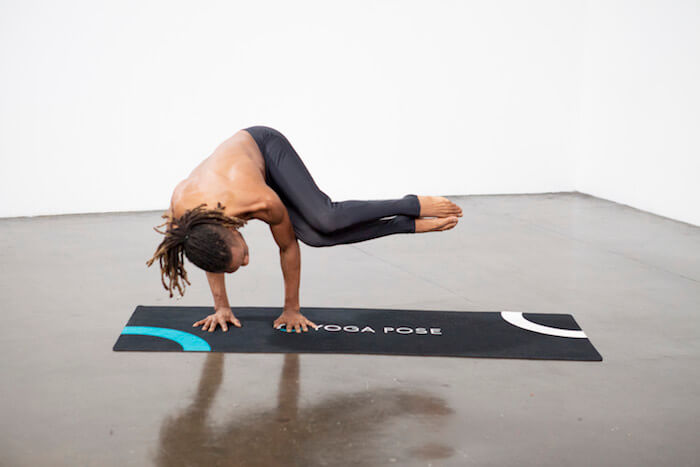 7.)  Look forward. Hold the position for up to 30 seconds.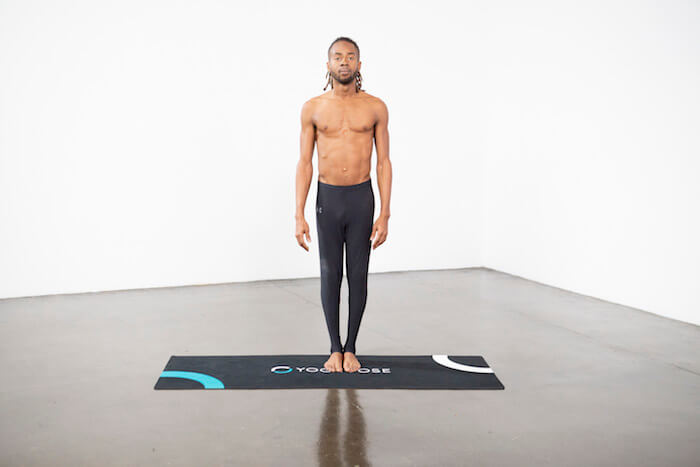 8.)  To release from the pose, simply lower your feet back to the mat and gently reverse steps. Repeat on opposite side.
HEALTH BENEFITS OF SIDE CROW POSE
SIDE CROW POSE FOR BALANCE & COORDINATION
A standing balance can be challenging enough despite the fact that most of us are used to spending time on our feet. Arm balances take the challenge to a new level. Not only must you shift the centre of gravity completely, you are also relying on your arms and shoulders to stop you from falling over. Mastering an arm balance such as Side Crow Pose really contributes to your physical and metal coordination.
SIDE CROW POSE FOR STRONGER ARMS & WRISTS
Generally speaking, our upper body is not designed for weight bearing. Our legs are stronger and heavier than our hands. However, arm balances such as Side Crow Pose provide yogis with an opportunity to build up strength in arms and shoulders, improve active and passive wrist flexibility and invoke greater control through your palms and fingers.
Contraindications & Cautions
Wrist injury
 Lower back tightness
 Balance disorders
Modifications & Deepening the Pose
MODIFYING SIDE CROW POSE FOR BEGINNERS
It is strongly recommended that you only try this pose after you have tried and mastered Crow Pose (Bakasana). Tipping the weight forward can be daunting and practicing Crow would certainly boost your confidence. When you start attempting Side Crow Pose, consider placing a block underneath your forehead to allow you to lift the shins.
MODIFYING SIDE CROW POSE FOR ADVANCED PRACTITIONERS
While Side Crow Pose can be considered intermediate or advanced pose even in its simplest rendition, it doesn't mean you can't challenge yourself. For extra focus on hamstrings, you could try straightening the legs out to the side. Once you master that variation, the logical continuation should lead you to practicing Eka Pada Koundinyasana I and II.