Parivrtta Trikonasana (par-ee-VRIT-tah trik-cone-AHS-anna)
BENEFITS OF REVOLVED TRIANGLE POSE
Stretches legs and hips
Opens the chest and improves breathing
Relieves back pain
Improves digestion
SUMMARY OF REVOLVED TRIANGLE POSE
Revolved Triangle Pose, or Parivrtta Trikonasana, is a great opposing posture to Extended Triangle, or Utthita Trikonasana. It is the best yoga pose to relieve the stress of a long day at work. During Revolved Triangle Pose, you'll stretch your spine and expand your chest to release tension. It is a great exercise for your back and it also improves digestion by stimulating your internal organs.
REVOLVED TRIANGLE POSE TUTORIAL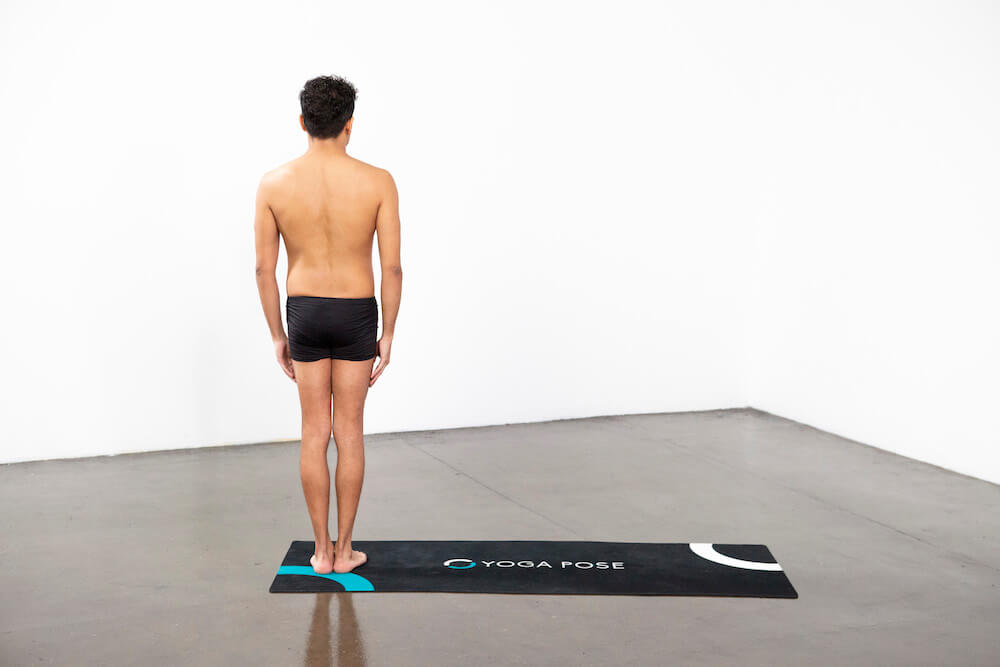 1.) Stand on your yoga mat with your knees locked and feet next to each other.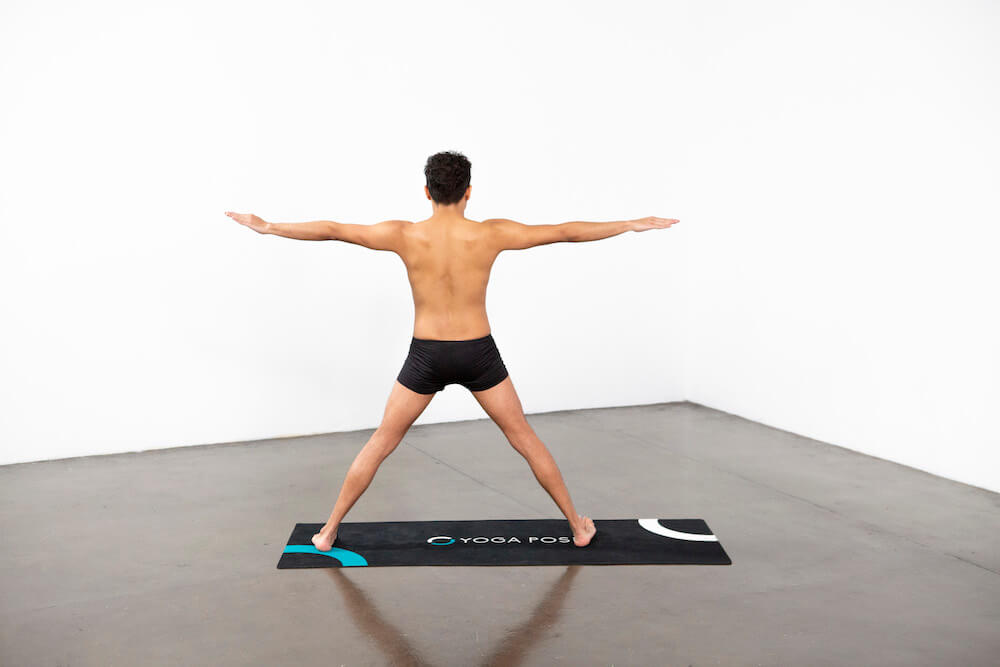 2.) Take a deep breath, lift your hands overhead and take one large step out toward the right. The distance between your feet should be around 3-4 feet apart. At the same time, lower your arms so they are parallel to your mat. Keep them straight and engaged.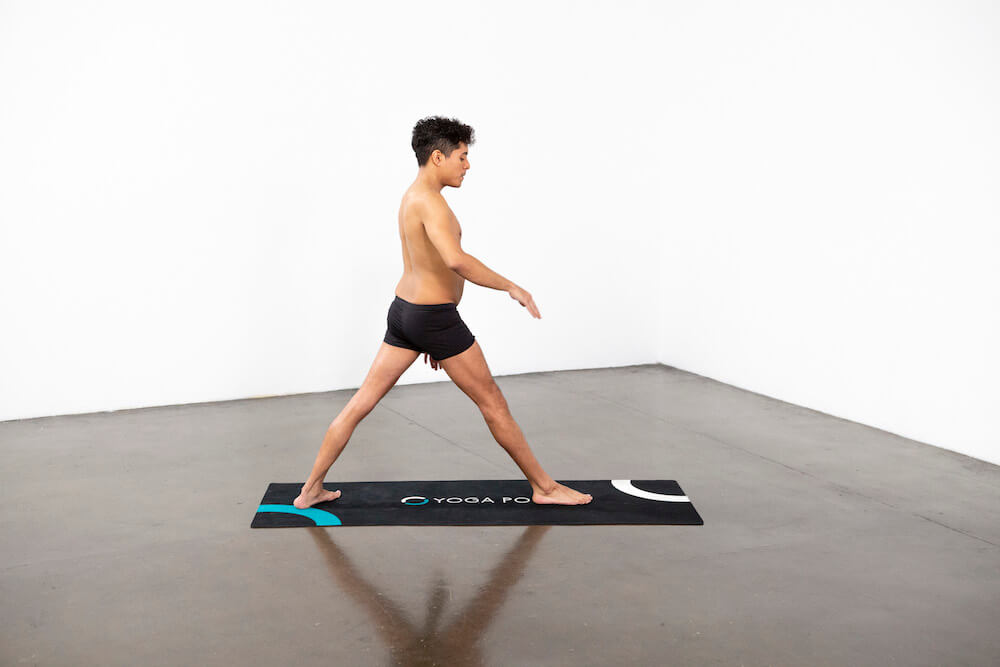 3.) Turn your back foot to a 45-degree angle but keep your front foot facing forward. Turn your body towards your front foot and square your hips.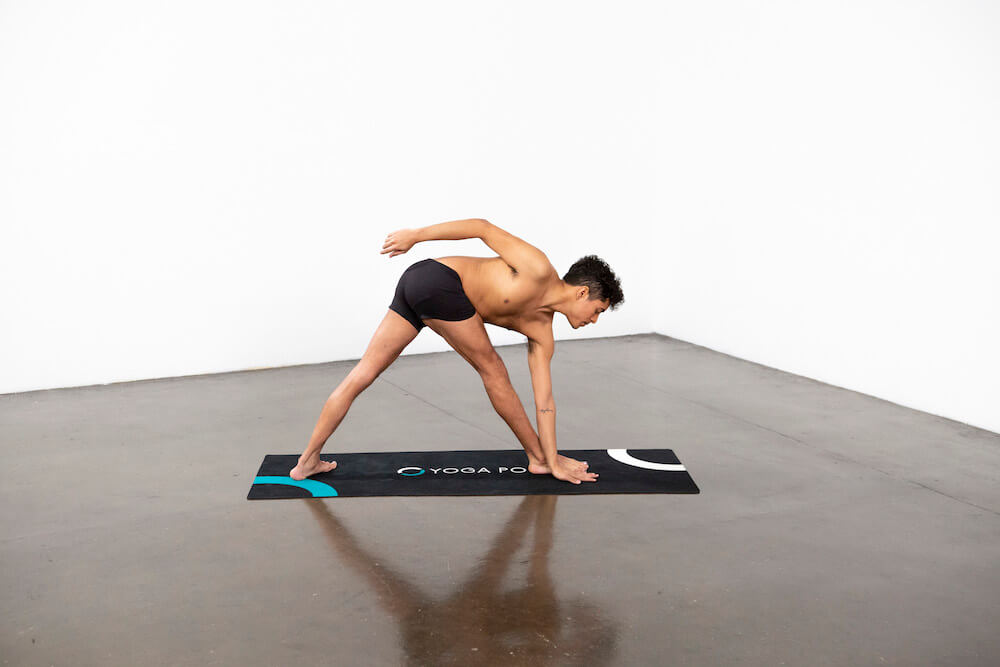 4.) When your feet are in the right position, spread your toes as much as possible to get a good sense of grip and balance. Also, remember to keep your knees locked. Lean forward and place your left arm on the mat outside of your right front foot.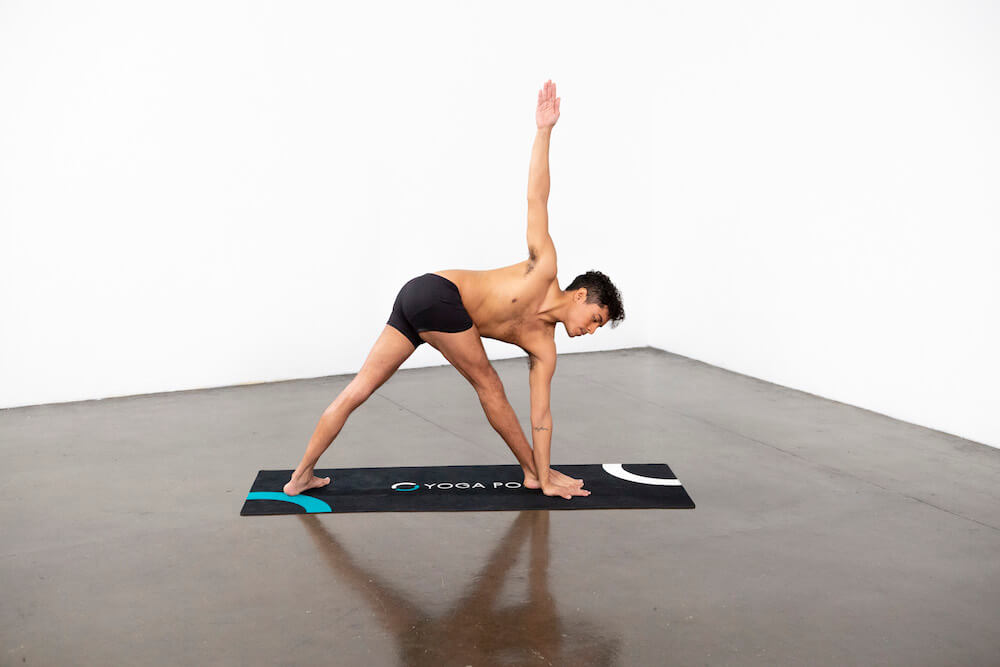 5.) As you exhale, start twisting your body to the right, and watch out for the right knee; it must stay locked. Extend your right arm up to the sky, creating one straight line across both of your arms.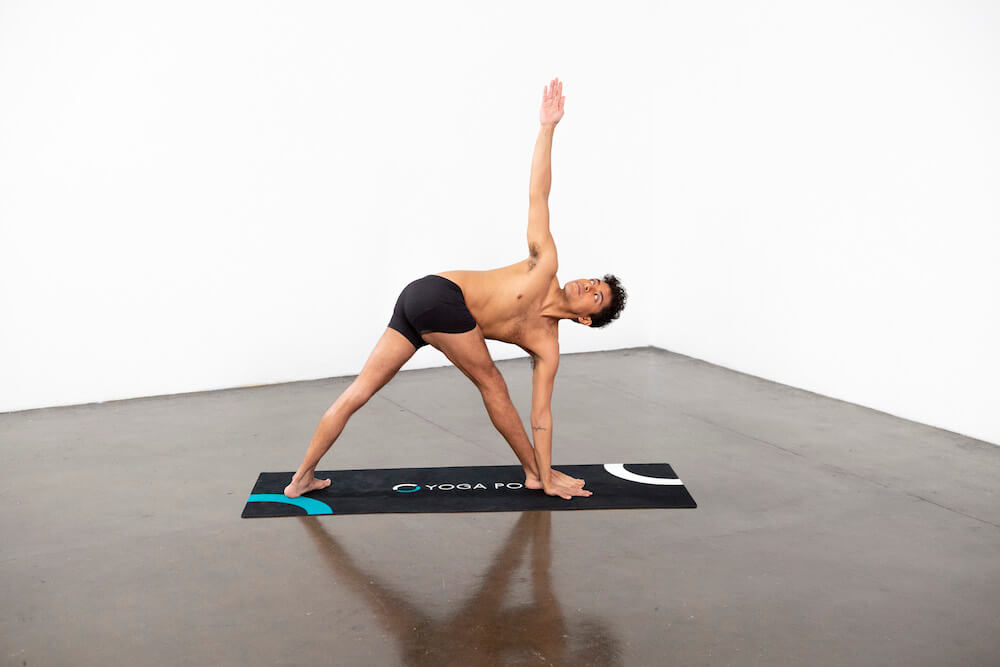 6.) Push your hips back and continue to lock your knees. Look up at your right arm.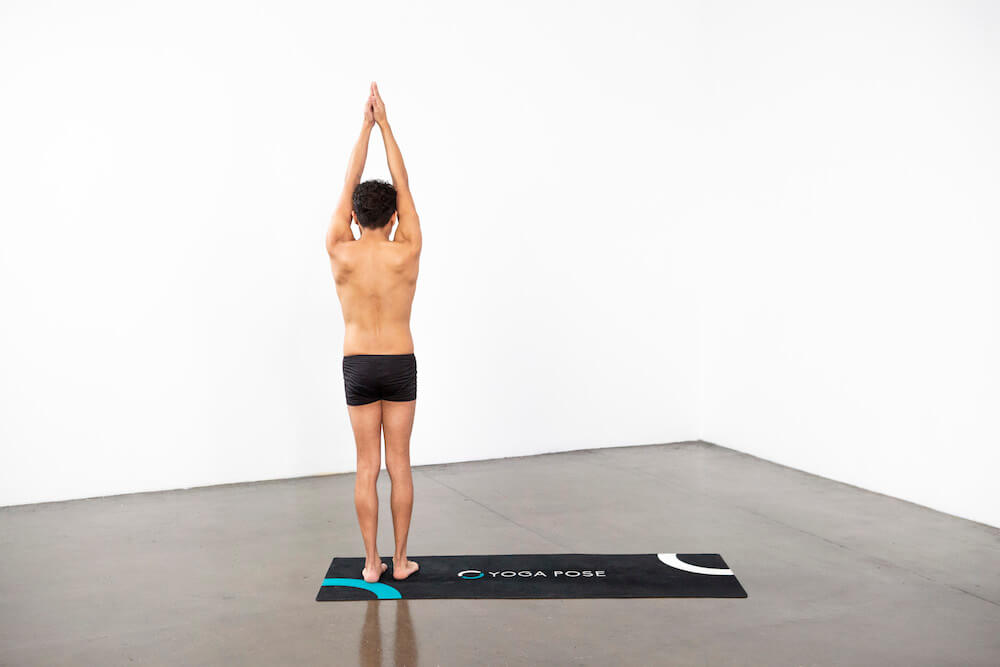 7.) Hold your position for 30 seconds and then slowly reverse the process.
HEALTH BENEFITS OF REVOLVED TRIANGLE POSE
REVOLVED TRIANGLE POSE FOR LEGS & HIPS
The Revolved Triangle Pose highly relies on your lower body to keep your balance; it requires the hip and calf muscles to contract in order to maintain your position. This is a great way to strengthen those muscles, especially if you are skipping "leg" days.
REVOLVED TRIANGLE POSE FOR BREATHING
During the twisting phase of Parivrtta trikonasana, you will open up your chest and take deep breaths, which is a fantastic way to expand your lungs and improve your breathing. Make sure to open your chest as wide as possible to move more air in and out.
REVOLVED TRIANGLE POSE FOR PAIN RELIEVE
This pose is great for people who suffer from mild back pain; by stretching the spine and twisting your body, you will relieve the tension from your lower back muscles, which reduces the strain. Practicing this pose every now and then can be great to ease up your pain.
Contraindications & Cautions
  Lower blood pressure
  Migraine
  Diarrhea
Modifications & Deepening the Pose
MODIFYING REVOLVED TRIANGLE POSE FOR BALANCE
Many yoga beginners struggle at the beginning to maintain their balance in Revolved Triangle Pose. However, worry not! There is a solution for you.

Perform the pose with the exact same instructions above, but this time, place the back of your left heel against a wall to have something to press on in case you lose balance.

This modification is also good to keep you aware of your spine and the other muscles while getting a sense of direction and not losing balance.
MODIFYING REVOLVED TRIANGLE POSE FOR FLEXIBILITY
If your hamstrings are tight and you can't reach the floor, try placing a yoga block next to your front foot and reach to grab it. The rotation will not be as complete; however, it is a good place to start until you master the pose.