Phalakasana (fal-ack-ahs-anna)
Strengthens the arms
 Stretches the spine
Tones the abdomen
The Plank Pose is perhaps one of the most common poses outside of the yoga field. It is practiced by many people regardless of the type of sports they do. Phalakasana focuses on balancing your body using your arms. It is a great pose to tone your abdominal muscles, stretch the spine, and strengthen the arms. Plank is an essential component of Sun Salutations and is often used as a transitional pose.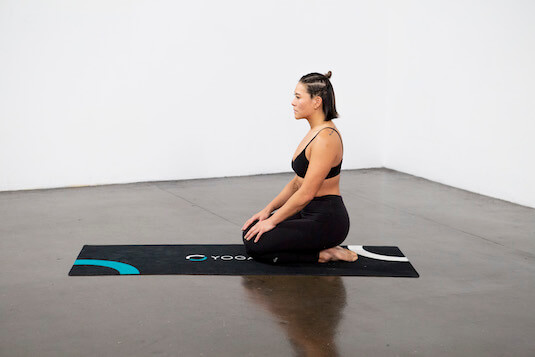 1.) Begin kneeling on your mat.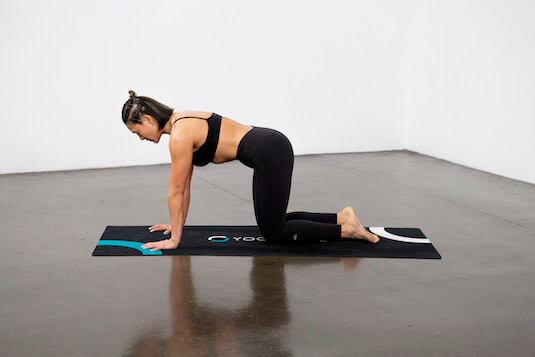 2.) Come into tabletop position.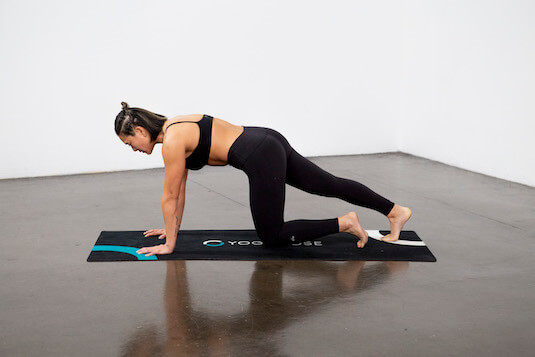 3.) One foot at a time step back, pressing your toes into your mat and pushing your heels towards to back wall.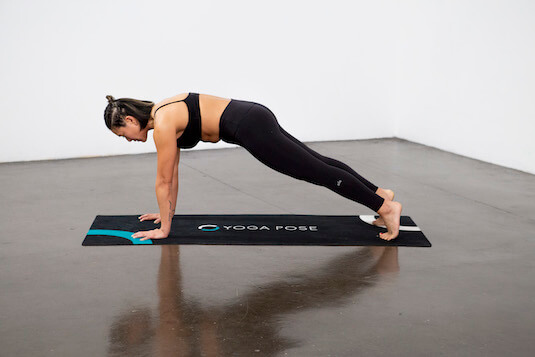 4.) Keep your back straight and your glutes tucked. Focus on creating a straight line with your body, engaging your arms, core and legs. Hold for up to five minutes. To release, come down to table top.
HEALTH BENEFITS OF PLANK POSE
PLANK POSE FOR WRISTS & ELBOWS
By maintaining Plank position, you will engage your arm and forearm muscles in eccentric contraction, which eventually leads to stronger and bigger muscles. Bigger upper body muscles will help you maintain Plank Pose for longer periods of time and you will be able to deepen the pose or switch to more challenging poses.
PLANK POSE FOR CORE
Plank Pose requires obligatory contraction of the abdominal muscles. While in this position, you will feel the abs burning and all the core muscles engaged. Many athletes use Plank Pose to work on their abs.
PLANK POSE FOR SPINE
Making sure your spine is aligned with your legs is extremely important, as it will stretch the spine muscles, especially those of the lower back portion. This pose could help people who suffer from chronic lower back pain; however, it should be performed with caution to avoid any complications.
Contraindications & Cautions
Carpal tunnel syndrome
Sore wrists
Recent abdominal surgery
Modifications & Deepening the Pose
MODIFYING PLANK POSE FOR WRIST ISSUES
If you are having issues with your wrists and can't apply all of your weight to them, you could lean on your forearms instead of wrists. This way, you'll reap the benefits of Plank Pose without exacerbating the condition of your wrists.
MODIFYING PLANK POSE FOR HIP STRENGTH
If you are getting comfortable with the regular Plank Pose, you could cross one ankle over the other while you squeeze your thighs.
THE FLYING PLANK
From the regular Plank Pose, bend one of your knees and hover that leg off the ground. Once you get one leg detached from the floor, you can start to gradually swing it towards your elbow. Repeat this process for the other leg.