Urdhva Prasarita Ekapadasana (OORD-vuh ruh-SAH-ri-tuh ey-kuh-puhd-AHS-uh-nuh)
BENEFITS OF STANDING SPLIT POSE
Opens up hips and groin
Stretches upper back and shoulders
Strengthens glutes
SUMMARY OF STANDING SPLIT POSE
Standing Split is a combination of a one-legged standing balance and a forward fold. Unlike front splits assisted by gravity, Standing Split is sometimes called True Split because the hip range is solely powered by your muscles.

STANDING SPLIT POSE TUTORIAL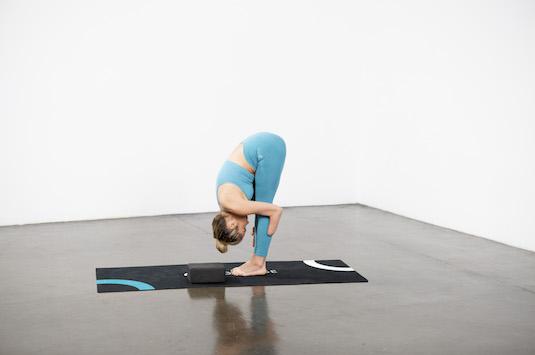 1.) Start in Standing Forward Bend (Uttanasana). Soften through the knees and drop the hips back.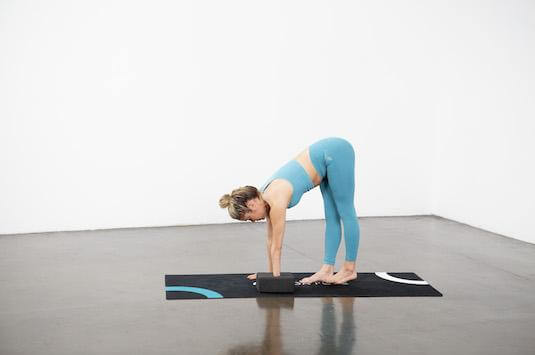 2.) Walk your hands slightly forward (about a foot) and press your palms or fingertips into the ground.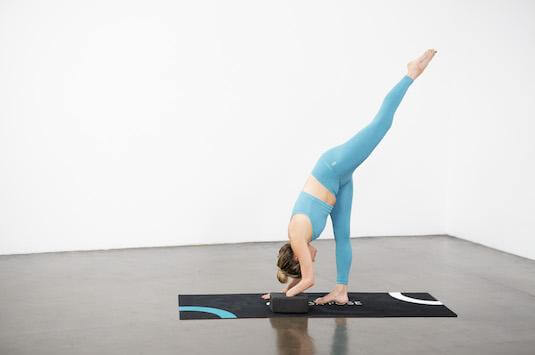 3.) Inhale as you bring the weight into your right foot and raise your left extended leg up to the sky. Point your toes and push the chest towards your right thigh.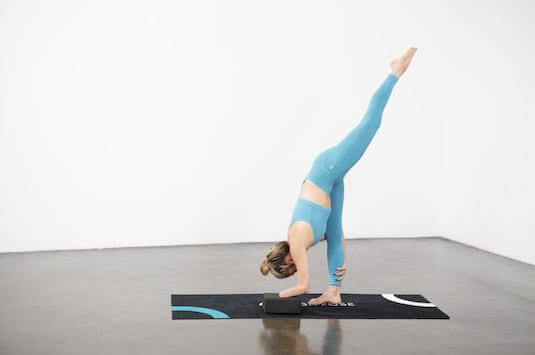 4.) Use your right arm to pull your chest closer to your right leg, extending the stretch throughout your hips. Find your balance.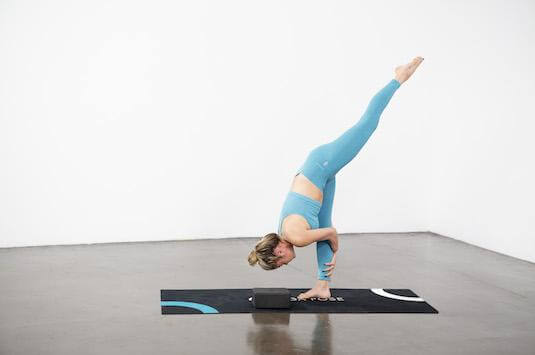 5.) Once you have established your balance, hug your right leg with both arms. Stay in this pose for up to a minute. Use your breaths to release any existing tension and perhaps even deepen the fold.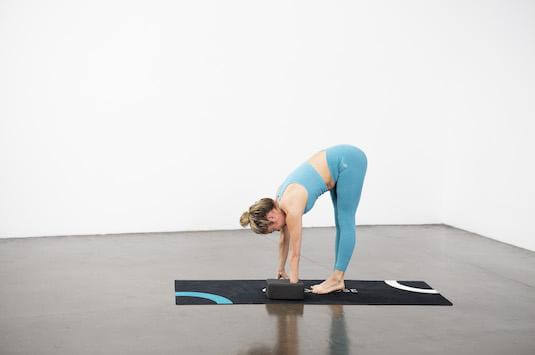 6.) To release yourself from Standing Split, bend the standing leg and bring your left foot next to your right. Take a few moments in Standing Forward Fold before repeating the sequence on the other side.
HEALTH BENEFITS OF STANDING SPLIT POSE
STANDING SPLIT FOR ACTIVE HIP MOBILITY
Doing the splits on the floor requires some time and dedication. Mastering Standing Split takes you to a whole new level. You're having to actively pull your top leg up and away from your standing leg, engaging through hamstrings, inner thighs, glutes and back. This type of flexibility actually has more functional applications and strengthens your muscles along with lengthening and stretching them.
Contraindications & Cautions
Hamstring strain or tear
Hernia
Lower back injury
Modifications & Deepening the Pose
MODIFYING STANDING SPLIT FOR TIGHT HAMSTRINGS
If you are having trouble planting your hands on the ground, place a pair of yoga blocks underneath your shoulders and use them to gain some stability.
MODIFYING STANDING SPLIT TO CHALLENGE BALANCE
Bringing your hands forward creates three points of contact and makes it easier to balance. If you fancy a challenge, wrap one or both of your arms around your base ankle, reducing the amount of balance points and increasing the difficulty of the pose.