STANDING HALF FORWARD BEND POSE
Ardha Uttanasana (UHR-duh ut-tahn-AHS-uh-nuh)
BENEFITS OF STANDING HALF FORWARD BEND POSE
Opens through the back of the legs
Lengthens through the spine
Stretches neck, shoulders and chest
SUMMARY OF STANDING HALF FORWARD BEND POSE
This pose, otherwise known as a Half Lift, is often included in a sun salutation sequence between a Standing Forward Bend and stepping back into Plank or Chaturanga. It's usually performed on a breath in, as a chance to lengthen through the spine while staying folded.
STANDING HALF FORWARD BEND POSE TUTORIAL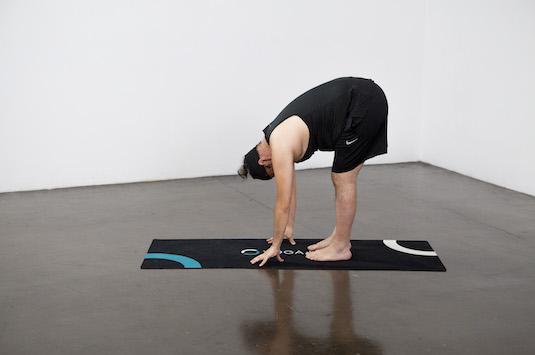 1.) From Standing Forward Bend (Uttanasana), press your fingertips slightly in front of your feet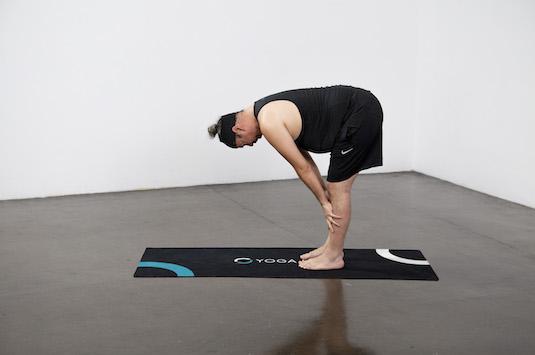 2.) On an inhale, straighten your arms and lengthen through the spine, reaching forward through the crown of the head. Draw your shoulders back and away from the ears. Open through the centre of your chest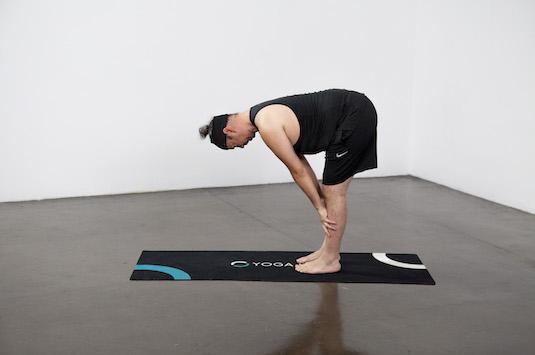 3.) You may bring your gaze slightly forward, but be careful not to compress your neck. If you feel any discomfort, tuck the chin towards your chest and allow the neck to stay neutral
HEALTH BENEFITS OF STANDING HALF FORWARD BEND POSE
STANDING HALF FORWARD BEND FOR BETTER POSTURE
The movement of reaching forward promotes active lengthening through the back and shoulder muscles, as we are working against the gravity pull by lifting slightly and reaching forward. Ultimately, it results in a more open chest and good postural habits.
STANDING HALF FORWARD BEND FOR ABDOMINAL STIMULATION
Practicing Standing Half Forward Bend stimulates abdominal organs and to some degree improves digestion. The action in the belly muscles results in a gentle massage for our organs, which can be helpful if you're suffering with abdominal pain caused by menstrual cramps or bloating.
Contraindications & Cautions
Neck injury
Hamstring and lower back injury
Modifications & Deepening the Pose
STANDING HALF FORWARD BEND TUTORIAL FOR TIGHT HAMSTRINGS
For many people, bringing fingertips to the ground without bending the knees is problematic, let alone trying to lengthen through the spine. To create extra support, you could place your hands on blocks positioned on their shorter side for maximum lift. Alternatively, connect the palms into the top part of your shins to perform Standing Half Forward Bend.
STANDING HALF FORWARD BEND TUTORIAL FOR SHOULDER MOBILITY
If you are looking to intensify this pose, consider removing the contact through the fingertips from the equation and extending the arms forward instead. Not only does this challenge your balance and require more core strength, this variation encourages active shoulder rotation, increasing overall shoulder mobility.