Bhujapidasana (buj-uh-peed-AHS-uh-nuh)
BENEFITS OF SHOULDER PRESSING POSE
Strengthens arms, shoulders and wrists
Increases hip flexibility
SUMMARY OF SHOULDER PRESSING POSE
Shoulder Pressing Pose is an intermediate arm balance whereupon the legs are wrapped outside the shoulders and ankles are crossed at the front. The Sanskrit name reflects the pressing motion applied to the shoulders ("Bhuja" meaning arm or shoulder, "pida" meaning pressure).
SHOULDER PRESSING POSE TUTORIAL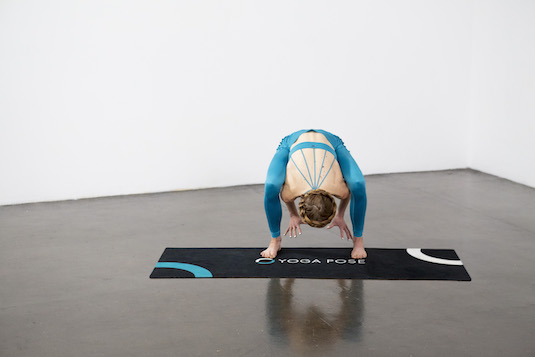 2.) Enter a deep squat with wide knees and place your hands on the mat between your feet. Try to place your shoulders inside of your knees.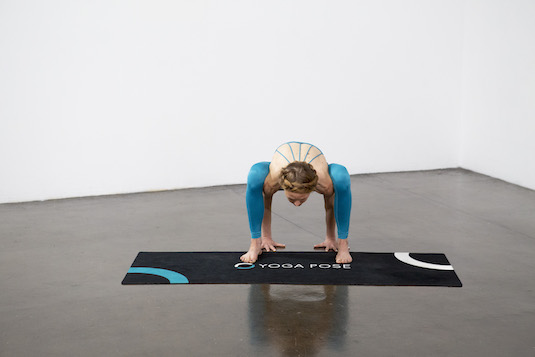 3.) On an exhale, fold a little deeper, bringing the arms between your legs. Maintain the knees bent generously to accommodate this movement. Hug the knees into your arms as you shift your weight forward. Your arms should be bent.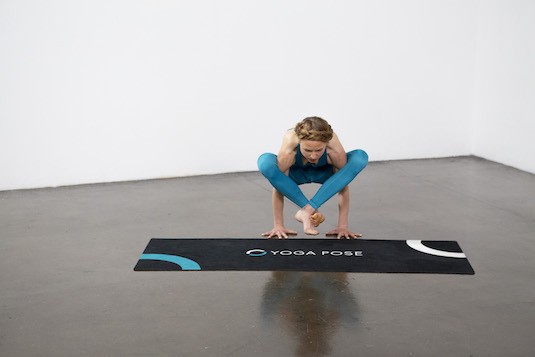 4.) Once your weight is shifted forward, begin to lift your legs off the mat, crossing over the ankles and flexing your feet. Your goal is to balance your entire body on your arms.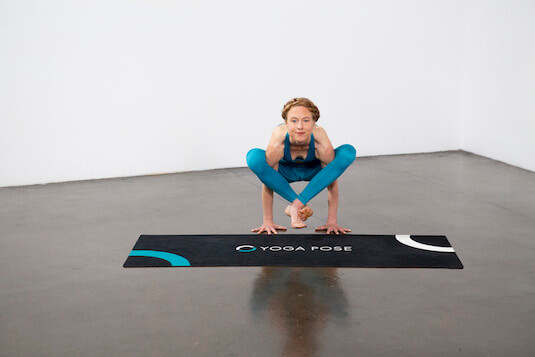 5.) Keep your elbows bent and hovering over wrists. Slowly transition the weight of your hips back, "sitting" back into your upper arms and elbows. As your feet float up, cross your ankles and flex your feet, pressing the knees and thighs into the shoulders.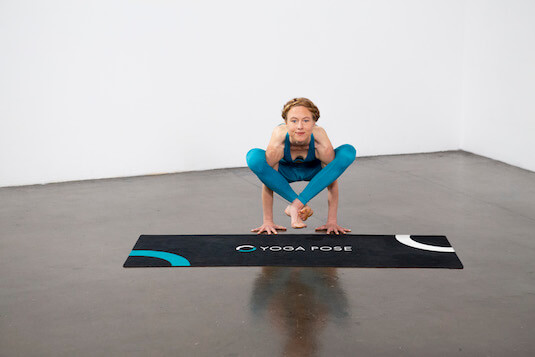 6.) Keep your gaze straight ahead and concentrate on your breaths. Stay in Shoulder Pressing Pose for up to a minute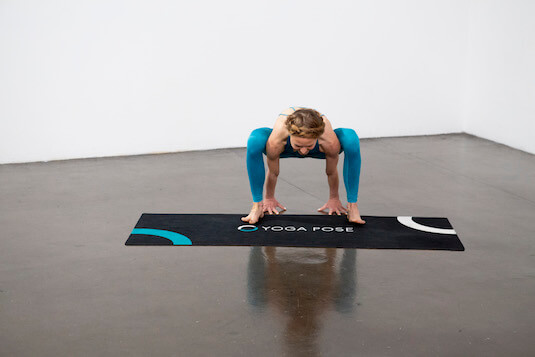 7.) To exit the pose, transfer your weight forward, uncrossing the ankles and landing back on your mat.
HEALTH BENEFITS OF SHOULDER PRESSING POSE
SHOULDER PRESSING POSE FOR CORE STRENGTH
The hardest part of this pose is the balancing aspect. Our lower body is heavier than the upper body, so sinking the hips back can easily overpower the balance and quite literally drop you on your backside. Sinking the hips back while keeping the knees near the shoulders involves a lot of core engagement, and practicing Shoulder Pressing Pose regularly is going to build that core strength up.
SHOULDER PRESSING POSE FOR INCREASED FOCUS
This pose is often included in Dharma Yoga flows because of its serene quality. Once you have established your centre of gravity and found your balance, lengthen through the front of your torso and direct your awareness within. Try to really focus on your breath and thoughts and soon you'll find the process quicker and more effortlessly, the more you practise.
Contraindications & Cautions
Wrist injury
Lower back injury
Modifications & Deepening the Pose
MODIFYING SHOULDER PRESSING POSE FOR BEGINNERS
If you keep losing balance and falling back uncontrollably, consider placing your buttocks on a yoga block or a bolster for support.
MODIFYING SHOULDER PRESSING POSE TO CHALLENGE BALANCE
Shoulder Pressing Pose has an asymmetrical variation with one foot drawn towards the middle while the other leg is straight and extended upwards. Eka Pada Bhujapidasana is more difficult to balance due to uneven weight distribution and would require more core strength and concentration.