Eka Pada Urdvha Dhanurasana
BENEFITS OF INTENSE ONE-LEGGED WHEEL POSE
Stretches the entire body
 Increases spine flexibility
Opens the chest
SUMMARY OF ONE-LEGGED WHEEL POSE
One-legged wheel pose, or Eka Pada Urdvha Dhanurasana, is an advanced backbend pose that requires a lot of strength, flexibility, and balance. It is a variation of the wheel pose that is more advanced and the user must have strong arms and legs. Also, before trying the one-legged wheel pose, students should master the basic backbends to avoid injury. This pose stretches the entire body, opens up the chest, and manipulates the flexibility of the spine. It is a great practice for advanced students who want to try a more challenging backbend pose.

ONE-LEGGED WHEEL POSE TUTORIAL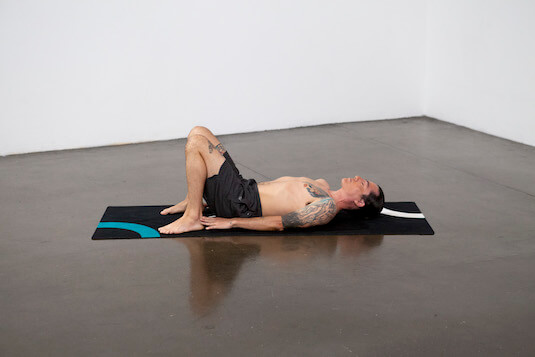 1.) Begin lying flat on your mat with your knees bent and your heels near your glutes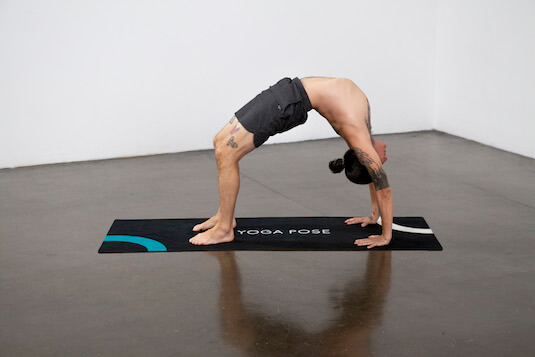 2.) Press your hands back over your head and lift up with your hips coming into Wheel Pose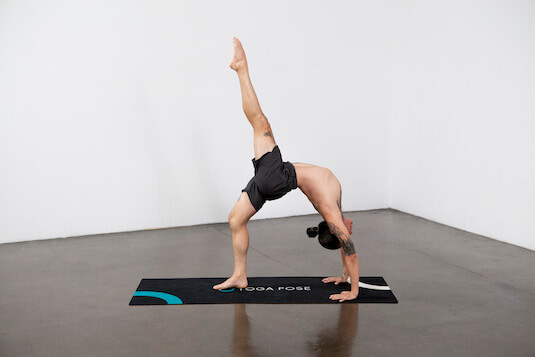 3.) Lift one leg up and point your toes to the sky, continuing to press off the mat with your palms and stabilizing foot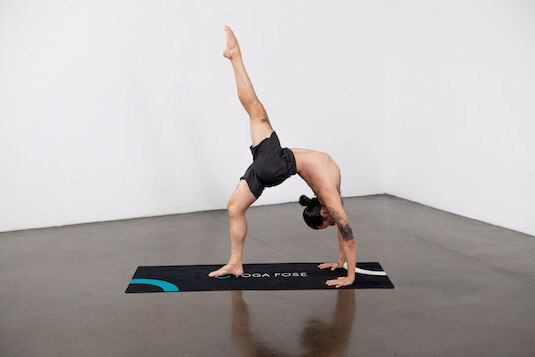 4.) Hold this position for up to 30 seconds and then slowly release back to the mat
HEALTH BENEFITS OF ONE-LEGGED WHEEL POSE
ONE-LEGGED WHEEL POSE FOR STRETCHING THE BODY
One-legged wheel pose recruits most of the body's muscles to stretch in an active and passive fashion. It challenges the entire axial muscles to maintain your balance. Some yoga gurus swear by this pose and its ability to stretch the entire body.
IONE-LEGGED WHEEL POSE FOR SPINE FLEXIBILITY
This pose moves the spine in the axial and rotary planes, thus improving spinal flexibility and reducing the risk of spine-related injuries.
ONE-LEGGED WHEEL POSE FOR THE CHEST
While doing the backbend, your chest will be wide open, and your breathing will significantly improve. One-legged wheel pose is one of those yoga poses that opens the chest to maximal capacity.
Contraindications & Cautions
Diarrhea
Carpal tunnel syndrome
Blood hypertension
Low blood pressure
Modifications & Deepening the Pose
MODIFYING ONE-LEGGED WHEEL POSE FOR BETTER BALANCE
Many students face difficulties when trying to practice this pose; however, you should not feel bumped down. It is, after all, an advanced pose that requires considerable strength, flexibility, and balance. What you can do is to practice the wheel pose without the "one-legged" part. This will help you get comfortable with the wheel pose, gain awareness of your body, and improve your balance. Practice this pose a couple of times a week until you feel really comfortable with it. Only then, you can try to perform the one-legged wheel pose. If you are still having trouble with the pose, you can practice it against the wall so that your chest will be touching the wall.