Makarasana (mah-kah-RAHS-anna)
BENEFITS OF CROCODILE POSE
Reduces stress and anxiety
Lower blood pressure
Help with insomnia
Improve breathing
SUMMARY OF CROCODILE POSE
Crocodile Pose, or Makarasana, is a floor pose which allows you to take a breath between other stomach-based poses. In essence it is like Savasana, but on your stomach. It's about refreshing and renewing. The name comes from the shape your body makes while lying on the mat.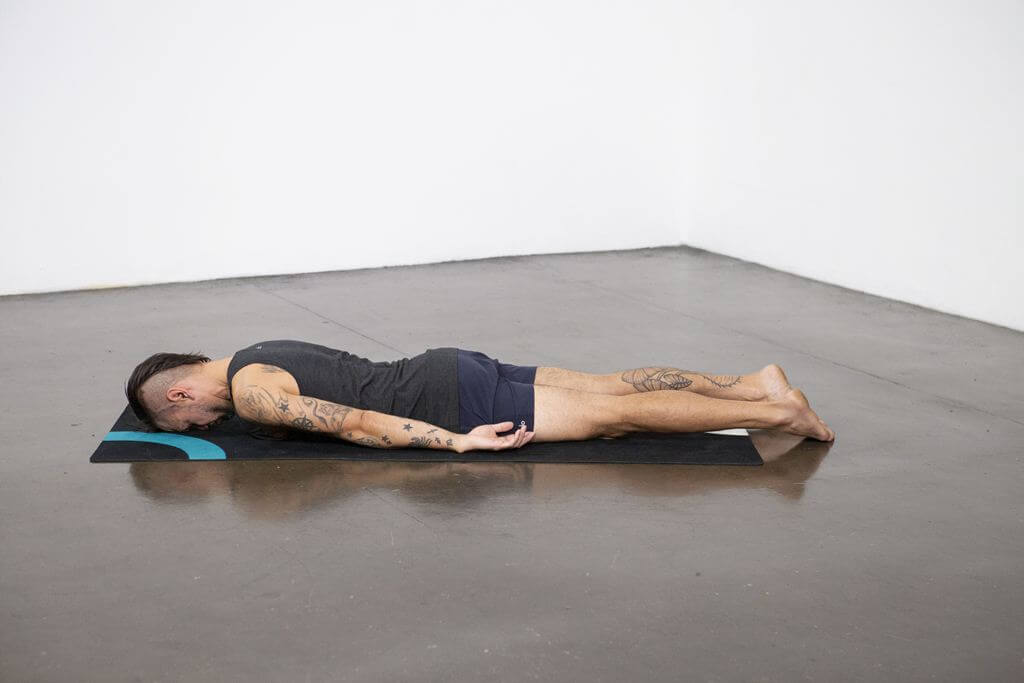 1.) Begin laying face down on your mat with your arms palms up by your sides.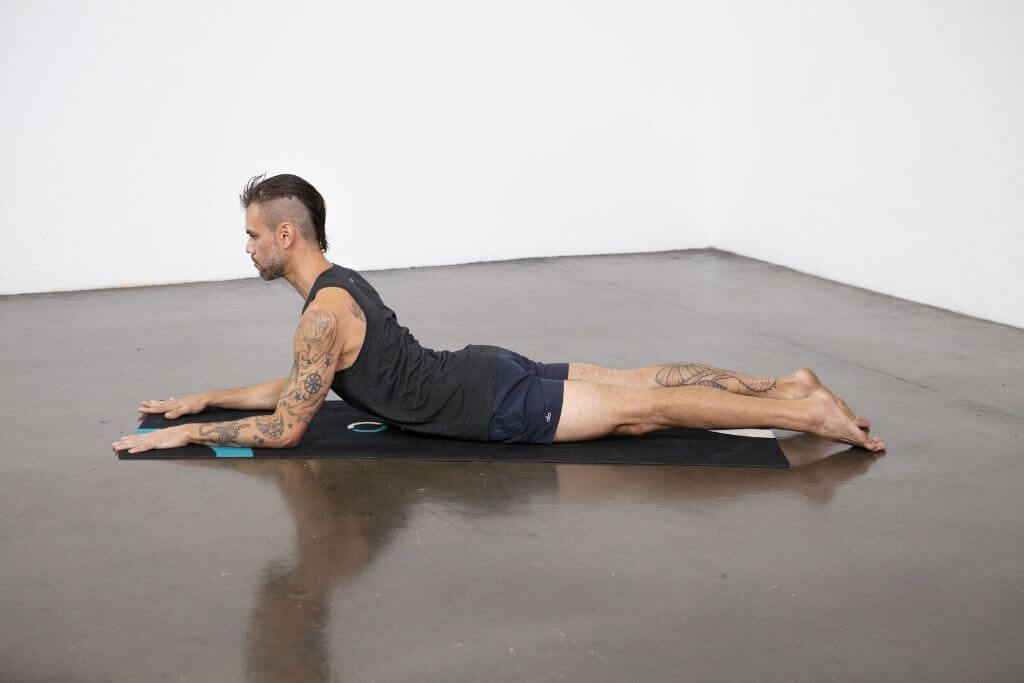 2.) Place your arms in front of you with your forearms flat against the floor, palms facing down.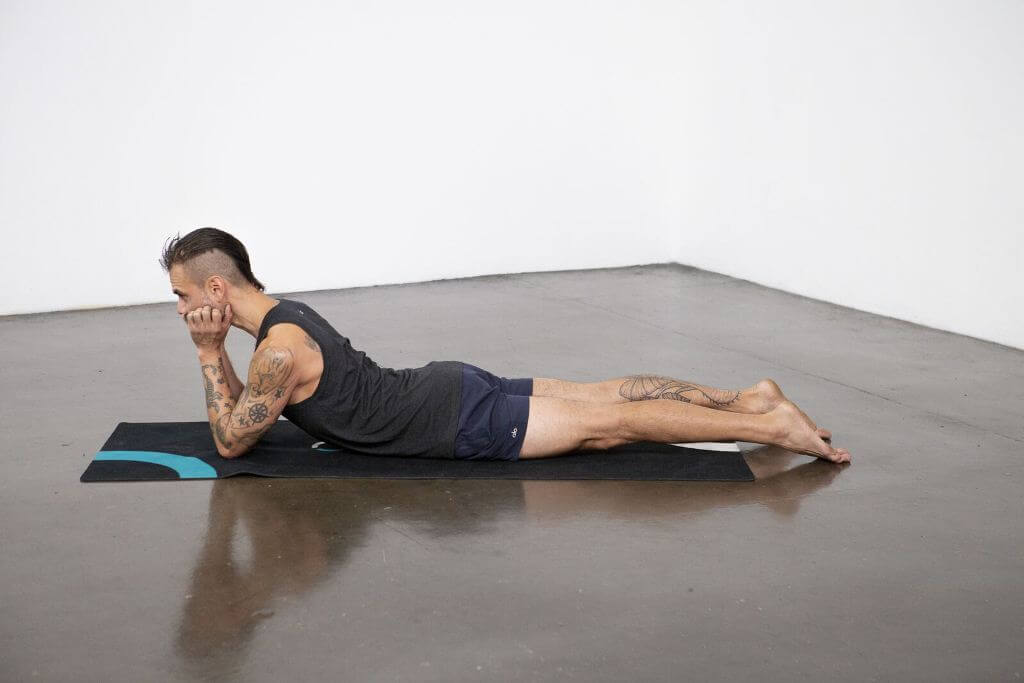 3.) Bring your shoulders and body off the ground so you are in a modified sphinx position. Your feet should be faced down.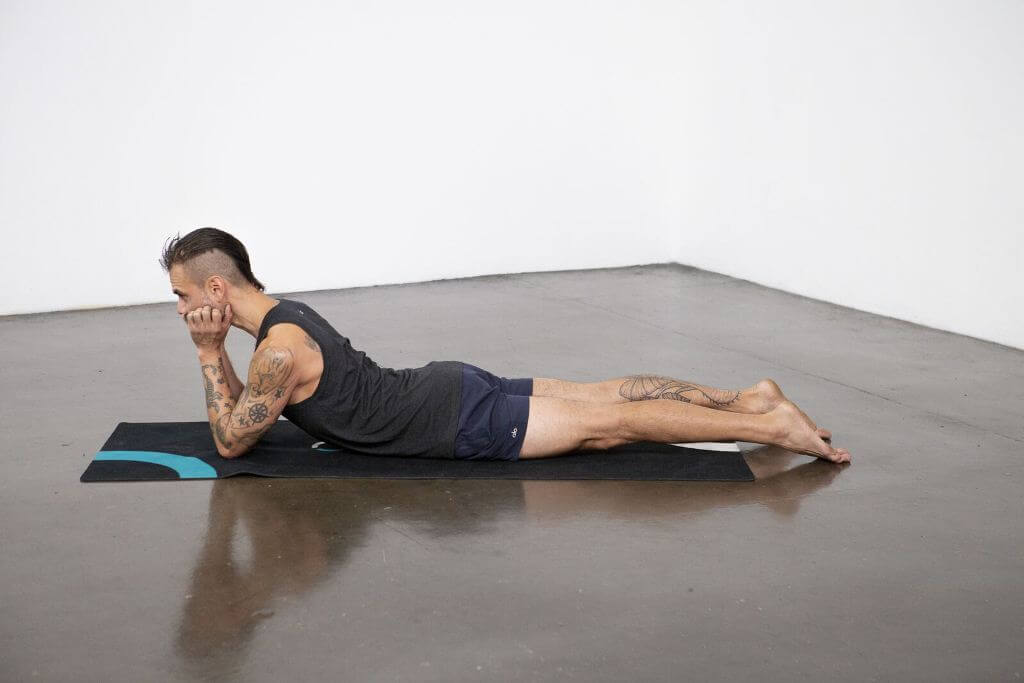 4.) Bend your elbows and bring your hands underneath your chin so that you are resting your chin in your palms.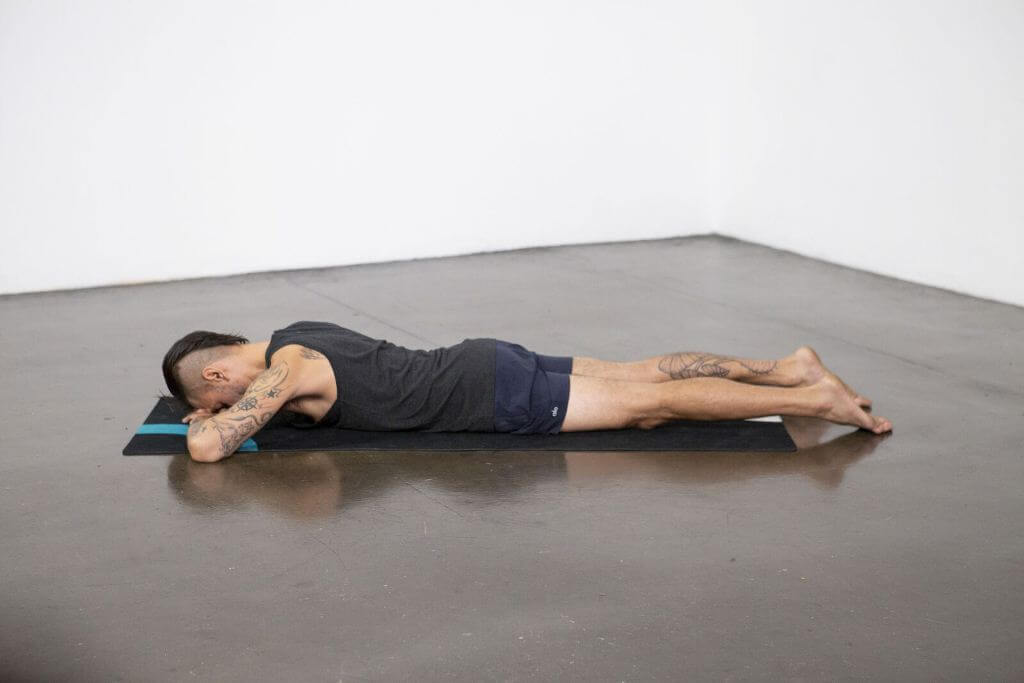 5.) To come out of the pose, simply place your hands back on the floor with palms overlapping and rest your forehead on your hands.
HEALTH BENEFITS OF CROCODILE POSE
CROCODILE POSE FOR ANXIETY AND STRESS
Crocodile Pose is a calming, relaxing pose. Its purpose is to provide a quiet space to breathe and renew your energy before you continue on to another pose. If you enjoy being on your belly, it can also be a calming pose in its own right.
CROCODILE POSE FOR LOWER BLOOD PRESSURE
Crocodile Pose is a quiet, horizontal pose which is fully supported. Everything gets a chance to reset itself here. The legs, especially, appreciate being horizontally oriented and in a position that allows blood to flow freely, especially if you have been standing or sitting all day long.
CROCODILE POSE FOR INSOMNIA
Crocodile Pose is a lying down pose. If you suffer with problems falling or staying asleep, consider giving Crocodile Pose a try. This is especially useful if you are a stomach sleeper. In this pose, your natural body is at ease and you can settle into the floor and simply allow blood to flow throughout your legs and body, also getting a nice lower back stretch.
Contraindications & Cautions
Modifications & Deepening the Pose
MODIFYING CROCODILE POSE FOR HEAD COMFORT
Some people don't like having their head sticking straight down into the mat. One alternative is to prop your elbows up on the mat and create a cradle for your head. Have your shoulders up off the mat and your chin resting in that cradle. You can also turn your head to the side, if that's better for you. Or you could use a low pillow.
MODIFYING CROCODILE POSE FOR LEG COMFORT
If it's uncomfortable for you to have your legs simply straight out behind you, consider spreading them a bit wider. You could have both toes pointing left or right. Try out different positions to see which works best for your body condition and health.
MODIFYING CROCODILE POSE WITH CHEST SUPPORT
If you'd prefer your head to hang free, roll up a blanket or get a bolster to put beneath your upper chest. Your head will hang loose down the other side of it which could make it much easier to breathe and rest.
MODIFYING CROCODILE POSE FOR A BUSY MIND
You may find that, far from being a relaxing pose, that Crocodile Pose becomes one where your mind is now free to fret and tumble because it has nothing else to do. If that happens, concentrate on your breath. Feel your breath draw into you, filling your upper chest, mid chest, and lower chest. Pause. Breathe out, releasing the carbon dioxide you no longer need. Press it all out. Pause.

Breathe in, slower, deeper, fuller. Feel your body fill with that nourishing air. Pause. Breathe out, again drawing it out longer and fuller. Pause.

When thoughts flit in, let them go like drifting clouds. They are brief glimpses against the endless blue sky. Then return your attention gently and compassionately to your breath. For this moment, for this short period of time, your breath is your only focus. Other things and issues will be dealt with later. For now it is the breath that matters most. The inflow of oxygen. The outflow of carbon dioxide. The cycle which keeps your body healing and growing and repairing itself.