"I am love, I am light" is the personal mantra of the founder of Sunshine Yoga Shack in Fort Worth, Texas, Lynn Rozak. The studio recently earned the title of Yoga Pose's Favorite Yoga Studio in Fort Worth, Texas in 2021. Here is their story.
Studio Story
After the birth of her first son almost two decades ago, Rozak began practicing yoga. She continued on her yoga journey for almost ten years before deciding to get her teacher training certification. She never thought that her love of yoga would turn into a career and studio – instead, she just wanted a deeper understanding of the practice. It wasn't until after the program that Rozak leaned into teaching, immediately running out to buy four aerial silks. She hung them in a barn and learned how to practice in the fabrics. Just like that, Sunshine aerial classes were born.
Today, Sunshine Yoga Shack has evolved and now offers both aerial and traditional yoga. The studio is a safe place for everyone to practice yoga and is located in Mansfield, Texas, just outside of Fort Worth.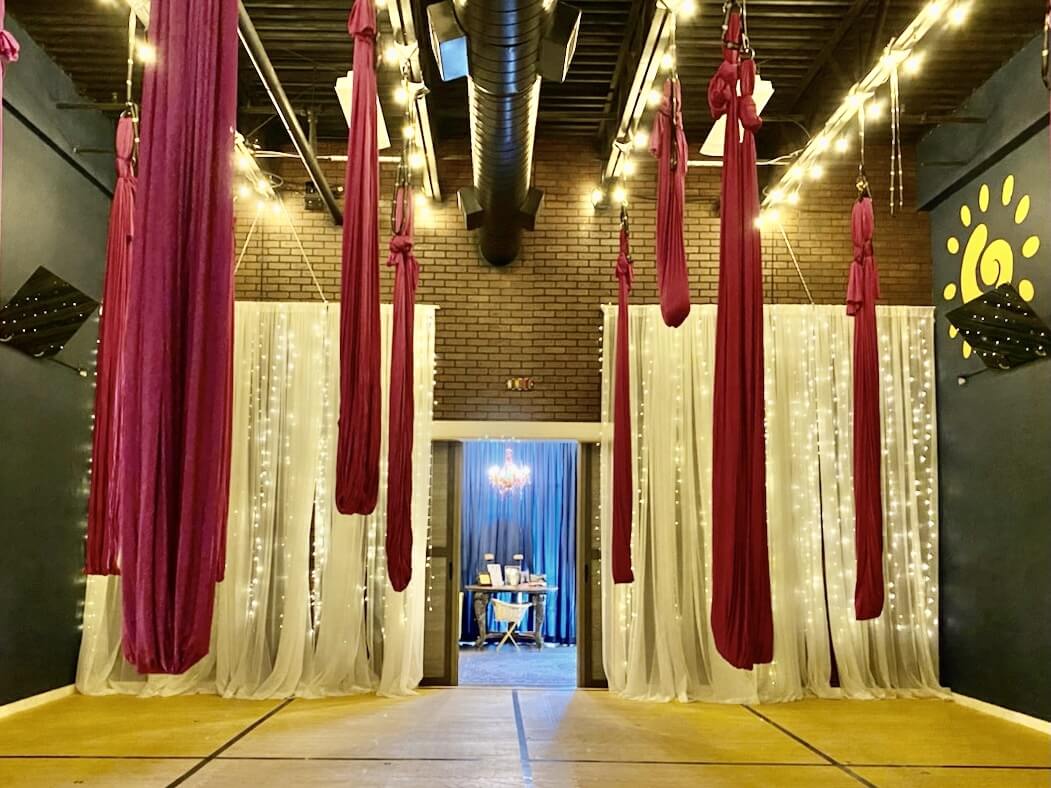 The Space
Step inside a warm honey environment, where the energy is electric. Magenta aerial silks hang from the ceiling, creating a cirque ambiance. Fairy lights and sheer drapes bring a sense of the magic of yoga to the studio.
Located in the back is the Sunshine Reiki Room. Here, all of the walls are deep blue and the sun brightens the room, illuminating hand-painted artwork. The warm sun envelopes the space, and patrons leave with new-found energy.
What We Love
"Yoga brought a sense of clarity and balance into my life. I have learned there is always more to learn…," says Rozak. This is one of the reasons that Sunshine Yoga Shack focuses on creating a non-judgmental space, welcoming both beginners and experienced yogis. "We offer traditional yoga and aerial yoga, and make it accessible for all levels," adds Rozak. The community bond experienced at Sunshine is one of the most noticeable values. When you practice here, you are family. Clients tend to leave with a special buzz about them, often forgetting to slip into their shoes after class.
Rozak is joined by a team of talented instructors. Each bringing a unique flair to the practice, and all having roots in the art world. "We have an amazing aerialist, artist, gymnast — and even an English teacher!"
Expert Advice for New Yogis
Every first few yoga classes are filled with anxiety and concern. Am I bending enough? Am I flexible enough? This is why Rozak's advice for beginner yogis is so vital. "My advice is to practice yoga with your eyes closed and feel what is happening during your practice." A large portion of yoga is mental clarity through meditation and breath. "This will ignite a light within you. Once you feel this light within yourself, you will see it is within all of us," Rozak finishes.
Sunshine Yoga Shack is located at 2880 Hwy 157 North #106, Mansfield, TX 76063. See class schedule.