"May all beings be happy. May all beings be peaceful. May all beings be liberated," is the go-to mantra for Rebecca Cox, the owner of Good Karma Yoga in Louisville. The studio was recently named Louisville's favorite yoga studio for its feel-good ambiance, design, and coursework.
Studio Story
Rebecca was an avid athlete and discovered yoga while attending the University of Louisville. She sought out yoga as a way to de-stress and regain flexibility. "At first, I joined a weekly yoga class but within a few months, I was practicing yoga daily, often catching yoga classes during the day in between my studies," says Rebecca. That's when she realized that yoga had become something very important in my life.
Rebecca launched her studio after many years as a conventional yoga student. She enrolled in a four-week intensive Yoga Teacher Training with the intention of teaching within her community, but that love of yoga led to the opportunity to open a studio in south Louisville, Kentucky – her home.
"My approach to yoga remains ever focused on creating a safe space which the studio has allowed me to do. This safe space allows the students the opportunity to be their authentic self," explains Rebecca. "When I am on her mat, yoga gives me a safe space to be my authentic self. I work hard to teach what I practice and believe it is important to remember that we are all perfectly imperfect."
The space has admittedly transformed into a true hub of positive vibes, which is aptly how the studio got its name.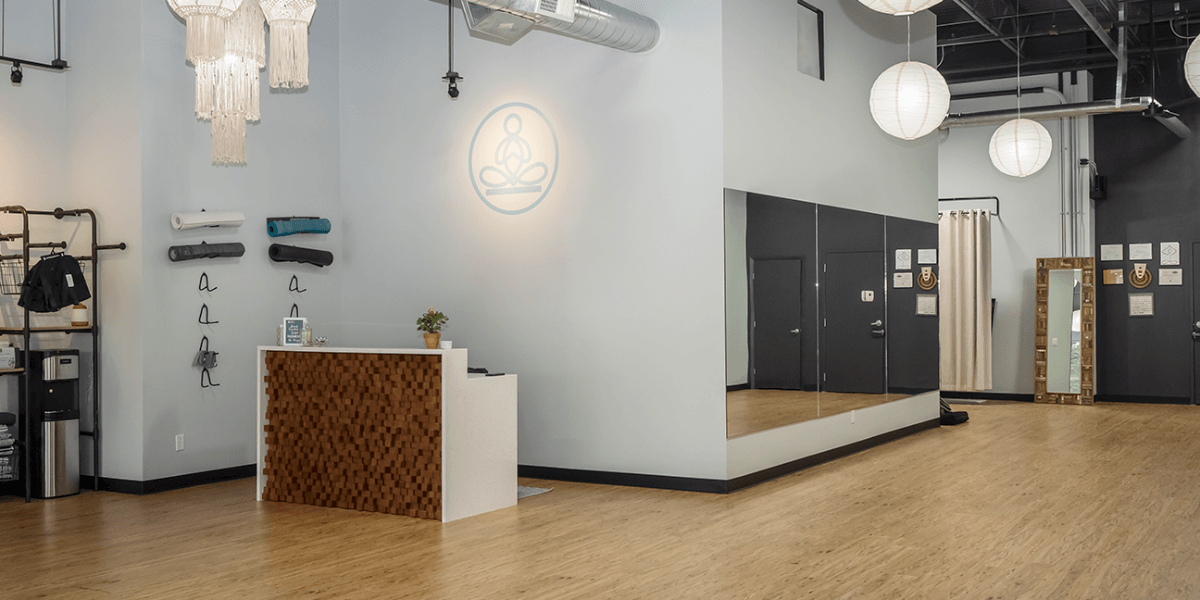 The Space
Light, warm, airy, and welcoming best describes Good Karma Yoga. This studio was newly constructed in 2020. The studio has an open floor plan that includes 18' high exposed ceilings, stainless steel exposed ductwork, light gray painted walls, LED color changing lights, and environmentally sustainable flooring.
As you walk through the front door, two beautiful wooden benches with lower cubby storage and a custom front desk with three hanging macrame lights. To the left of the desk on the long wall, there is a beautiful abstract magnolia-inspired large mural with three large flowers. The flowers are outlined in white paint and a few of the petals have aqua or greenish-blue accent. In the rear of the studio, there is a lounge area that includes a comfortable sectional couch and a changing area. The bathroom is located in the rear of the studio also.
Compared to other studios, the studio's modern design, ambiance, and array of teachers are what stand out the most. "All of our teachers have completed at least one 200-hr Yoga Alliance approved yoga teacher training," says Cox, "and all of our teachers are very welcoming and love sharing their yoga knowledge with others."
Yogis who practice here often feel relaxed and rejuvenated after they leave the space because they are more aware of their breath, body, mind, and thoughts. The space is a natural stress reducer. "Our clients often tell us that both their body and mind feel stretched. Which creates a lasting calm and euphoric feeling for them."
Expert Advice for New Yogis
When asked for advice for new yogis, Rebecca had one simple response, "Listen to your body because it's your best teacher." This simple reminder will help you to align both your mind and body and to modify poses to your own needs – seeing beauty in progress.
Be gentle and kind to yourself. If you are not gentle and kind to yourself, it's really hard for others to be gentle and kind to you.
Modify the yoga pose for your body and don't compare yourself to others. If we all looked the same, then all of our poses would look the same and life would be rather boring. Since we all look different, each person's yoga pose will look different and that's a beautiful thing.
It's important to remember to take time for yoga because it is your practice. The more you practice the benefits you will experience.
Good Karma Yoga is located at 8104 National Turnpike Suite 104, Louisville, KY 40214. See the full class schedule here.