Salamba Bhujangasana (SAH-luhm-buh buj-uhn-GAHS-uh-nuh)
Strengthens the spine
Stretches chest, shoulders and stomach
Firms the gluteal muscles
Sphinx Pose is a variation of a Cobra backbend. In fact, its Sanskrit name translates to Supported Cobra Pose ("Salamba-" meaning with support, "-bhujanga" meaning snake or serpent). It's a lovely alternative to deeper Cobra variations or Upward Facing Dog Pose for those who don't want to load their lower spine too much.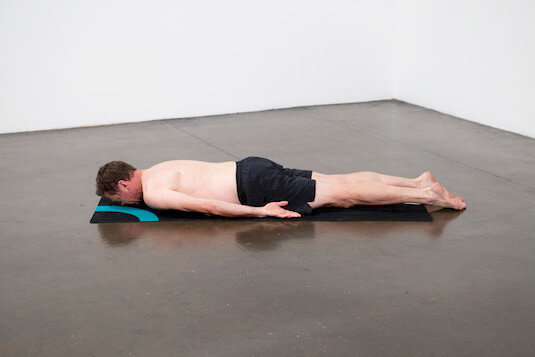 1.) Start by lying on your belly with your legs extended back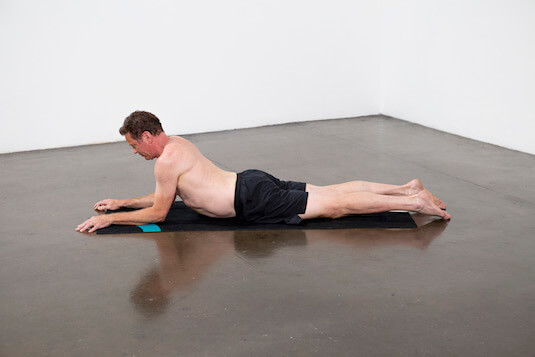 2.) Slide your elbows forward, positioning them either side of the chest. Open the palms wide and grip firmly through the fingertips. Breathe in, pull the belly button towards your ribcage as you draw your shoulder blades towards your spine and lift through the crown of your head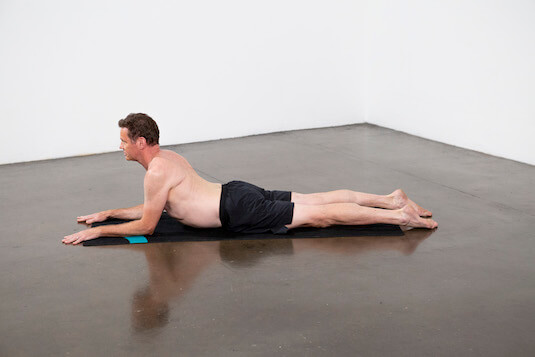 3.) Align your shoulders to be directly above your elbows. Check that your forearms are parallel with each other. Gently pull on your fingertips, sending your sternum forward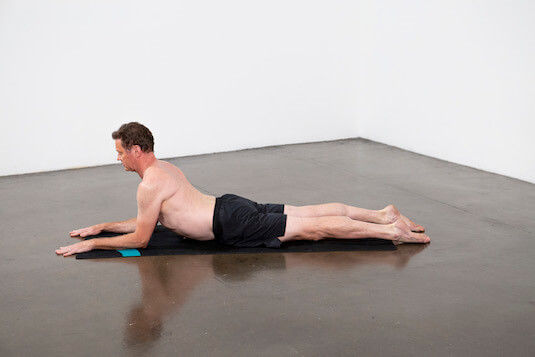 4.) Press into the tops of your feet, activating through legs and buttocks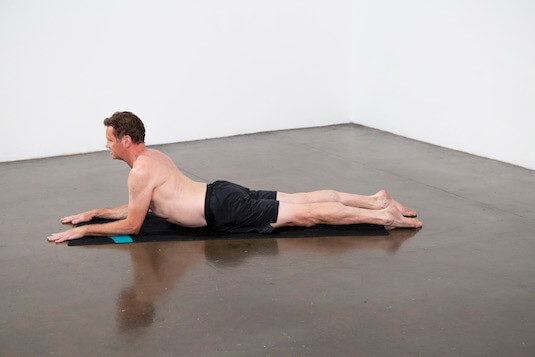 5.) Keep your gaze forward and your neck in a neutral position. Maintain Sphinx Pose for 5-10 breaths
HEALTH BENEFITS OF SPHINX POSE
SPHINX POSE FOR THORACIC SPINE FLEXIBILITY
Bringing the elbows and forearms down changes the section of the spine affected by this backbend. With the ribs staying down, the focus shifts to the upper part of the vertebral column. In deeper backbends it's easy to neglect thoracic spine in favour of the lumbar section, however Sphinx Pose encourages chest and shoulder opening with plenty of additional support.
SPHINX POSE FOR DIGESTION
Arching through thoracic spine while lying on your belly applies some pressure to your stomach and massages abdominal organs. Resulting benefits include improved digestion, ease of abdominal distress, relief from bloating and stimulation of regular bowel movements.
Contraindications & Cautions
Headache
High blood pressure
Modifications & Deepening the Pose
MODIFYING SPHINX POSE INTO A PASSIVE POSE
The active expression of the pose, as described above, called for engagement through legs, glutes, stomach, shoulders and chest. However, if you are looking for a resting backbend, you could relax the legs and stomach and rely on your upper arms to support your shoulders (provides elbows are placed directly below). If you'd like to relax your neck, you could bring the hands up towards the face and cradle your chin or forehead, supporting your head in an upright position.
MODIFYING SPHINX POSE FOR STRETCHING QUADRICEPS
You could use the time spent in Sphinx Pose to open up through the front of your thighs and work on active hamstring contraction. To perform this action, press on foot firmly into the mat while you pull the opposite heel towards your buttocks. Make sure the weight stays even through both hips and shoulders. After holding it for a few breaths, swap legs.