Tadasana (tah-DAHS-uh-nuh)
BENEFITS OF MOUNTAIN POSE
 Improves posture
 Increases strength
 Relieves sciatica
 Steadies breathing
Mountain Pose, or Tadasana, is considered the foundation of all standing poses that offers multiple health benefits, including pain relief from sciatica. It is a great pose for beginners and can be used to transition into other poses. Tadasana can also be done by itself to improve posture and increase strength.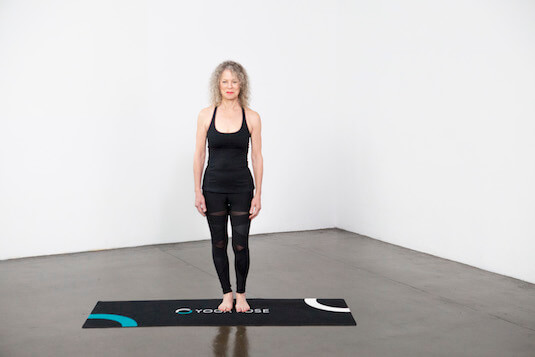 1.) Begin standing on your mat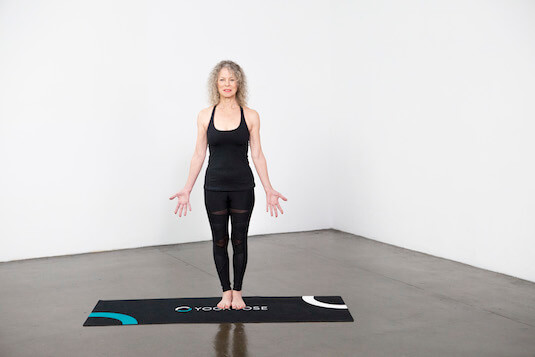 2.) Focus on your breath, place your feet flat on the mat, about hip width apart. Focus on aligning your spine, tucking your tailbone and pulling your shoulder blades back. Be sure to engage your core, and lift through the crown of your head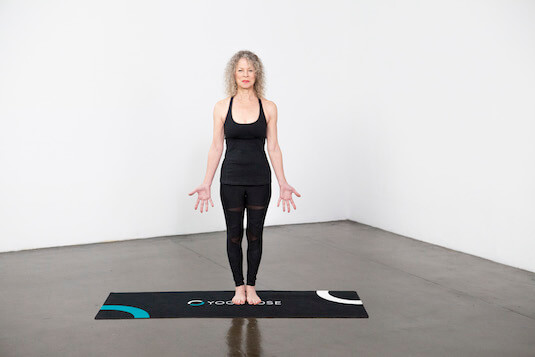 3.) Continue to focus on breath as you hold this pose and root to your mat
HEALTH BENEFITS OF MOUNTAIN POSE
MOUNTAIN POSE FOR POSTURE
Mountain pose is a great exercise to improve your posture and help with spine abnormalities, such as arched back. Posture is the cornerstone of all yoga poses and should be given top priority.
MOUNTAIN POSE FOR STRENGTH
Even though this pose might not look like much, it is a great tool to increase the muscle strength of your legs, abdomen, and lower back. Also, being aware of your muscles will promote active contraction, which eventually leads to stronger muscle fibers.
MOUNTAIN POSE FOR PAIN RELIEF
Sciatica affects around 5-10% of the general population and may present with severe lower back pain that irradiates through the back of the buttocks, thighs, and legs. By straightening your spine up and improving your posture, Tadasana may be a great pose to relieve sciatica pain.
Contraindications & Cautions
Lower blood pressure
Headache
Insomnia
Modifications & Deepening the Pose
MODIFYING MOUNTAIN POSE FOR BETTER POSTURE
If you are worried about standing in a perfect alignment, try doing this pose at a wall. Stand against the wall with your feet hip-width apart. Have the back of your heels and your occiput (base of the skull) touching the wall. Similar to the regular pose, lift and spread your toes as wide as possible, and then lay your toes back on the ground while keeping the width you created. Also, don't forget to keep your knees unlocked, and to engage your quadriceps, abdominal muscles, and lower back muscles.
MODIFYING MOUNTAIN POSE FOR OUTER HIPS STRENGTH
If you want to work on your abductor muscles (outer hips), you may need to get a yoga strap and loop it around your shins. Make sure the strap gives enough resistance to engage your outer hip muscles. Also, the strap must be fixed under your knees and not above. Time to work those abductor muscles! slightly bend your knees and press your feet apart from each other in an attempt to bust the strap open. While doing this modified pose, you will feel the engagement of your abductors, which are actively contracting. One final point, do not forget to keep your abdominal muscles engaged!
MODIFYING MOUNTAIN POSE FOR INNER HIPS STRENGTH
For this one, you will need a yoga block to place between your thighs. Once you have the block in position, start squeezing it, using your inner thigh muscles. However, don't forget to keep applying all the aforementioned steps in the tutorial.