UPWARD FACING TWO-FOOT STAFF POSE
Dwi Pada Viparita Dandasana (DWI-puh-duh vi-puh-REE-tuh duhn-DAHS-uh-nuh)
BENEFITS OF UPWARD FACING TWO-FOOT STAFF POSE
Opens chest and shoulders
Lengthens the front of hips and ankles
Releases pressure from the neck
SUMMARY OF UPWARD FACING TWO-FOOT STAFF POSE
This pose, sometimes called Two-Legged Inverted Staff Pose is a backbend similar to Wheel Pose (Urdhva Dhanurasana), except with your legs straight and your forearms providing the base for the upper body. The intensity of the backbend combined with extreme stretch through the front of the body places Upward Facing Two-Foot Staff Pose in the intermediate category. Be sure to only attempt this asana if you can confidently perform Upward Bow Pose (Wheel).
UPWARD FACING TWO-FOOT STAFF POSE TUTORIAL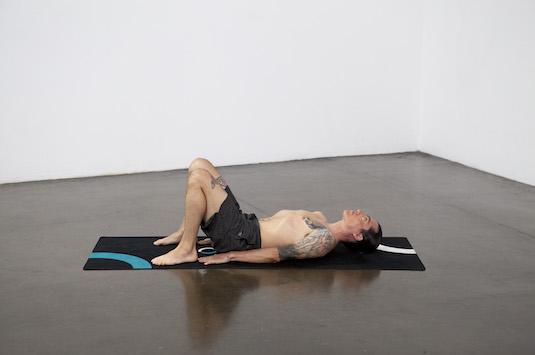 1.) Begin lying flat on your back with your hands by your sides and your heels by your glutes, knees bent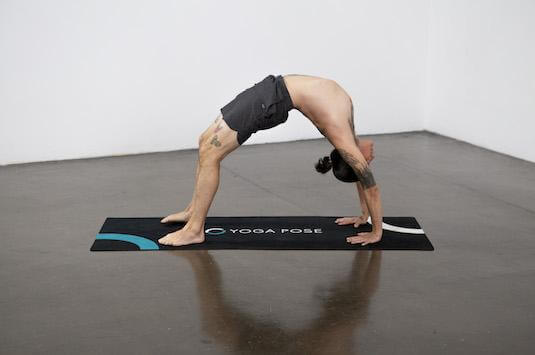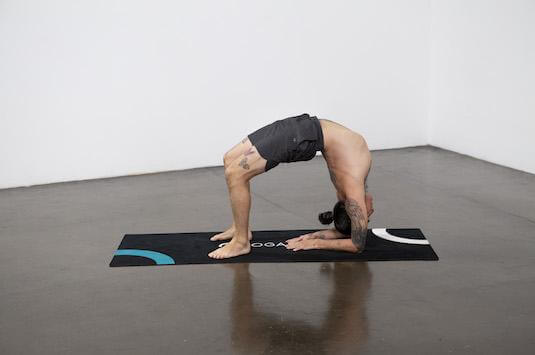 3.) Lower your head to the mat, taking a deep back bend, and walk your arms towards your body, you will rest with your forearms on the floor on either side of your head for support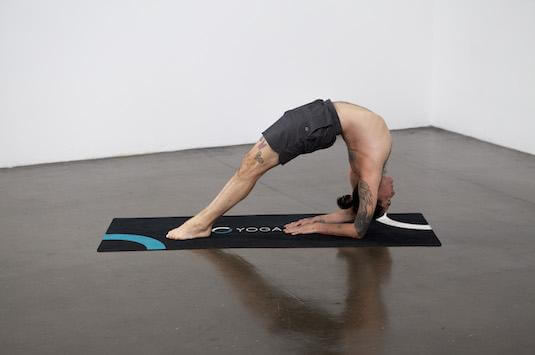 4.) Lifting off of your forearms, shift your entire body forward. You should be pressing into the mat with the soles of your feet and your forearms, your hips should now be above your head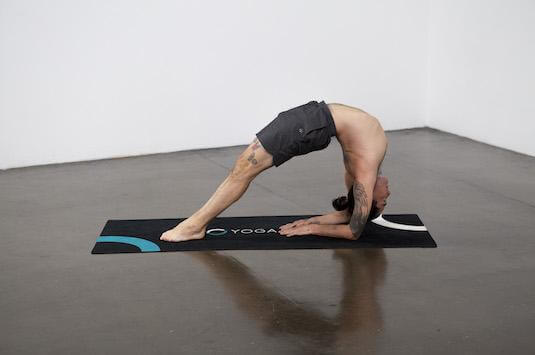 5.) Hold this position for up to 30 seconds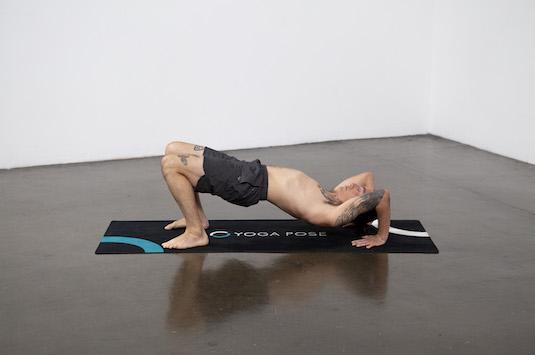 6.) To release, reverse your steps slowly
HEALTH BENEFITS OF UPWARD FACING TWO-FOOT STAFF POSE
UPWARD FACING TWO-FOOT STAFF POSE FOR STRESS RELIEF & ENERGY BOOST
This creative backbend is believed to fight stress and fatigue, and the combination of these factors can actually be helpful for people suffering with various types of depression.
UPWARD FACING TWO-FOOT STAFF POSE FOR BETTER POSTURE
The action of bringing the forearms down in an inverted backbend like this has a great effect on chest, lungs and shoulders. It increases thoracic spine flexibility while intensely stretching through pec muscles, triceps, armpits and shoulders. Conditioning the upper body by practising Upward Facing Two-Foot Staff Pose creates positive habits and improves posture long-term.
Contraindications & Cautions
Lower back tension
Neck injury
Wrist injury
Chest tightness
Headache and migraines
Hypertension
Heart problems
Modifications & Deepening the Pose
MODIFYING UPWARD FACING TWO-FOOT STAFF POSE FOR LONGER HOLDS
When you find your focus and really tune into the sound and rhythm of your breath, you might want to increase the duration of this pose. This, in turn, might make it difficult to keep your head lifted for an extended period of time. Before you start the pose, bring a small cushion or a soft folded blanket underneath your head, so that if you decide to extend the pose, you can rest the crown of your head down when you need a rest.
MODIFYING UPWARD FACING TWO-FOOT STAFF POSE FOR INTENSE ALIGNMENT
If you would like to set yourself a challenge of maintaining the strict form, you could practice this pose against the wall. Start with your body perpendicular to the wall, head nearest. Once you have lifted into Wheel Pose, walk your hands and feet toward the wall until you can press your heart and arms against the wall. Continue entering Upward facing Two-Foot Staff Pose, modifying the position as required. The end result should still have the chest and upper arms pressed against the wall.