UPWARD FACING FORWARD BEND
Urdhva Mukha Paschimottanasana (OORD-vuh MUK-uh puhsh-chi-mo-tahn-AHS-uh-nuh)
BENEFITS OF UPWARD FACING FORWARD BEND
Improves balance
Increases core strength
Elongates muscles on the back of your legs
SUMMARY OF UPWARD FACING FORWARD BEND
Upward Facing Forward Bend can be made to look simple and effortless by experienced practitioners. In reality, it requires a steady foundation, an ability to balance and a certain amount of flexibility. It's a logical progression from Boat Pose (Navasana) where the hands come in contact with feet or ankles and the fold becomes deeper.

UPWARD FACING FORWARD BEND POSE TUTORIAL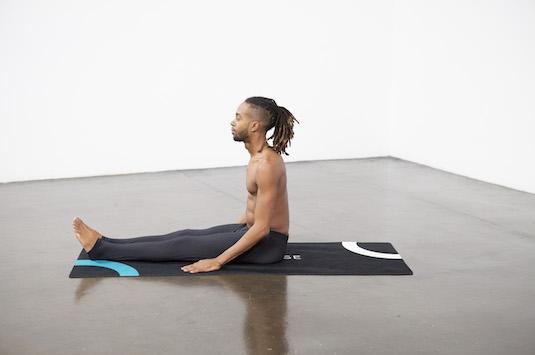 1.) Begin seated in Staff Pose with your back straight and your legs out straight and engaged in front of you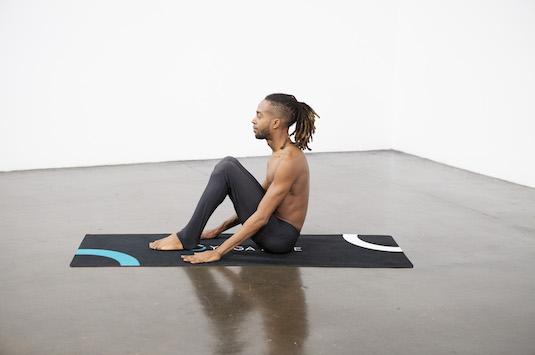 2.) Slowly slide your feet in, bending your knees and placing your hands on the mat on either side of you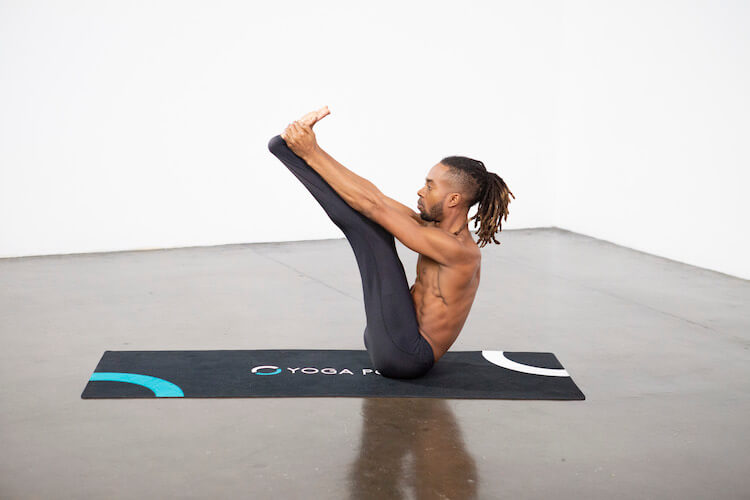 3.) Reach for your heels and hold on to your heels with your hand, slowly begin to straighten your legs up, balancing on your seat bones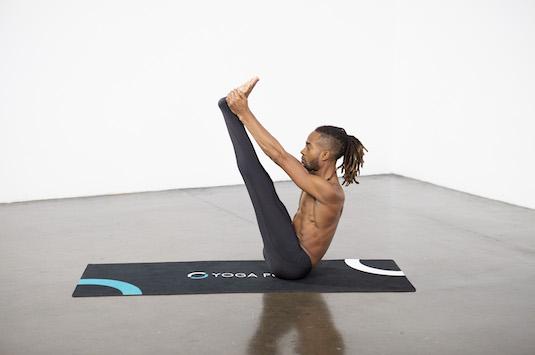 4.) Straighten your legs and arms so your body is making a V shape. Breathe here and hollow out your belly, engaging your core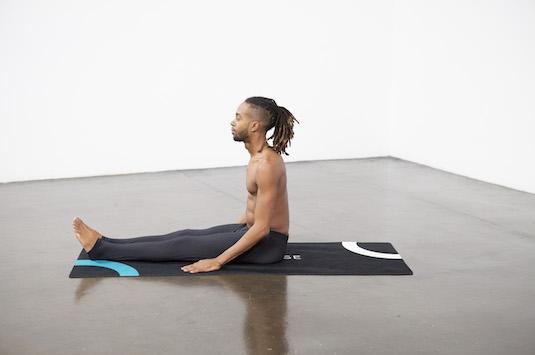 5.) To release, simply lower your feet back to the floor by bending your knees
Contraindications & Cautions
Coccyx, sacrum and sit bone injury
Internal organ injury
Fibromyalgia
Hernia
Late stage pregnancy
Modifications & Deepening the Pose
MODIFYING UPWARD FACING FORWARD BEND WITH PROPS
If you are struggling to combine the balance and the intense stretch this pose required, there is a way to help you get started by using yoga props. Find a wall space and a yoga strap. If you haven't got the latter, a small towel, a belt or a scarf will do the job. Begin the pose facing the wall, with sit bones as close to the wall as possible without compromising the lift of the legs. Loop the strap around your feet to create extra space between the torso and the legs, therefore allowing you to draw the shoulders back and open through the spine. When the legs are lifted, press the feet against the wall to maintain balance.
MODIFYING UPWARD FACING FORWARD BEND FOR DEEPER FOLD
Similar to Standing Forward Bend, you can increase the fold by changing the arm position. Try wrapping the forearms around the back or the legs or binding the fingers behind the soles of the feet. You even have an option to cross your arms or your ankles to make things extra challenging!