Utthita Trikonasana (UT-ti-tuh tri-ko-NAHS-uh-nuh)
BENEFITS OF TRIANGLE POSE
Intensely stretches hamstrings
Strengthens thighs and groin
Tones side core muscles (obliques)
Opens through shoulders and chest
Improves focus
Extended Triangle Pose ("Utthita" meaning extended, "tri" meaning three, "kon" meaning angle and "asana" meaning pose), often shortened to Triangle, is a combination of a side bend and twist, that brings the focus on hamstrings, chest and shoulders. It is often practiced as part of a Warrior sequence..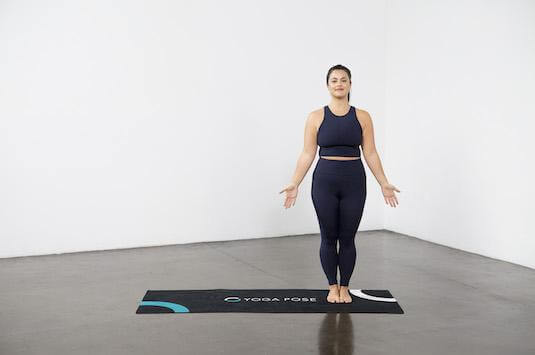 1.) Begin in Mountain Pose.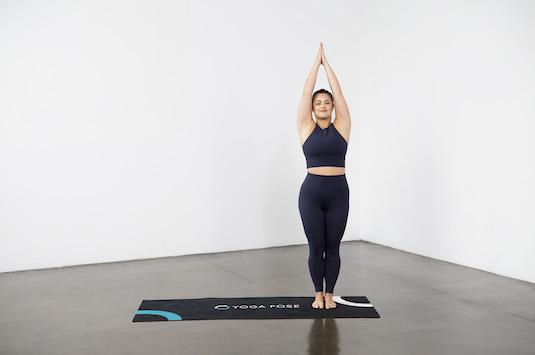 2.) Raise your hands over your head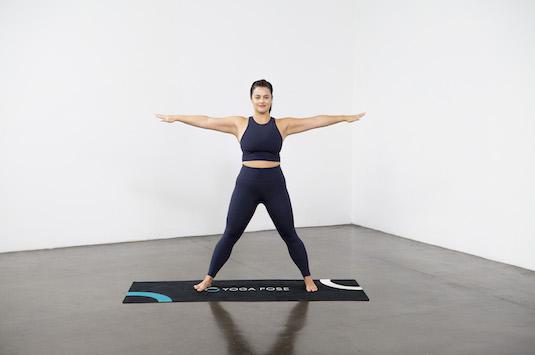 3.) In one sweeping motion bring your hands to shoulder height so they are parallel with the mat, at the same time step one forward about three to four feet, keep your legs and arms straight and engaged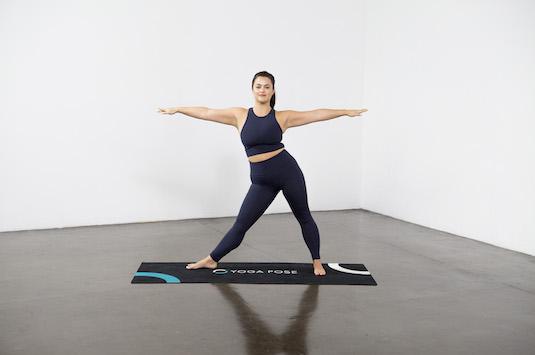 4.) Point the toes of your front foot forward, so they are in line with the fingertips of your front arm. Keep your gaze past your fingertips too.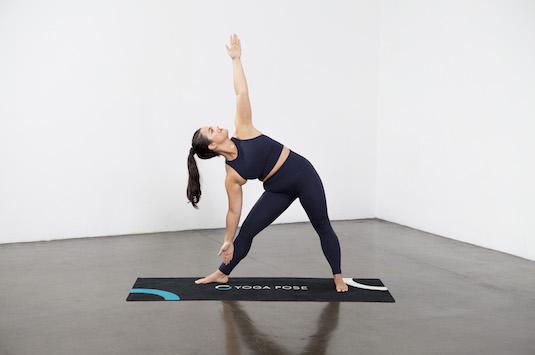 5.) Now, shift your hips back and hinge your body forward, over your front foot. As you do so, lower your front arm so that it rests on the inside of your front leg. Do not actually place any pressure on your arm, just simply rest it, using your leg as a guide. Your arms should be engaged and now be perpendicular to the mat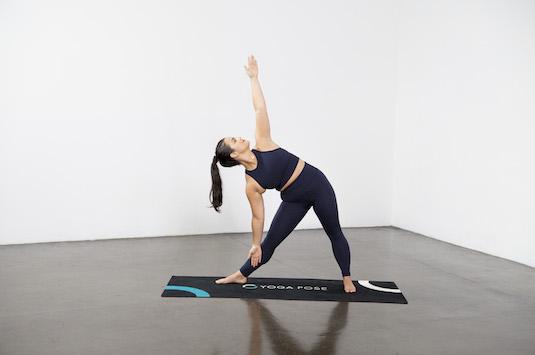 6.) Shift your eyes up to your upper hand. Hold this pose for up to a minute.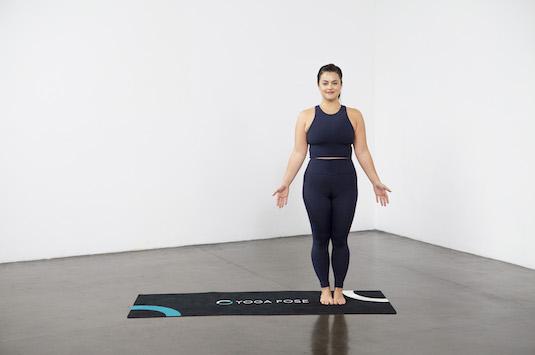 7.) To release from this pose, simply reverse the steps. Repeat on the opposite side.
HEALTH BENEFITS OF TRIANGLE POSE
TRIANGLE POSE FOR IMPROVING INNER FOCUS
The heart opening element allows you to engage with full and rounded breaths, which in turn promotes calmness, reduces anxiety and creates a space for you to focus. The more you practise, the longer you will be able to stay in Triangle Pose, and the sharper your focus will become.
TRIANGLE POSE FOR BACK PAIN
Since Triangle Pose combines a side fold with a thoracic twist, it can do wonders if your lower back is tight or if you are experiencing backache as part of the second trimester of your pregnancy.
Contraindications & Cautions
Hamstring injury
Headache
Low blood pressure
Neck tension (see modifications)
High blood pressure (see modifications)
Modifications & Deepening the Pose
MODIFYING TRIANGLE POSE FOR TIGHT HAMSTRINGS
If the pose feels too intense in the back of the knee of inner thigh of your front leg, you may modify it by creating a small bend through the front knee or shortening your stance.
MODIFYING TRIANGLE POSE FOR WEAK CORE
If you are collapsing down through the upper body in Triangle Pose, it may be a sign of a weak core and lack of shoulder stability. To build up some strength, place a yoga block on the inside of the front ankle and press your base hand into the block. This will allow you to take some pressure out of your hips and transfer that effort towards your core. Make sure the focus is on lengthening through the top arm.
MODIFYING TRIANGLE POSE FOR ADVANCED PRACTITIONERS
To make the pose more active, take your bottom hand off the front leg and extend it forward parallel to the ground. Turn your palm to face up, forming a 90-degree angle between your arms.
MODIFYING TRIANGLE POSE FOR TIGHT NECK AND HIGH BLOOD PRESSURE
If you suffer with either tightness in the neck or have a history of high blood pressure, keep your gaze aimed downwards in Triangle Pose.