Virasana (veer-AHS-uh-mug)
BENEFITS OF THUNDERBOLT POSE
Stretches through quadriceps
Massages the calves
Encourages passive plantar flexion
Thunderbolt Pose, also commonly known as Hero Pose, is a kneeling position, great for stretching tired legs or to be used as an alternative to Lotus Pose (Padmasana) or Cross-Legged Seat (Sukhasana) for meditation practice.

THUNDERBOLT POSE TUTORIAL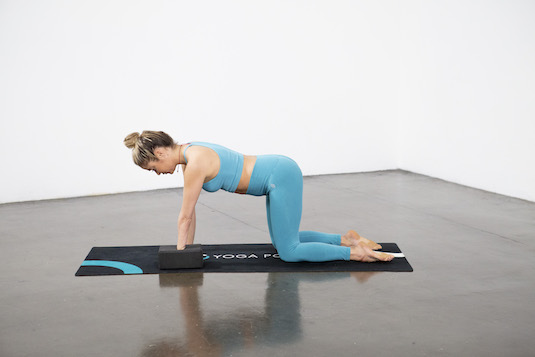 1.) Start in a kneeling tabletop position. Bring the inner knees together while opening the ankles and feet slightly wider than hip width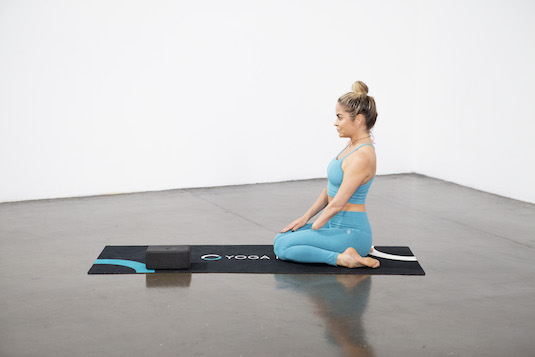 2.)Gradually sink your hips back towards the gap between your feet as you walk your hands closer to your legs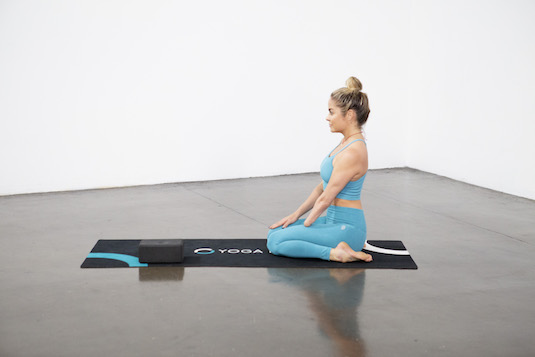 3.) Place your hands atop your knees as you lengthen up through the crown of the head. Stack the shoulders above the hips. Squeeze your belly button gently towards the spine and hug your ribs in. Soften down through the shoulders yet lift through the centre of your chest like a proud hero. Lengthen the tailbone towards the ground. Hold for 30-60 seconds.
HEALTH BENEFITS OF THUNDERBOLT POSE
THUNDERBOLT POSE FOR INTERNAL HIP ROTATION
While yoga offers many opportunities to open the hips and stretch through inner thighs, there are fewer asanas focusing on internal hip rotation. Rolling the knees towards one another while keeping the feet wide shifts the focus to the outer side of the hip.
THUNDERBOLT POSE FOR FINDING INNER PEACE
Thunderbolt Pose makes a wonderful alternative for those who find meditating in Lotus Pose uncomfortable or downright impossible. If you are planning to stay in this position for longer than a minute, use available props to modify your Thunderbolt Pose.
Contraindications & Cautions
Knee and ankle injury
Headache
Modifications & Deepening the Pose
MODIFYING THUNDERBOLT POSE FOR LONGER STAY
As well as preparing the body for prolonged stay in Thunderbolt Pose, this modification is also suitable in case your sit bones cannot comfortably rest on the floor. Raise your seat by placing a yoga block between your ankles, or by using a rolled up blanket or a small bolster between your shins.
MODIFYING THUNDERBOLT POSE FOR INCREASED INTENSITY
If you would like to take Thunderbolt Pose to the next level, consider transitioning to the reclined variation of the pose (Supta Virasana). This variation brings a lot more intensity into quadriceps and stretches the front of your hips.