SEATED HEAD TO KNEE FORWARD BEND
Paschimottanasana (push-chi-mo-tang-AHS-uh-nuh)
BENEFITS OF SEATED HEAD TO KNEE FORWARD BEND
Stretches the backs of your legs and lower back
Stretches shoulders and neck
Relieves symptoms of menstrual discomfort
SUMMARY OF SEATED HEAD TO KNEE FORWARD BEND
Paschima is a Sanskrit term for the back of the whole body from head to heels, Paschimottanasana is therefore an intense stretch of the back of the body. It is achieved with a forward fold at the hip joint lengthening the legs and the crown of your head in the same direction. This gravity assisted fold is a wonderful opportunity to relax and unwind after a long day.
SEATED HEAD TO KNEE FORWARD BEND POSE TUTORIAL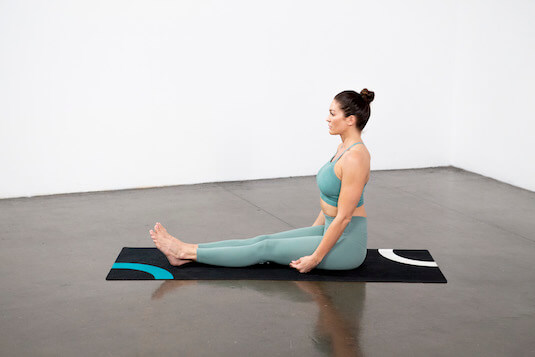 1.) Start in Staff Pose (Dandasana). Adjust your pelvis so you can pull the sit bones back.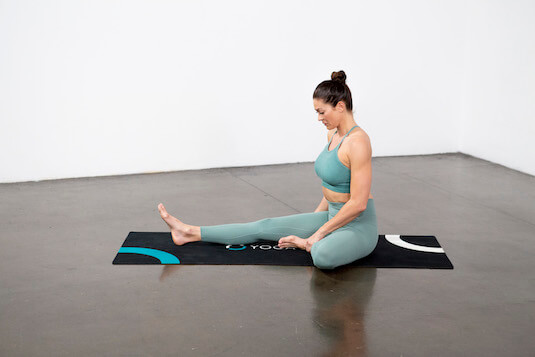 2.) Bend your left leg so that the sole of your foot is flexed against the inside of your right upper leg.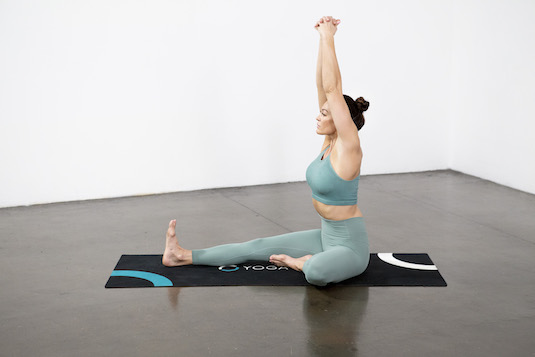 3.) Flex your right foot and interconnect your fingers overhead as you inhale, sitting tall.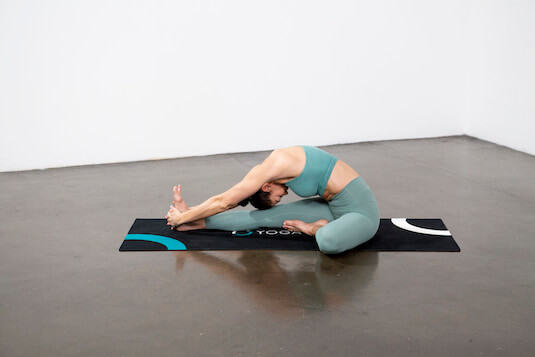 4.) As you exhale, lean forward, bringing your chest to your thigh and reaching your bound fingers around your flexed extended right foot.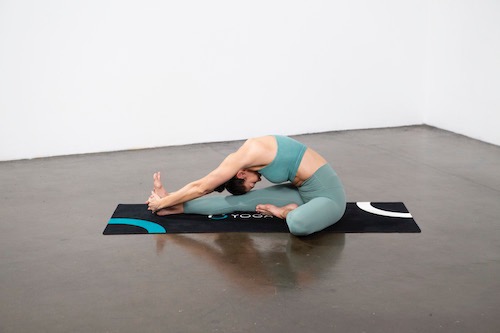 5.) Your head should be near your knee. Hold this position for up to five minutes. Focus on lengthening and breathing. To release from this position, sit up slowly.
HEALTH BENEFITS OF SEATED HEAD TO KNEE FORWARD BEND
SEATED HEAD TO KNEE FORWARD BEND FOR DEEP RELAXATION
Seated Head to Knee Forward Bend is often included in a Yin practice due to its potential to be held for an extended period of time and for the space it creates for you to breathe and meditate.
SEATED HEAD TO KNEE FORWARD BEND FOR ABDOMINAL DISCOMFORT
Stretching through lower back and pressing your belly into the front of your thighs massages abdominal organs and could be beneficial for abdominal pain and discomfort. Whether the abdominal distress is caused by indigestion, food poisoning, menstrual cramps, menopause or trapped gas, holding this pose for a while can relieve the symptoms or even get rid of the issue that's causing it.
Contraindications & Cautions
Asthma
Back injury
Diarrhea
Modifications & Deepening the Pose
MODIFYING SEATED HEAD TO KNEE FORWARD BEND FOR SHOULDER ROTATION
If you'd like to turn this forward fold into a more active stretch and increase shoulder mobility at the same time, try reaching your arms forward. Reaching the level of difficulty can range from hovering your palms slightly off the floor to extending your arms forward parallel to the ground
MODIFYING SEATED HEAD TO KNEE FORWARD BEND FOR YIN PRACTICE
If you are planning on holding this pose for an extended period of time, make sure you stay aware of your limits and do not force your body further than it is ready to go. Consider including some props. You could rest your head on a yoga block or tuck a rolled up blanket under your belly.