Eka Pada Adho Mukha Svanasana
BENEFITS OF ONE-LEGGED DOWNWARD DOG POSE
Calms the spirit
Strengthens the arms
Stretches the hip flexors
Improves balance
SUMMARY OF ONE-LEGGED DOWNWARD DOG POSE
One-Legged Downward Dog, or Eka Pada Adho Mukha Svanasana (mouthful. I know), is described as a purely American invention in an ancient Indian tradition. It is a great pose to challenge your balance while keeping an asymmetrical posture. By maintaining the balance, using your arms and extending your leg, you will actively strengthen the arm muscles and stretch your hip flexors. After a little practice, your balance will significantly improve and you'll find yourself in a calmer mood.

ONE-LEGGED DOWNWARD DOG POSE TUTORIAL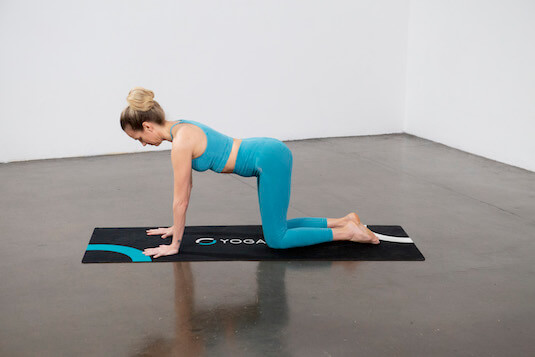 1.) Begin in tabletop position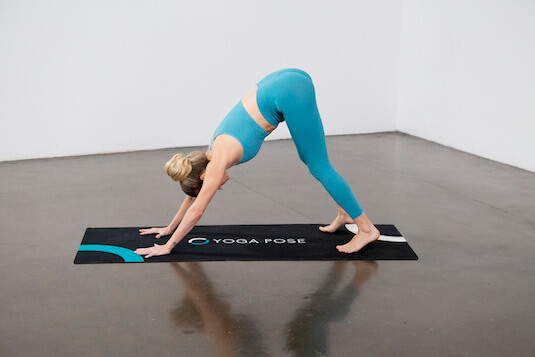 2.) Rise up to Downward Facing Dog, pressing your heels back and palms into the floor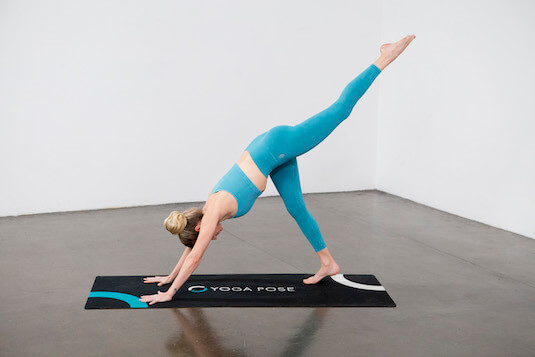 3.) Keeping your hips square, lift one leg and point it to the sky, engaging your core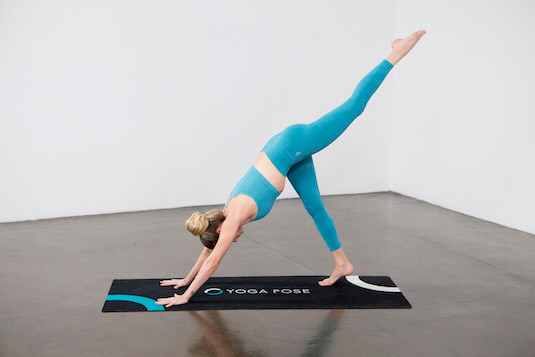 4.) Hold this position for up to one minute. To release, simply come back to Downward Facing Dog
HEALTH BENEFITS OF ONE-LEGGED DOWNWARD DOG POSE
ONE-LEGGED DOWNWARD DOG POSE FOR THE MIND
One-Legged Downward Dog is a great exercise to rest your brain and put your spirit at ease. By improving blood perfusion to the brain, this pose could potentially relieve your insomnia, stress, and anxiety.
ONE-LEGGED DOWNWARD DOG POSE FOR ARM STRENGTH
The forward straightening of the arms will contract the muscles of the shoulders, arms, and forearms. Practicing this pose on a regular basis will significantly strengthen your arms.
ONE-LEGGED DOWNWARD DOG POSE FOR FOR HIP FLEXORS
Scientists are constantly getting mind-blown by the number of health benefits that reside in the hip flexors. The primary muscles (e.g. iliopsoas muscle) could increase your core strength, improve your balance, and decrease your risk of musculoskeletal injury. All you have to do is stretch these muscles, which is exactly what the one-legged downward dog pose provides.
Contraindications & Cautions
Carpal tunnel syndrome
Blood hypertension
Headache
Late-term pregnancy
Modifications & Deepening the Pose
ONE-LEGGED DOWNWARD DOG WITH HIP-OPENING VARIATION
This variation is beneficial to help you strengthen your side body. Here's how to do it: From the One-Legged Downward Dog position, bend the knee of the extended leg, trying to reach your buttocks. Also, don't forget to stay aware of the position and the degree of contraction of your arm and hip muscles.
FROM ONE-LEGGED DOWNWARD DOG TO REVOLVED DOWNWARD-FACING DOG POSE
For this variation, keep both heels on the ground, and then place more weight on your left side, running the energy from your left shoulder to your left palm. Stretch your right arm to the outer side of your left thigh, and slowly slide it down until you reach the calf of the ankle. At the same time, start spinning your body toward the left side, so that your face would be directed to the left. Similar to other twisting poses, this variation will help improve your digestion, detoxify your body, and challenge your balance.