Marjaryasana (mar-jar-YAHS-anna)
Releases anxiety
Stretches the back
Massages the abdomen
Opens the chest
Cat Pose, or Marjaryasana, is one of the most commonly recognized yoga poses. The shape of the body resembles a stretching, arching cat. This pose is usually done as a partner to Cow Pose, as Cat Pose has the back high while Cow Pose has the back low.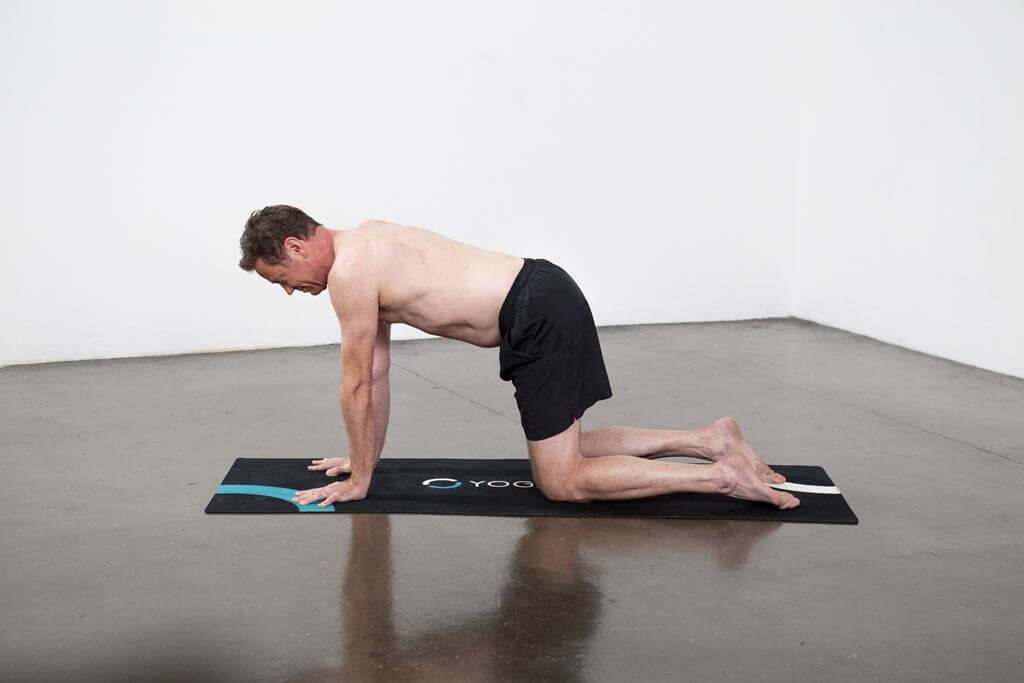 1.) Begin on your hands and knees on your mat.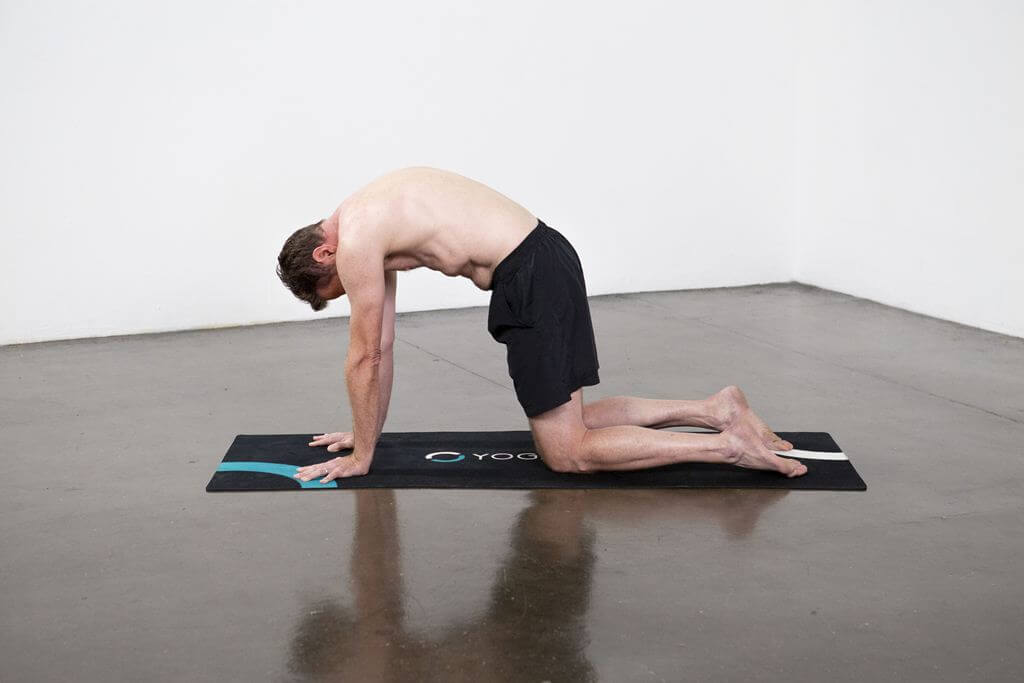 2.) Breathe. Arch your back from your shoulders and look through your hands. Press off the ground from your hands to intensify the stretch.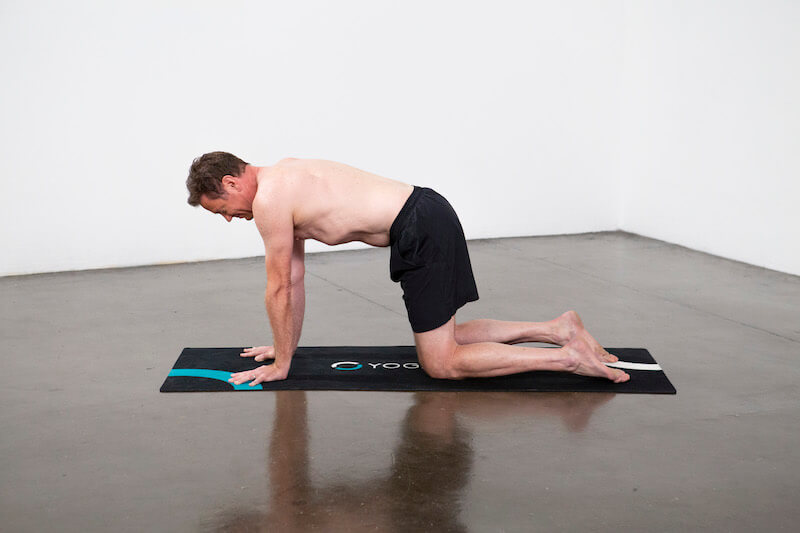 3.) On the inhale, bring yourself back to the starting position with your back parallel to the mat.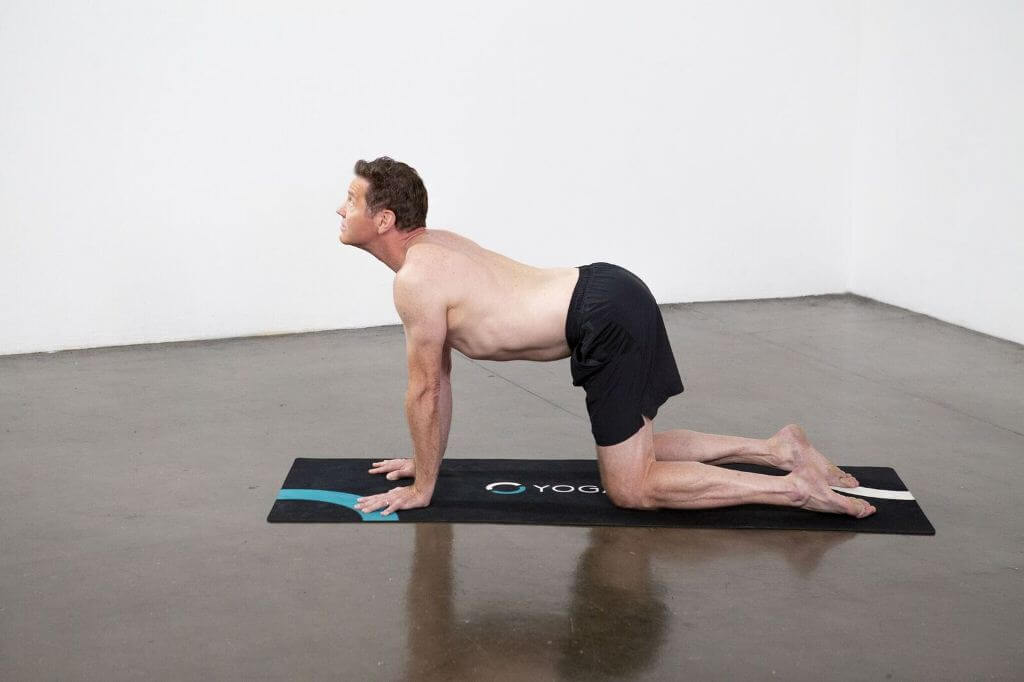 4.) Now, move into Cow Pose to counteract the bend.
HEALTH BENEFITS OF CAT POSE
CAT POSE FOR BACK PAIN
Cat Pose is wonderful for easing back pain. Sometimes back pain is caused by the back getting stiff or moved out of line. Cat Pose helps the parts of the spine settle back into position in a gentle, relaxed manner. The spine has six main directions of motion and this is one of those six. It's wise for health reasons to move your spine through all six directions each day in gentle exercise.
CAT POSE FOR STRESS AND ANXIETY
Cat Pose is a slow, steady rocking motion which is much like a morning stretch. It's an action many animals do simply because it feels so nice. The rhythmic motion of Cat Pose can be quite soothing and relaxing. Your focus is drawn to the flow of the body through those positions rather than whatever else was engaging you.
CAT POSE FOR ABDOMINAL ORGANS
Cat Pose provides movement which encourages blood to move through the abdominal area, bringing fresh nutrients. It gets the lymphatic and immune systems in motion. It acts as a soft boost to the digestive system. It can help things which were stuck become unstuck.
Contraindications & Cautions
Lower back or neck injury
Modifications & Deepening the Pose
MODIFYING CAT POSE FOR NECK ISSUES
If you have any issues with your neck, take extra care that your neck remains in line with your torso. The movements of Cat Pose are slow and gentle, but you still want to ensure you are not twisting your neck in any way.
MODIFYING CAT POSE FOR A TIGHT BACK
The aim of Cat Pose is to round your entire back. Think of how a cat arches when it stretches. Especially at the beginning, this can be quite challenging for some to do. Have a friend watch you or take a webcam / cellphone video of yourself to see how you are currently doing it. Then pay attention to any areas which might seem stuck to work on getting them to curve. It can just take time and practice. Sometimes if you tape something to your back in a spot that has a lightweight, or have a friend put their hand in that spot, it helps you to feel where the spot is and to focus on curving it a bit more.
MODIFYING CAT POSE FOR SORE WRISTS
If your wrists are causing you problems, avoid putting pressure on them. Instead, lower yourself down to your forearms. Perform the motions of Cat Pose on your knees and forearms.
MODIFYING CAT POSE FOR SORE KNEES
Being down on your hands and knees can hurt the knees for many people. If you find yourself in this situation, get a blanket and put it beneath your knees. That will add additional padding for you, to gentle that impact.