"Inclusive, accessible, relatable, non-intimidating," this is how Arceli (Pinky) Bacsinila, the owner of Skylight Yoga & Fitness in Naples, Fl. defines her studio. Bacsinila melds the worlds of yoga and business with a calm and rooted mindset, "In a society where being on the go and multi-tasking is the norm, it's important to slow down, be present and filter out all the noise that impedes our inner peace." Her calming perspective and personalized attention to her studio are among the many reasons we selected Skylight Yoga & Fitness as our favorite yoga studio in Naples, Fl in 2021.
Studio Story
Bacsinila, a self-proclaimed cardio and fitness addict, turned to yoga to balance out her workout regime. "I bounced around different studios trying various styles, only focusing on yoga's physical benefits," she confesses. "It was after a couple years that I realized there was a lot more to yoga. Its mental and healing benefits transformed me, changing my outlook, my attitude, and my relationships with others in a very positive way."
After experiencing her own personal transformation courtesy of yoga, Bacsinila made a drastic career change from almost three decades in the corporate finance world to owning her own yoga studio. "Once I put it out there in the universe, opportunities started to present themselves," she explains. In early 2019, a studio in Naples, Fl was listed for sale and she knew it was the right time to act. In the summer of 2019, Bacsinila took a leap of faith and moved to Naples to open what is now Skylight Yoga & Fitness.
The Space
The one-room studio is a cozy, yet safe space. Equipped with eco-friendly cork flooring, natural light streams through two large windows. Ambient lighting, inspirational and humorous quotes on the walls provide a warm and welcoming environment.
Bacsinila is the primary yoga teacher in the studio, and having practiced yoga for several years before becoming a teacher, she brings a sense of calm and committed to the studio. Drawing upon a variety of styles, the classes feature concise cues, attention to alignment, mindful breathing, and a smooth flow. "I cultivate self-awareness, foster self-acceptance, and encourage playing to one's edge in a safe nurturing space," she says, "I don't take myself seriously, so I tend to add a sense of lightness and humor in each class."
How do patrons feel upon leaving the studio? "Totally zen! They find it hard to get up off the mat or leave as they are so relaxed and chill after class."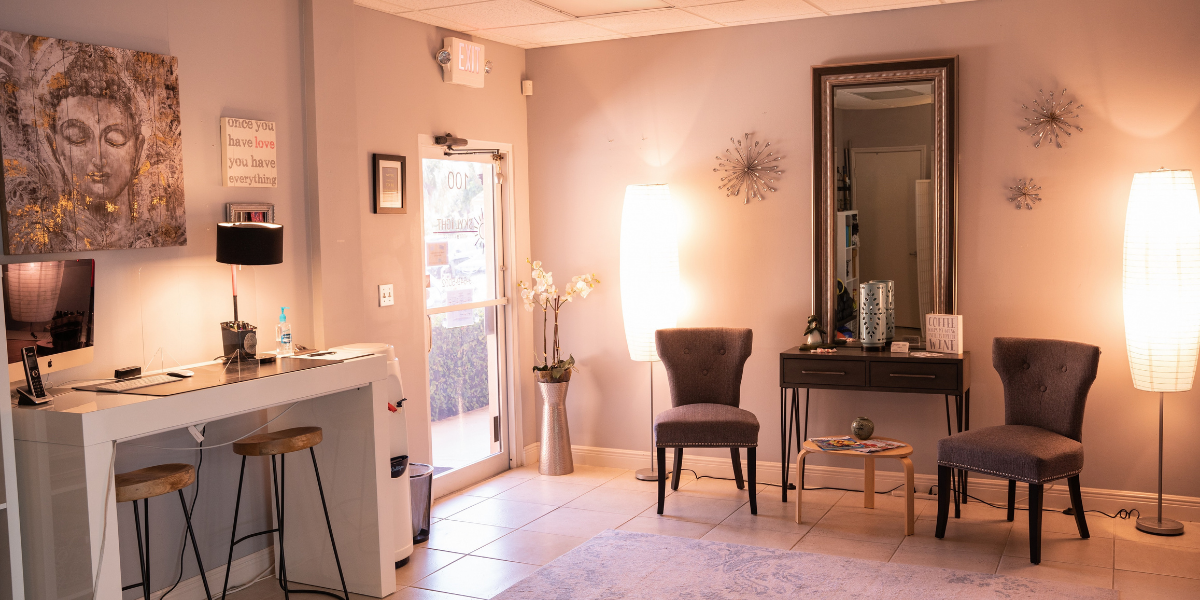 What We Love
There are two things that set this studio apart. Skylight Yoga & Fitness not only offers yoga, but other modalities as well including pilates and small group fitness. "We are unique in that there are classes here not found elsewhere in the area. Our well-rounded offerings allow someone to 'work out' as well as 'work in'," explains Bacsinila. Even though a good percentage of clients are seasonal, there is an extremely strong sense of community here. "We keep in touch with each other while geographically apart and it is like a big family reunion once they return to the area and back in the studio."
Expert Advice for New Yogis
When asked her favorite advice for new yogis, Bacsinila advised, "Comparison is the thief of joy." "Your practice is your own; don't worry what others in class are doing or how you think you're supposed to look. Wobbling is a-ok! Given the year we just went through, I need these yoga classes just as much as you do! I am so honored to be a part of your journey."
Skylight Yoga & Fitness is located at 5002 Tamiami Trail N #100 Naples, FL 34103. See the full schedule of classes here.