Now more than ever, we should be looking after our wellbeing and focus on newfangled ways to get our yoga fix without going too far out of our comfort zones. No one's really sure exactly how long it'll be until it's deemed "okay" to gather in large group sessions again, or when we can book a trip to a destination yoga retreat, or attend a yoga festival.
Until the respectable time comes when wanderlust yogis can safely hit up faraway locales or reconvene with their yoga community in greater numbers, here is a list of ways to "retreat" in your newfound space at home and embrace the happy, homebody vibes without sulking into a lonesome state of self-isolation. It's time to send your mind on a virtual summer vacation.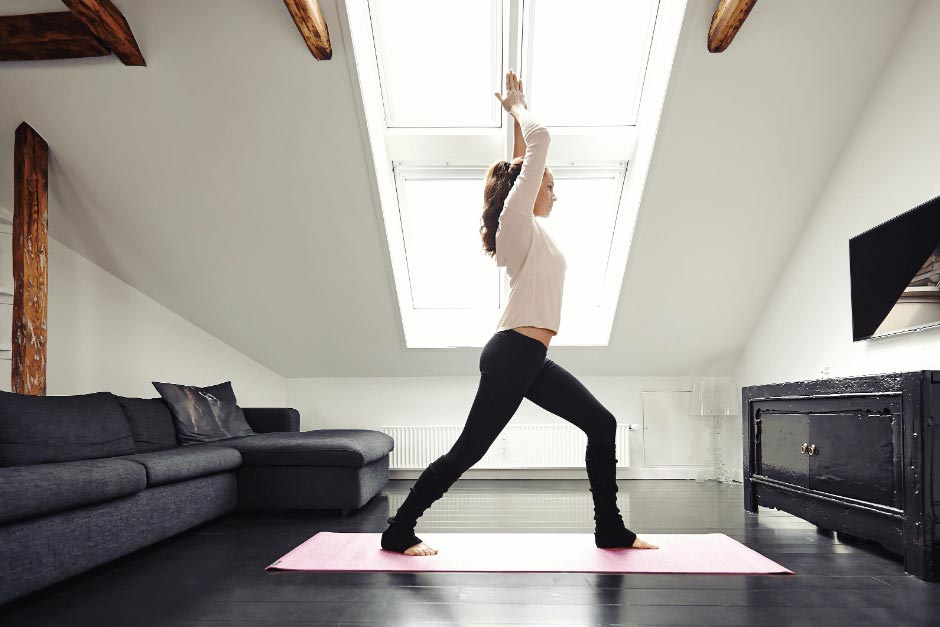 Take a Variety of Virtual Yoga Classes
If you're still hesitant to head to your local yoga studio, or can't get into a class with limited capacity, utilize online yoga sessions from the comfort of your mat at home. A number of studios, yoga companies, and instructors are offering virtual classes to keep your practice going through this restrictive time. Sure, you don't get the ethereal experience of feeling the energy/presence of your fellow yogis in sync with the same flow of movements with you. But companies like Yoga Download, Ashiyana Online Shala, CorePower Yoga On Demand, and Yoga on Gaia provide surprisingly great online alternatives with a variety of different yoga, sculpt, and meditation classes for all skill levels.
There are even a number of virtual wellness retreats to wander within and not have to get on a plane for. A silver lining of today's digitally-dependent world is you can easily purchase subscriptions to use at your convenience, download videos, and/or live stream from social media platforms. It's easier than ever to stay on track with your practice, make yoga a daily habit, feel more connected during social distancing, while remaining focused and energized throughout the turbulence that is 2020.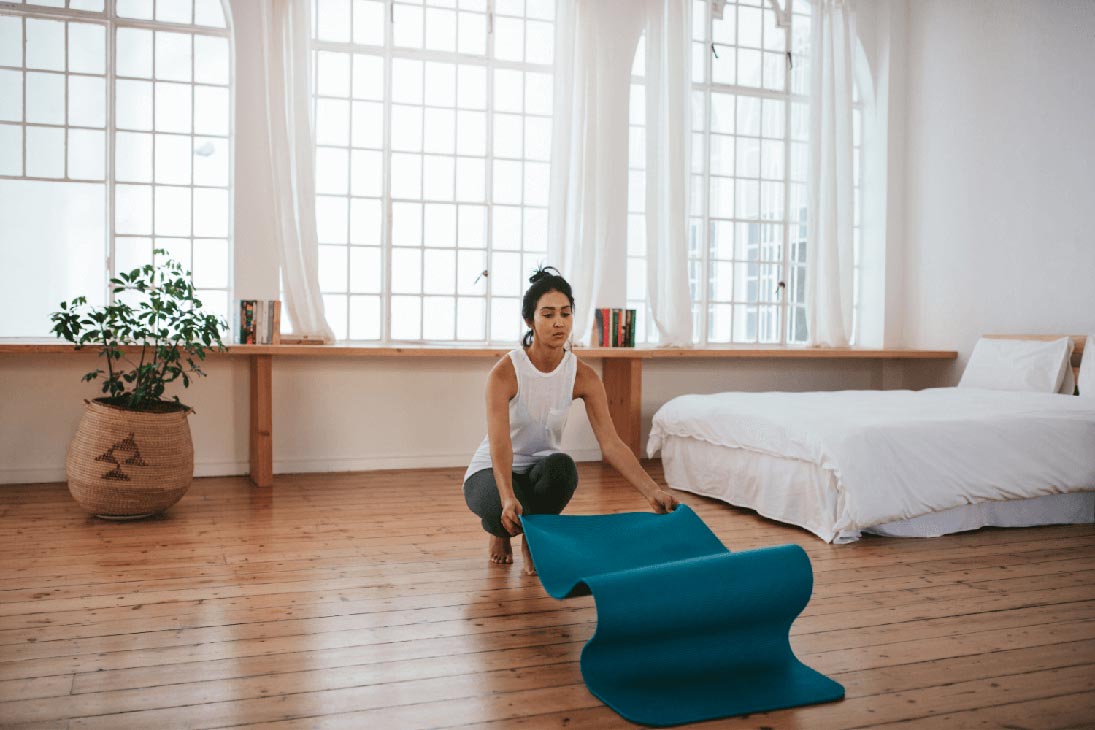 Utilize Your Space to Practice Advanced Yoga Poses
Whether you'd like to admit it or not, being in a yoga class–surrounded by your friends, peers and instructor–you may succumb to a subconscious awareness that there are other people around. This may inhibit your practice by not being able to completely let go and give it your all. Of course, yoga classes are always, inherently a judgement-free zone, but for some individuals, yoga/meditation, in a private space can mean the difference between clamming up and feeling shy or self-conscious vs. being carefree and self-assertive enough to attempt more advanced yoga poses.
If you were previously nervous/hesitant to try certain poses in public with the worry of not being able to "do it right," or look good doing it, take advantage of your private realm at home to enhance your practice with some more advanced moves. What's even better, is incorporating a wall, chair, and other creative furniture hacks for sticking, or landing, more yoga poses and stretching techniques you wouldn't necessarily get the chance to attempt in a studio.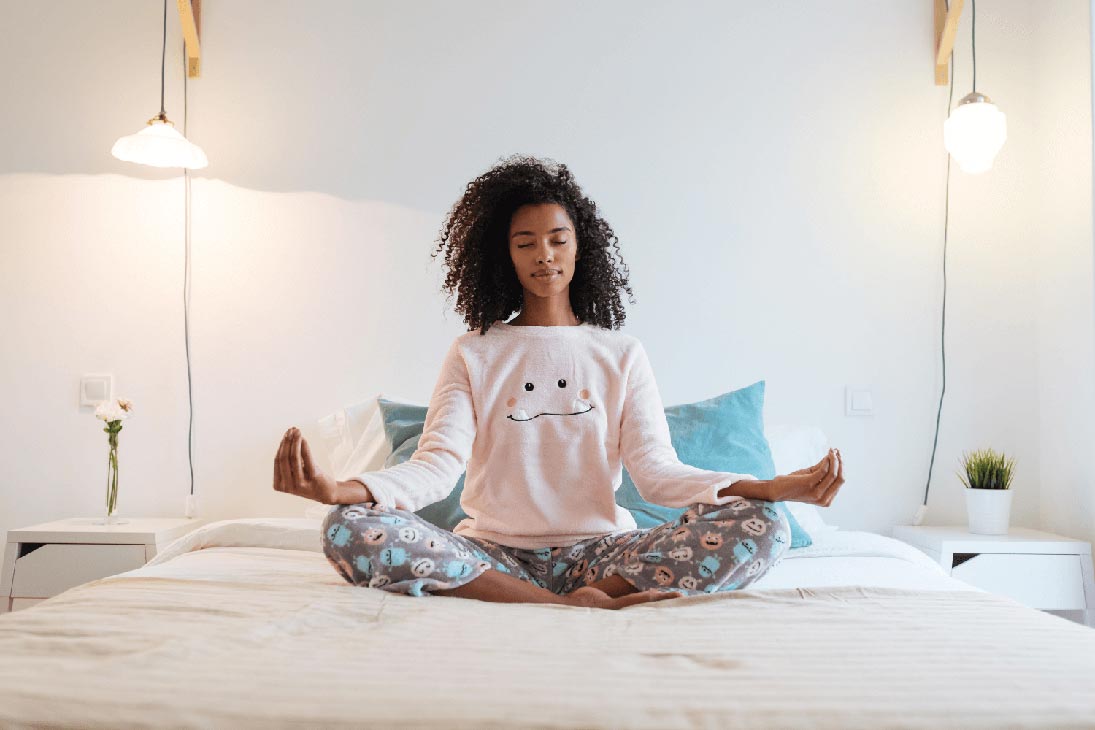 Create New Mindfulness Practices at Home
Now's the time to form, or reestablish, healthy habits when quarantining at home feels like a better idea than venturing out into the crazy world right now. There's an abundance of ways to stay activated, relaxed, and keep daily stressors at bay without actually being on holiday.
For one, you can cultivate a better self-care/skincare regimen in your routine by researching and investing in all-natural, clean products that benefit you from the inside out. You can also incorporate energizing or calming aromas of essential oils to fill your domicile with a diffuser for extended rejuvenation, or enhance your interior with new house plants that breathe oxygen into the room and effuse positive, green vibes.
In terms of diet, familiarize yourself with gut-healthy recipes that make you feel unstoppable, begin meal planning, shop local and organic, and maybe treat yourself to a fancy, new juicer to make your own nutritious juices, wellness shots, and protein-packed smoothies.
If you've got some extra downtime still, boost your mood by creating a feel-god Zen playlist of instrumental sounds, slow flow melodies, and Buti beats from around the world, or begin journaling your thoughts, dreams, and goals for the rest of the year in a notebook. And if nothing gets you more pumped up like having something to look forward to, start planning a getaway to get excited for when traveling seems viable again.